$3,017.19 a Month
Average rent prices for apartments nationwide are currently $1,109.73 a month, according to a real estate firm called Reis, but NYC remains the most expensive with average rents hitting $3,017.19 a month across the four largest boroughs (Manhattan, Queens, Brooklyn and the Bronx). It's insane, especially since the second most expensive market, San Francisco, averages at $1,998.82 a month. The least expensive market, Oklahoma City, has rents averaging at $571.03 a month.
WNYC has a good story discussing how Mayor Bloomberg's promises of making New York City a desirable place to live in, while simultaneously building more affordable housing transformed the city into the market it is today. The affordable housing we do have is great — there's just not enough of it to house families who are increasingly being priced out their neighborhoods. In one attractive eight-story building constructed as part of the mayor's affordable housing program, 5,000 families applied to live in one of the 124 apartments. To live there, families with two kids could not earn more than $52,000 a year. I hear there are plenty of luxury condos being built right now, though.
A recent WSJ/NBC/Marist poll showed few New Yorkers find the city affordable, and don't believe that the next mayor will be able to figure out a way to make it cheaper to live in the city.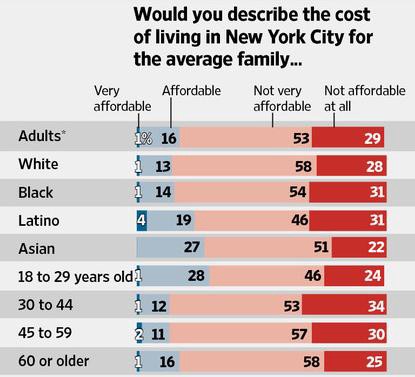 If rents get any more out of control, I'll be living with roommates again. Maybe my roommate will be you.