Employee of the Month: J. Robin Baitz
by Catie Lazarus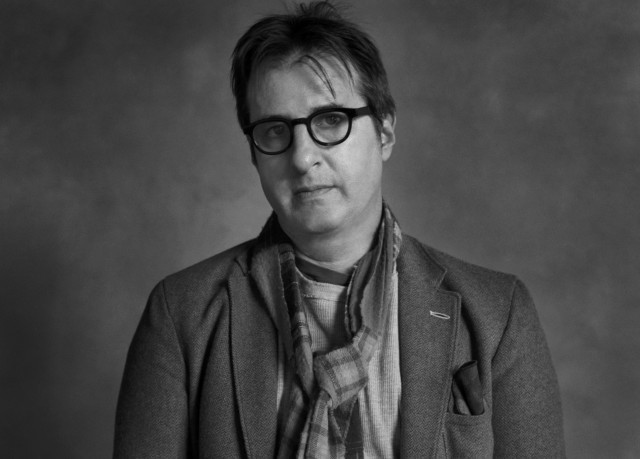 Catie Lazarus hosts Employee of the Month, a live talk show and podcast about work, jobs and labor. Guests have included comedian David Wain, Gloria Steinem, Rachel Maddow, and many others. In this column, Lazarus discusses the career of playwright Jon Robin Baitz (who also created and produced the ABC drama Brothers & Sisters), and shares excerpts from their conversation at a live taping of Employee of the Month at Upright Citizens Brigade Theater.
While I've never aspired to be a playwright, I've found plays like Death of Salesman and The Glass Menagerie to teach me more about the psychology of men, in the case of the former, and my mother, in the case of the latter, than any shrink. When they hit home, plays can change your life's perspective. Yet, dramatic writing as an occupational endeavor has always seemed to me pretentious, intimidating, dated and mystifying. I wanted to understand who goes into this sordid profession and why they thrive at it. So I interviewed some ridiculously talented playwrights like Obie award winner and Oscar nominee Jose Rivera; Pulitzer prize nominated Adam Rapp, and, the one and only, Pulitzer Prize nominated and Tony Award winner Jon Robin Baitz.
What I've learned is that few career paths are as challenging to earn a living doing than playwriting. Poetry, modern dance, puppetry and the monastic life may give playwriting a run for its (lack of) money. Art and sainthood require discipline, passion, and delusion. What's unique about playwriting is how little control playwrights have over how their work materializes.
Their script must be translated by actors, costumes, sets, and a director to a live audience. Playwrights must have faith that all of these elements will deliver what was on the page and, ideally, add to the story. It's a lot to leave in the hands of so many other folks, no matter how much you respect and admire them. It's why it's no small feat to have a play produced, even if it's so off-off-off-Broadway that you're actually in Baltimore. More men then women, more white than people of color, more hetero than homo, more Ivy League grads than those with GED's will break out as star playwrights.
One of those stars is Jon Robin Baitz, who goes by Robbie. Take your pick for the reasons Baitz — a Pulitzer Prize, Drama Desk and Tony Award nominated playwright — stands out as a wunderkind in theater. He is prolific. He is unflinchingly honest about relationships and life's challenges, specializing in the typically educated and well-to-do. He mentors younger playwrights. He writes characters for actors. He has dabbled in acting and written for television and film. He has a life outside of the theater. He is a man about town. Yet, he has also crashed and burned, fallen apart, and, somehow, managed, lucky for his fans, to draw from his mishegaas and into palpable, accessible art.
What draws me to Baitz's work is ultimately his own humanity. You can't replicate or imitate his genius at probing the noblesse oblige. But it's impossible not to be inspired by someone who has fucked up and been fucked and emerges, not unscathed, but more dexterous, mature, and fulfilled. He has fallen and risen.
Robbie and I first met backstage at a taping of television news show. He was a talking head and I was there, hoping to get a writing job. I did not, but I fell madly in love with Baitz, if that's the proper way to describe a work crush. The next time I saw him, Baitz took me and a young actor to see Doctor Zhivago on the big screen at Tribeca Film Festival. He then took us both out for dinner to discuss the movie as well as our own aspirations. It's rare for a significantly more successful person to take an interest in younger folks, considering how self absorbed most successful folks in the arts can be. As a result, I felt alive. I felt known. This man, whose work I admired, was also a mensch.

A Condensed History of J. Robin Baitz and His Career
Baitz was born an only child in Los Angeles to a bougie Jewish-American family. His father was an executive at Carnation Corporation, so the family moved to Brazil and South Africa during the height of apartheid. Baitz returned to Los Angeles and attended Beverly Hills High School, where he joined other theater freaks and geeks, like actress Gina Gershon. Evidently Baitz would break character on stage, and start laughing uncontrollably. Gershon says that she, "loved Robby anyway and this was way before he became this brilliant writer."
A misfit and still in the closet, Baitz didn't attend college. It seems odd because of his voracious appetite for literature and intellectual prowess is evident in every conversation he has. Instead, Baitz spent the early eighties sleeping on friends' couches and holding odd jobs. He served as a clerk at Booksoup, one of a handful of respected bookshops in Hollywood. Later he penned plays in their upstairs' office. Baitz also worked as an assistant to shmaltzy producers, who inspired the premise of his first one-act play, Mizlansky/Zilinsky. The one-act ran in a tiny theater off Melrose, but garnered critical acclaim, and, eventually, found its way to the Geffen Playhouse. While no one is an overnight sensation, at 24, Baitz had an exceedingly promising start.
He then drew on his experience in a strict school in South Africa during apartheid for his next play, a two-act called, The Film Society. Its success led to an off-Broadway production, which starred Nathan Lane, and earned Baitz a Drama Desk Award nomination for Outstanding New Play. The End of the Day, which starred Roger Rees, followed, as did The Substance of Fire, a two-person play, which starred Ron Rifkin and Sarah Jessica Parker.
Baitz quickly became known as an "actor's writer" as he would write parts for specific actors, and later, parts — be it in the TV show Smash or the indie film Last Summer in the Hamptons — were written for him to play himself. The indie, colorful (that's the polite term) director Henry Jaglom cast Baitz as a gay playwright who achieves success at an early age — a character inspired by Baitz's own experience. The cameo on Smash was just that, but it's not every playwright who finds his way in front of the camera on network TV.
A decade after he'd begun, Baitz was one of the three finalists for the Pulitzer Prize for his semi-autobiographical play A Fair Country. Over two decades later, he'd win his first Tony. But sandwiched in between these feats, Baitz stumbled.
While working on the television series he created, Brothers and Sisters, his professional and then personal life started to unravel. After serious fights with the network, he had, what he has described as a nervous breakdown. He extricated himself from the television show after the first season, giving up various rights, residuals, and credits, in order to get out as, he says, "as fast as possible, which wasn't fast enough." He left Hollywood and fled to New York.
He had a breakdown, but with the help of loved ones, including his former partner, the director Joe Mantello, Baitz started to rebuild his life. Since then, he began teaching at The New School, wrote his first Broadway play, Other Desert Cities, which earned a Tony award, and was hired by another network to create a series on Baitz's terms.
His candor, kindness, modesty and humor are infectious and, in our interview, it was impossible not to be excited for his continued success. His own story propelled me to face my own demons and sit down and write. When Robbie received his Employee of the Month Award, we recorded our interview live at Upright Citizens Brigade Theater. Below are excerpts from that interview: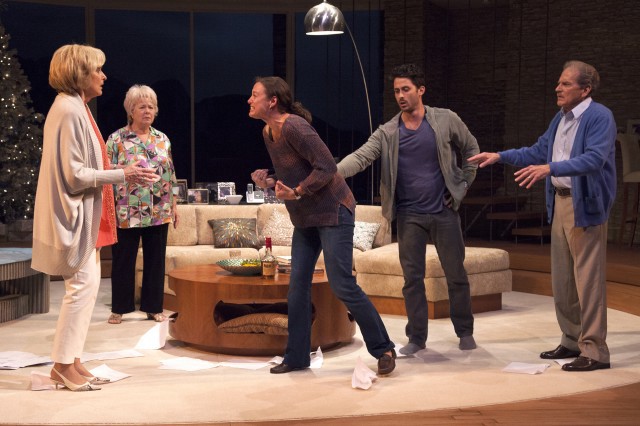 (from left) Kandis Chappell, Robin Pearson Rose, Dana Green, Andy Bean and Robert Foxworth in the San Diego premiere of Jon Robin Baitz's Other Desert Cities, directed by Richard Seer, April 27 — June 2, 2013 at The Old Globe. Photo by Snaps Studio.
CL: I can't even get (published) in the Daily Ledger, how does someone else score two reviews for their book in Vanity Fair — including one from you?
RB: There's this terrible thing called nepotism. There's a whole world of people who just are connected. It's your worst fears always come true.
CL: So you grew up all over the world, mainly in South Africa, then high school in Beverly Hills. Most of your career you spent in New York and Los Angeles. But you seem most happy in New York. You spend four days a week in Sag Harbor and the other three in Tribeca.
RB: Yes.
CL: I'm just jealous.
RB: I know. In that sort of Symbionese Liberation Army kind of way you're jealous. I used to be you. Then everything died inside.
CL: Now the film Last Summer in the Hamptons features a young sought after playwright who has incredible success right away, which is based on your experience. In The New York Times Janet Maslin described your performance as having a "good and knowing effect." Was it almost a burden to have so much success so quickly?
RB: It's a weird thing. You're too young to know that it's great. You think, 'well I wrote this play and now it's being done and people love it, and you think that's how life works. Doesn't that happen for everyone?' You take it for granted for a while because you're young and you've never heard of this thing called humility. Then inevitably, there's always this terrible Sword of Damocles that's bound to happen; which is that you write some shitty plays. Then you start learning stuff.
CL: But all of yours were well received — Mizlansky/Zilinsky, with Nathan Lane, The End of Days, Substance of Fire with Sarah Jessica Parker and Ron Rifkin, and Three Hotels, which earned you a Drama Desk nomination.
RB: I know, but there's a period where you vaguely go dead and then you're sleepwalking. You have to sort of figure it out, and come back to life at a certain point, and really do it. It's very easy to be a young playwright. Nobody's watching you at first so you're just doing this thing. It's almost unobserved for a while. Nobody will get in your way. But the minute someone says you are "this or that," if you're young, you take it seriously and you start becoming a type of literary performing seal. Which I think is a thing that sort-of happened (to me). But that burns away and everything is fine.
CL: Did you feel that your role is an accurate portrayal? If people go and see Last Summer in the Hamptons that will they be like that was Robbie's life?
RB: He's more sheepish than I am. I am not as angry or quite as pretentious. Nor am I as ambitious as the guy in the movie. The guy who made the movie Henry Jaglom (found me) because I had been working in this bookstore in L.A., called Book Soup. He's a famously rude guy and I have this thing about manners, it's the thing I believe in the most and he was rude in the store, [so] I kicked him out. He couldn't believe it. He just couldn't believe that I'd said, "I'm not selling you these books, I'm sorry."
A few years later, by sheer coincidence, we were at a dinner party and he didn't remember me at all. It was one of those weird karma moments — and he talked about how he'd just seen this play and it was about a publisher, and how his family turn against him. I didn't say anything, but, of course, the loud mouths I was with, said that's my play. Then I said, 'I was the one who kicked you out of Book Soup.'
Then a week later, he called and said, 'I have this movie and do you want to play you?' And I did it. But I was drinking Rose and Xanax the whole time be vaguely liberated during the filming. I [couldn't understand why the other actors] were so nervous. All you do is have Xanax and Rose and acting is fine. I think it was just two-three weeks. I do think Xanax is a bad drug; I got myself off it, once the parts dried up.
CL: During the Writer's Strike, you wrote in The Huffington Post about The New York Times Theater Critic Charles Isherwood. You responded to an article he'd written arguing that the screenwriters should return to the theater. You wrote a really thoughtful, sometimes obnoxious, and honest response about the role that the theater critics have.
I've never seen someone take The New York Times to task about how (critics) have comfortable jobs and also have an impact on the art that is produced. Since you generally receive positive reviews from the Times, it seemed clear you weren't out to punish these critics.
RB: Well, I have this terrible disease where I've always hated bullies. I thought there was something inappropriately bullying and slightly faux coercive about the attitude of the piece, which was "Hey all you cushy LA writers, who used to be playwrights, come back, the water's warm. Why won't you come back (to the theater)?"
And I wrote that they (TV & screenwriters in LA) don't come back because there are people like you who take for granted every last thing they do. And you know I was very nice about it. I said, "His intelligence was entirely mitigated by the fact that he was vicious and cruel." Maybe it made a difference for a few months.
CL: You did add that if someone doesn't get a good review he may not be able to get an off-Broadway run or regional theater tour. You really did break down the impact a review has and you get good reviews, so it didn't seem personal.
RB: The main thing was that a playwright responded to him. So often people who work at The Times tend to think that they're employees at the Swiss Consulate. You are not immune at The Gray Lady. You are part of a community.
CL: I also wanted to ask about your experience writing for television. You created a show that was supposed to have depth and it had a matriarch as its lead and a phenomenal cast. A long way to say, what was it like getting fired from Brothers & Sisters?
RB: It was a vast relief. It wasn't fun anymore. They kept trying to get me to skew it towards kids. I was interested in these older actresses and actors, what they had to say, what their faces look like and real adult problems. Then it had to be about 'who is kissing who.' It was my biggest fear all along that they were going to try and turn it into Desperate Housewives. And I didn't get along well. Disney is a very odd corporation. It's a fabulous place if you're an anal-retentive.
I made it impossible for them to keep me on. I was writing stuff on the Huffington Post, and I was half insane. This was during the Writer's Strike, and I think I wrote, 'I don't know how Bob Iger, who was the Chairman of ABC/Disney, is able to look his children in the eye; while taking food out of the mouths of writers' children?' It was the bridge too far. I was so relieved. I never had to go back.
CL: Since your breakdown and return to the theater you have also started teaching. What do you get out of it?
RB: I wouldn't do it if I didn't have to do it. I found it to be exhilarating to discover the pathways that newer writers find and watch that and, maybe, try and help them. It challenges me to be articulate about what I do and weed out the bad ideas.
CL: In your plays, you are so profoundly gifted at showing alienation and anomie. As someone who deals with self-hatred and self-sabotage, I am always touched by your work. I am amazed that you're able to talk about your own life, but then are completely productive. How do you walk around with all this (insert here: neuroses, pain, mishegaas) and then put it aside and get shit done?
RB: My self-disgust builds up over a period of months, and maybe years, and then I finally write something. I, at least feel, I am actually still alive. And then the other disease I have, which is the worst disease to have, is that 'I must be seen.'
Catie Lazarus is a writer and comedian. She has contributed drivel to The Daily Beast, Slate, Cosmo, Bust, Gawker, and edited the "Kvetch Section" for Heeb Magazine. She also hosts the podcast Employee of the Month, which is taped live monthly at Upright Citizens Brigade Theater. Photo: The Old Globe