The Frills of Campus Living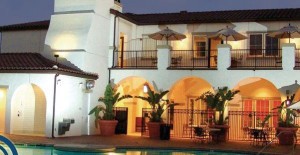 Other colleges outfit their dormitories with hot tubs, HD television sets and more. At USC, the recently opened West 27th Place luxury apartment complex boasts a walk-in tanning booth — called the Sundazzler — along with decorative fountains, tiled roofs and landscaped sidewalks. Its kitchens feature granite countertops and ice makers, just in case someone feels like mixing a margarita.
Granted, the complex is not official university housing, but it was built to serve USC students. Its developer, American Campus Communities, which describes itself as "the nation's premier owner and manager of luxurious, academically oriented student housing," advertises the complex as "an off-campus student community that is built specifically with you, the college student, in mind." Since when do college students need "luxurious" student housing?
Jonathan Zimmerman takes a look at the "college as country club" in an opinion piece for The Los Angeles Times.