Billboard Singles As Indicator of Changing Economic Circumstances, Cultural Priorities
by Jia Tolentino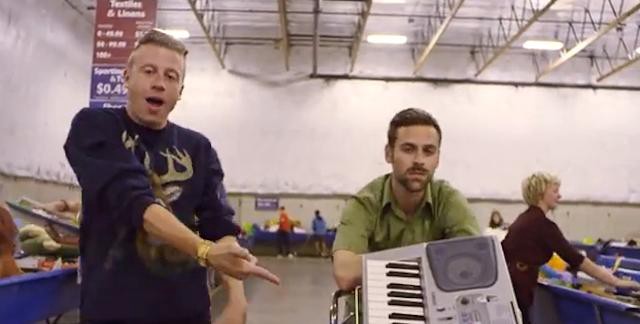 Or, a cultural anxiety reading of Billboard #1 singles, 2003 vs. 2013.
2003:
Watch out for the medallion, my diamonds are reckless Feels like a midget is hangin from my necklace
(Ludacris, 'Stand Up')
2013:
Hey Macklemore! Can we go thrift shopping?
(Macklemore & Ryan Lewis, 'Thrift Shop')

2003:
Cristal poppin in the stretch Navigator We got food everywhere, as if the party was catered
(R. Kelly, 'Ignition (Remix)')
2013:
I'm living on such sweet nothing
(Calvin Harris ft. Florence Welch, 'Sweet Nothing')

2003:
If you don't give a damn, we don't give a fuck
(Youngbloodz, 'DAMN!')
2013:
Don't you worry, don't you worry, child
See, heaven's got a plan for you
(Swedish House Mafia, 'Don't You Worry Child')

2003:
My flow, my show brought me the dough That bought me all my fancy things My crib, my cars, my clothes, my jewels Look nigga I done came up, and I ain't changed
(50 Cent, 'In Da Club')
2013:
They say money make a nigga act nigger-ish
Well — at least a nigga nigga rich
(A$AP Rocky ft. Drake, Kendrick Lamar & 2 Chainz, 'Fuckin' Problems')

2003:
Feel on each other and sip on some Hen One thing leading to another, let the party begin
(Chingy, 'Right Thurr')
2013:
Let's make the most of the night like we're gonna die young
(Ke$ha, 'Die Young')

2003:
And everywhere we go, the sun will always shine And tomorrow, we might wake on the other side
(Christina Aguilera, 'Beautiful')
2013:
This is it, the apocalypse
(Imagine Dragons, 'Radioactive')
Jia Tolentino lives in Ann Arbor, has a tumblr.
---
Support The Billfold
The Billfold continues to exist thanks to support from our readers. Help us continue to do our work by making a monthly pledge on Patreon or a one-time-only contribution through PayPal.