Emotional Labor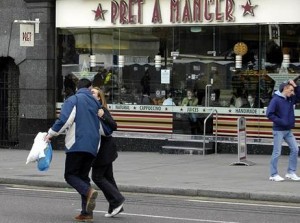 In The New Republic, Timothy Noah looks at "emotional labor," which in practice means work environments where employees are required to exude happiness to give customers a positive experience. Here's Noah on sandwich chain Pret A Manger:
Pret keeps its sales clerks in a state of enforced rapture through policies vaguely reminiscent of the old East German Stasi. A "mystery shopper" visits every Pret outlet once a week. If the employee who rings up the sale is appropriately ebullient, then everyone in the shop gets a bonus. If not, nobody does. This system turns peers into enthusiasm cops, further constricting any space for a reserved and private self. And these cops require literal stroking. In other workplaces, touching a co-worker may get you fired, but at Pret you have to worry about not touching co-workers enough. "The first thing I look at," Chief Executive Clive Schlee told The Telegraph last March, "is whether staff are touching each other . . . I can almost predict sales on body language alone."
I'm a generally positive, happy person, but working somewhere that not only asks you to look happy but touch each other, is just too much.
Photo: Zorilla
---
Support The Billfold
The Billfold continues to exist thanks to support from our readers. Help us continue to do our work by making a monthly pledge on Patreon or a one-time-only contribution through PayPal.