One Billionaire's Attempt to Save a Neighborhood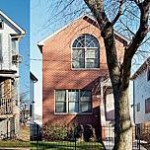 I am not wealthy (in terms of dollars, that is, because I know I'm wealthy in terms of having people who I care about/care about me, and that I get to wake up every day and do something that I love). But I do have daydreams sometimes about what I'd do if I had lots and lots of money. Yes, I'd do all the boring stuff like pay off my loans, and pay off my parents' mortgage, but I'd also want to use it to make some sort of difference in my community.
Which brings me to this story in Chicago Magazine about Gary Comer, the billionaire founder of the mail-order clothing empire Lands' End, who in 1999 drove into the struggling neighborhood where he grew up on Chicago's Far South Side, walked into Paul Revere Elementary School and asked for a tour. He then wrote the principal a check for $68,000 to fix the building's electrical problem, and over the course of the next decade put $86 million into the neighborhood in an attempt to revitalize it.
Did Comer make a huge difference? Yes, and no. There's still a lot of work to be done, and some of the decisions Comer and his foundation made have turned out to be wrong. But the important thing is someone cared enough to do something in the first place.