Fitness, Happiness Expensive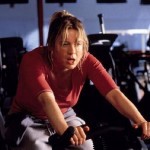 Everybody who does SoulCycle loves SoulCycle, reports Alex Morris for New York. It's exercise for the body … but also for the soul. It changes lives! "I have to say it's like a meeting for me. I'm getting high on endorphins, not anything else," says one devotee. "I have a great husband, a good life, but this is my happy place," says another.
It's $32 a class.
Math: If you go once a week, that's $128/mo. Twice a week, $256/mo. Three times a week, $384. And if you're like this girl — "'I would do anything that I could to afford these rides,' says 27-year-old Jaime, who often takes thirteen classes a week" — it's $1,664/mo.
This is not a post about how dumb all those people are, by the way.
I joined my own expensive fitness cult for several months when I was living in Virginia with my folks. The intro CrossFit course was $150. I bought a punchcard that came out to about $9/class and I went between three and five days a week — $150-ish/mo. I paid for the classes with real money — I wasn't using credit cards at this time, but I wasn't paying them off beyond the minimums. There were a lot of places that $144 could have/should have gone — Visa, AmEx, a J.Crew card — but I chose not to do that. And at the time, it was worth it. I set my alarm and got out of bed early to go run in the cold and lift weights and do burpees and get yelled at and I did it happily. I was a better version of myself for those months. I'd found the elusive thing that worked for me, that made me want to hurt my body in a good way. But then I moved to New York and started paying rent, and I wouldn't have the $200/mo. I'd need take classes here if I cut out everything out of my budget but bills. I no longer get out of bed to exercise.