Earning The Right to Be Jealous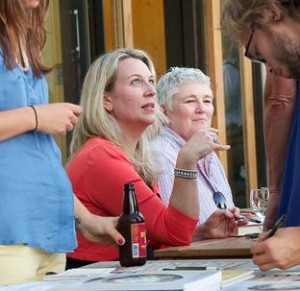 BASSIST: Now, you are in Elizabeth Gilbert's position: an incredibly successful, rich, best-selling woman writer whom so many of us would like to loathe for the aforementioned reasons. And, of course, you are an incredibly human, real, serious, worthy-of-our-sisterhood writer who, we'd all do well to remember, worked her tail off. What would you say if I said I feel jealous of you?
STRAYED: I would say you shouldn't waste your energy on jealousy. Ever, ever! But especially on people like me. I've been writing a lot longer than you have. When I was in my twenties, it never occurred to me to be jealous of writers who were in their forties, writers like Mary Gaitskill and Anne Lamott and Mary Karr, who are all about fifteen years older than I am — the same age difference as between us. They weren't my competition because I wasn't in their league. With all Sugary affection, Elissa, you haven't yet earned the right to be jealous of me.
Elissa Bassist, a young writer who once wrote to Dear Sugar asking, "How does a woman get up and become the writer she wishes she'd be?" and got the very amazing response of, "write like a motherfucker," has an interview with Sugar's Cheryl Strayed in Creative Nonfiction. I enjoyed Strayed's response to Elissa above, about jealousy.
I was out with a friend one day, when another friend walked up to me to say hello. After he left, my friend asked, "What does he do?" and I said, "He works at The New York Times." And the first thing my friend said was, "Oh, do you feel jealous of him?" And I laughed and said, "Of course not!" Not that I didn't want to work at the Times, but because I'd much rather feel happy for my friends than feel jealous of them. Sure, jealousy can fuel that fire to push you to succeed, but I don't work that way. I'd rather spend my time writing like a mother-effer (sorry, I also don't swear).
Photo: Sam Beebe