Online Poker's Shadow Market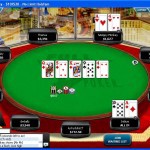 In April of last year, the Department of Justice shut down the three largest online poker sites in the U.S., leaving players — many of whom considered online poker their part-time of full-time jobs — and their earnings stuck in limbo. What happened to their money? Buzzfeed's Michael Kaplan reports:
Cates is 23 years old and has won approximately $7 million in his career as a poker pro. For the last 18 months, though, 80% of Cates's bankroll — and around $145 million belonging to more than 100,000 other players — has been held in limbo by the United States Department of Justice…
Anticipating that Full Tilt's money problems could be resolved, players quickly began buying account balances from other players.
Some players have six or seven figures in limbo, and to get some of their money back, players sold their account balances to people with actual money for as high as 85 cents on the dollar, and as low as a penny on the dollar. The people who've bought the accounts hope to recoup the full balances from the DOJ. The shadow market is fascinating to me — more interesting than the actual idea of a 23-year-old earning $7 million by gambling, which I'm boggled by.