Cheap Eats: Asparagus Lasagna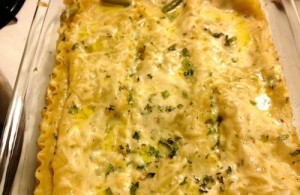 So, a few of you guys asked me how I make my favorite asparagus lasagna, and ask and you shall receive!
When I cook, I do it by taste, so I'm not going to have exact measurements for everything, but the great thing about lasagna is that it's an easy dish, and you'd have to try really hard to mess it up. The second greatest thing about lasagna is that you can make a lot of it and heat and eat it for dinner for the rest of the week, paired with a salad (or use it for lunches), which makes it a great "cheap eats" meal.
You'll need:
• Three or four cloves of garlic
• One bunch of asparagus
• 12 sheets of lasagna (I use the one from Barilla)
• Grated parmesan (as much as you like, I like a lot)
• Olive oil
• Your favorite bechamel sauce
• Salt and pepper
Snap off the ends of your asparagus. Start a big pot of boiling water (big enough to boil the sheets of lasagna), and once the water is boiling, salt the water, and add the garlic cloves (smashed), and add the ends of the asparagus. Lower the heat and let it simmer for 15 minutes or so. Basically, you're getting some of the garlic and asparagus flavor into the water. Remove the ends, and smashed garlic cloves, and boil the asparagus for five minutes or so before using some tongs to transfer them into some ice water. Ladle half a cup of the pot of water into a bowl, so you can add some of it into your béchamel sauce. Boil your sheets of lasagna in the asparagus/garlic/salt water until it's pliable, but not fully cooked (it's going into the oven), and while the sheets are cooking, make your béchamel sauce (I usually use Ina Garten's béchamel, which is here, or this olive oil béchamel recipe from The Times. Chop the asparagus into bite-sized pieces.
Now, it's just layering everything into a baking dish: three sheets of lasagna, and then spread some béchamel on top, and scatter some of the asparagus pieces and as much parmesan cheese as you want. Sometimes I'll add chopped spinach or arugula if I want some more greens (it's up to you! Maybe you want mushrooms — do what your heart wants). Do two more layers, and add the last sheets of lasagna on top. Drizzle olive oil on top, more parmesan cheese if you want, and sprinkle on some black pepper. Wrap the dish in foil, and bake in the oven for 25 to 30 minutes at 350 degrees. Remove from oven, divide, and eat. The photo above is what mine looks like.