A Food Banker Explains How Food Banks Work
by Miranda Everitt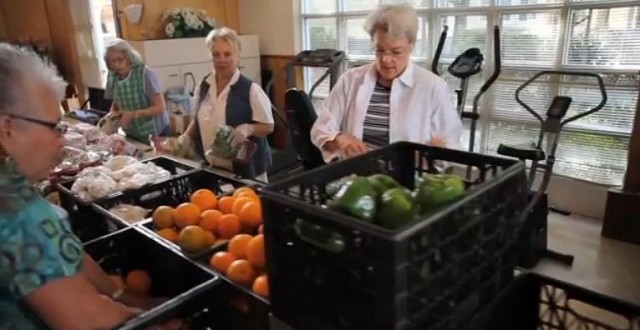 I work for the Alameda County Community Food Bank in Oakland, California. When I tell people this, they have a lot of questions! Turns out that although many people have donated food, time, or money to a food bank, they're not quite sure how they work. Here are some questions I hear pretty often — answered!
How common is hunger in America, really?
A lot more common than many people think. About 1 in 5 Americans are "food insecure," meaning they're not sure where their next meal will come from. Most of them are children.
My county neighbors San Francisco and Silicon Valley. The cost of living here is high, but low-wage jobs don't pay much more than they do anywhere else in the country. We hear from people who were laid off or had their hours cut, whose pension disappeared, who spent down their savings on medical bills, or who had a child or grandchild (or both) move in needing support. Their dollars are stretched, but their rent payment, utilities and transportation costs don't shrink to match.
For people without any wriggle room in their budget, food is the first place to cut back.
So, if I needed food, could I come down and get some?
We make it even easier than that! Food banks purchase, collect and then distribute money and food to "agencies" –food pantries, soup kitchens, senior and child care centers, etc. — that then distribute it to people in need.
One of the leading causes of food insecurity is lack of access. Some people live in neighborhoods without grocery stores. Others have limited mobility or access to transportation. We make sure people can get the food they need, as close to home as possible.
That said, if someone comes straight to us, they will leave with a bag of food and the address of a pantry or soup kitchen near them for next time.
What are the different ways to get food assistance if you're hungry? Which are state-sponsored versus private? Do the private ones get government money?
One thing I'd love to make clear is that Food Banks aren't government agencies — we're private organizations that get most of our funding from individuals like you and me. That said, public and private partnerships are making real progress toward ending hunger.
Government assistance programs are the first line of defense against hunger. Congress has created programs over the years to ensure a basic level of nutrition for all people (and sometimes, to deal with market failures in agriculture, which is why food stamps are a part of the Farm Bill). This safety-net has expanded to include programs for more vulnerable populations like children and seniors. It's kind of an alphabet soup — SNAP, WIC, TEFAP — and school lunches are among the biggest and most well-known.
SNAP (the Supplemental Nutrition Assistance Program, more commonly known as "food stamps") is the most important. Depending on your circumstances and the rules in your state, you can get a modest amount (less than $4 per meal at its most generous) put on a debit card that you can only spend on groceries. It should be the first tool to fight hunger.
With SNAP, you can shop for groceries at a time and place convenient for you, and get exactly the types of food you want. Lately, however, cuts to SNAP benefits and limits on eligibility have meant more people need to rely on food pantries and soup kitchens longer than they have in the past. My food bank has a team of 10 who help people find out if they're eligible for SNAP and help them apply. It's great for us, because that means people have more reliable sources of food, and we can serve more people who make just a bit too much money to qualify for food stamps, who are having a short-term emergency, and so on.
In most places, you can call 2–1–1 to find out more about SNAP and emergency food.
Whether or not someone qualifies for government assistance, there are also those emergency food agencies I mentioned, like food pantries and soup kitchens. At most of them, showing up to wait in line is proof that you need food — they won't ask for income documentation or make you fill out any forms. They may ask for identification of some kind to prove that you live in the ZIP code, city or county they serve. At other agencies like after-school programs, you may have to be enrolled in the program. Calling a central helpline ahead of time is a good bet if you're unsure; they'll know all the rules and tell you how to prepare if you need to.
I have a lot of cans of creamed corn I don't want anymore. Where did this come from. Why do I have this. Do you want it?
I can't tell you where the creamed corn came from. Maybe you were going to make cornbread? But if you don't want it, someone else definitely will! We will take it. Then, a volunteer will double-check the quality of the packaging and expiration date, and if it's still good we'll pack it in a box for a family to take home. Find a big food donation barrel — you'll see they're all over the place these days (especially in grocery stores) — and put them in those.
But donating to a food drive should be more than a chance to clean out your pantry — it's also a chance to consider what you'd like to receive if you ever had to visit a food pantry.
Shelf-stable protein (peanut butter, canned tuna, canned chicken, and beans) are high on our most-wanted list because they're filling and nutritious, but expensive.
You can also donate all the items you'd use for one of your favorite meals; there's a good chance someone else will appreciate it, too. One of my favorite combinations as a kid was macaroni and cheese, peas and tuna — that, along with some of the Food Bank's fresh lettuce and carrots in a salad, would be a pretty great meal for a family we serve.
Canned food drives at grocery stores — are they legit?!
They are legit! I went on a ride-along with our delivery drivers once and we picked up a lot of very full barrels at grocery stores and took them straight to the Food Bank.
In fact, grocery stores are one of the best places to host a food drive barrel, because people are walking around in a building that is literally stacked floor-to-ceiling with food! That means you don't need to remember to stick a can of tuna in your purse for later — you can buy two cans while you're shopping, keep one for yourself, and throw one in the barrel for someone else. Couldn't be easier!
Often, grocery stores will host food-drive barrels 365 days of the year, which is great for us. Although many people think of food banks during the winter months, we distribute food year-round.
Why do you have those food donation barrels at all when donating money to a food bank is more cost-efficient in the long run? Food banks can typically buy more with $20 than I could with $20.
That is totally true! My food bank provides $4 worth of food with every $1 donated. Monetary donations are very important because we buy 62% of the food we distribute.
But we like food drives because they're an easy way for people to get actively involved in our mission. Fact is, when you put a can in a barrel, that same exact can will be in cupboard of someone who needs it — often within a couple days. Many kids first learn about hunger and poverty through a food drive at their school. We also hear all the time about parents giving their child a lesson about hunger while in the grocery store.
Food drives are also a source of variety for our clients — we may not ever purchase nori (seaweed), for example, because we need to buy staples that thousands of people need, know how to prepare, and enjoy. Many of our agencies come pick up food specifically for certain clients based on their diet, medical needs, ethnic preferences, etc. So if you put that nori in a food-drive barrel, it very likely would end up in the hands of someone who loves nori!
Another reason we like the barrels: they're billboards! Sometimes, someone will see a barrel out in the world, and even if they don't donate rice and beans just then, they'll look us up online later and donate money.
Volunteers! Do you need them?
Yes! Always. Our staff is about 80 people, but if you add up all the hours our volunteers share, that's 34 more. So volunteers are really crucial to the work we do. They do more than sort foodthey also work on our Emergency Food Helpline, conduct nutrition trainings, stuff envelopes, and travel to Sacramento to talk to legislators about hunger and poverty.
One thing I'll note is that lots of nonprofits like ours have lots and lots of volunteers lined up in November and Decemer, but when the new year rolls around, it's hard to find helpers. And without the hands, that means all the great food donated to us during the winter is sitting in our warehouse, where it's not helping people. So if you've been thinking of giving back, take a minute to find out when your local food bank needs you most. You might be surprised!
Miranda Everitt is the communications coordinator at the Alameda County Community Food Bank in Oakland, Calif. She runs their Facebook page, which you should like for near-daily photos of adorable children, happy volunteers and advocacy actions that help protect hungry families.
---
Support The Billfold
The Billfold continues to exist thanks to support from our readers. Help us continue to do our work by making a monthly pledge on Patreon or a one-time-only contribution through PayPal.