Turkey Planning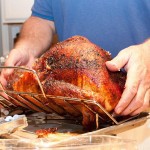 Do you know where you're going to get your Turkey or Tofurkey or Turkducken or whatever big thing you're planning on eating on Thanksgiving? I'm already seeing a bunch of turkey pieces floating around.
Logan and I are discussing our Thanksgiving plans this morning, which we're still unsure about, but last year, I spent it alone, singing carols softly to myself while roasting a single turkey breast in the oven (it was delicious — the trick is brining it).
Okay, that sounded sad (especially considering my previous post), but I actually had a fine time (scout's honor!).
Photo: Drew Bloomfield
---
Support The Billfold on Patreon
The Billfold continues to exist thanks to support from our readers. Help us continue to do our work by supporting us on Patreon.