The Logistics (And Cost) of Designing in London and Building in Nevada
by Kim Walker
This post is brought to you by UPS. UPS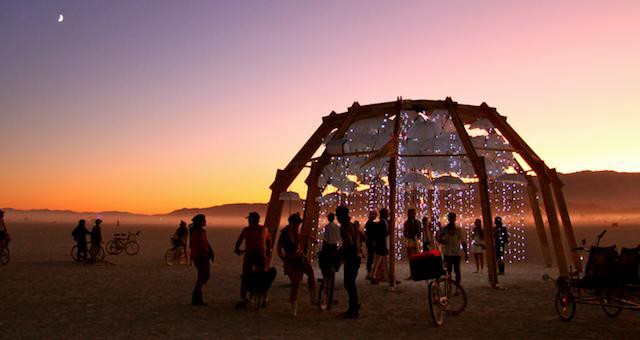 Warmbaby is a design collective formed in 2010 by group of (then) recently graduated architecture students in London. We were working day jobs in architecture offices, yet wanting to come together to design and build our own projects. Our first project was an installation for the Burning Man festival in Nevada, for which we were awarded an arts grant. The idea: To bring a whimsical dream of English rain to the parched Nevada desert. The difficulty: We do actually live in England, and we would be building the installation in Nevada — 5,000+ miles away!
The installation itself was to be comprised of hundreds of white umbrellas and LED rope lights suspended in an illuminated canopy from a timber frame with a 24-hourssoundtrack of thunder and lightning and rain pattering playing. Building it would involve steel, timber, a complex lighting system, scaffolding, a generator, and a crane (which luckily we could borrow from Burning Man organizers).
Throughout the process we used googledocs spreadsheets shared between the group to keep a running tally of budget, schedule and tasks. The grant was $16,000, which seemed like a sizable chunk of money to begin with, but quickly became not nearly enough. We raised an additional $5,726 from Kickstarter. With the grant, we also got 12 free tickets to Burning Man (a $3,600 value), and we each covered our own flights and camping costs. Our biggest cost was steel ($4,533.04), followed by the lighting system ($3,441.26). The total cost of all supplies, plus insurance, fees, rentals, and the services of an engineer was $20,091.76.

We sourced nearly everything while in London and were able to work with suppliers who arranged all of the shipping to a central location in Reno where we would meet up and get prepped before we headed to the desert. The lighting system was designed in London and shipped direct from the UK manufacturer; the umbrellas shipped in bulk from China; we ordered the speakers on Amazon and had them sent to Reno as well. While in London, we found a metal fabricator in Reno to weld and manufacture our steel parts. We emailed drawings back and forth to get them to get it just right. All the timber and tools needed, we purchased once in Reno. The mp3 soundtrack was the only part of the installation that we carried with us on the plane.
When we returned home, we sent the rewards — photographs of the installation and a printed book about the project — to our Kickstarter donors. We had 76 backers, and the cost of rewards plus postage was US$243.00. A time-lapse print ($120 for printing, frame & matting) of the installation build process was selected to be in the RIBA 'Open Architecture' exhibition in London.

Since our Burning Man debut, we have designed and built a few more installation projects. All of our time and work is completely free; currently we're not looking to make money off these installations (though that would be nice to do someday) — they're quite fun, and we're learning every time.
Kim Walker and Warmbaby are based in London.
Sponsored posts are purely editorial content that we are pleased to have presented by a participating sponsor, advertisers do not produce the content.
---
Support The Billfold
The Billfold continues to exist thanks to support from our readers. Help us continue to do our work by making a monthly pledge on Patreon or a one-time-only contribution through PayPal.