Indie Rock Economics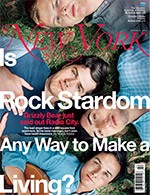 If you listen to indie rock, you're probably familiar with Grizzly Bear, a moderately successful musical act that has sold out shows at Radio City Music Hall, sold hundreds of thousands of albums, and has had their music featured in a Super Bowl commercial for Volkswagen and the Twilight soundtrack. Despite all this, the band members are having a difficult time earning a middle-income living, according to this week's cover story in New York magazine.
For much of the late-twentieth century, you might have assumed that musicians with a top-twenty sales week and a Radio City show — say, the U2 tour in 1984, after The Unforgettable Fire — made at least as much as their dentists. Those days are long and irretrievably gone, but some of the mental habits linger. "People probably have an inflated idea of what we make," says Droste. "Bands appear so much bigger than they really are now, because no one's buying records. But they'll go to giant shows." Grizzly Bear tours for the bulk of its income, like most bands; licensing a song might provide each member with "a nice little 'Yay, I don't have to pay rent for two months.' " They don't all have health insurance. Droste's covered via his husband, Chad, an interior designer; they live in the same 450-square-foot Williamsburg apartment he occupied before Yellow House. When the band tours, it can afford a bus, an extra keyboard player, and sound and lighting engineers. (That U2 tour had a wardrobe manager.) After covering expenses like recording, publicity, and all the other machinery of a successful act ("Agents, lawyers, tour managers, the merch girl, the venues take a merch cut; Ticketmaster takes their cut; the manager gets a percentage; publishers get a percentage"), Grizzly Bear's members bring home … well, they'd rather not get into it. "I just think it's inappropriate," says Droste. "Obviously we're surviving. Some of us have health insurance, some of us don't, we basically all live in the same places, no one's renting private jets. Come to your own conclusions."
Ed Droste lives in a one-bedroom apartment in Williamsburg, which he and his husband have transformed into a very nice place to live thanks to Chad's design skills. Droste says he'd like to stop renting and buy a house somewhere where he could raise a family one day, but says that'd only be financially feasible if he toured with Grizzly Bear for the rest of his life, which is unlikely. But he's not complaining either, because he gets to do what he loves, and is making it work for now, which counts for a lot too.
---
Support The Billfold
The Billfold continues to exist thanks to support from our readers. Help us continue to do our work by making a monthly pledge on Patreon or a one-time-only contribution through PayPal.