'Broke Swan,' a Poem in Free Verse About a Ballet Groupon
by Lauren Rodrigue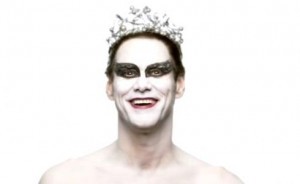 This morning there is a Groupon for Adult Ballet classes at the Joffrey Ballet.
The only other Groupon I've bought ever was for unlimited BBQ and beer.
This ballet Groupon is definitely the opposite of the BBQ Groupon.
It is $40.
You get five Adult Ballet classes for $40.
You save almost 50% on the regular price
if you buy this Groupon.
You also need ballet slippers
which aren't included in the Groupon
which kind of surprises me, actually. Like if I were in charge of putting this Groupon together
I would've made a deal with Capezio
and thrown in a pair of $20 ballet slippers
for like
$10.
And then you get 5 classes and one pair of slippers for
$50 which would solidify you
as definitely
not a ballet dancer
because no real ballet dancer would buy classes and shoes in one $50 package.
Not to mention, no real ballet dancer takes her first class at 23 years old
and couples her training with
discount BBQ (unlimited) and shots of Fernet
for free
at 3 am
at bars.
And macaroni and cheese
for dinner.
And watching Dance Moms
for fun.
I would also need to buy an assortment of dance wear — channelling Natalie Portman's strange
piecemeal shrugs
and this one time I watched this documentary on ballet
and the girl in it wore these sweatpants but they were made out of, like, sheer
sweater-knit? Baby pink?
I would channel those too.
I estimate I would spend about $100 on dancewear.
So now we're at $160.
My mother emails, "I always pictured you as more of a jazz type but either way it sounds fun."
Do you know that if I had skipped just one brunch this weekend
I would be able to buy
this Groupon?
And would be able to say things
like
"I can't meet you at happy hour.
Because I have ballet?
From 7 to 8:30.
At
The Joffrey."
And would also be able to be the girl on the subway
in ballet slippers
and one legwarmer on one calf
using the hand-hold as a barre
and falling over
as we careen into Bed-Stuy.
Maybe I should just choose brunch.
Lauren Rodrigue is a scholar and a poet but not a dancer.
---
Support The Billfold
The Billfold continues to exist thanks to support from our readers. Help us continue to do our work by making a monthly pledge on Patreon or a one-time-only contribution through PayPal.