I Paid the Bills by Participating in Medical Studies
by Elliott Sharp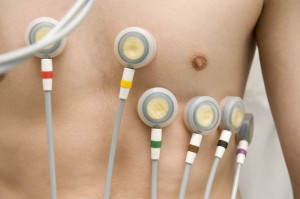 Last year was my first full year attempting to be a freelance music journalist. At the end of the year, a local writer friend asked me to come to an undergraduate class she was teaching on "freelance journalism" to talk to the students about my first year in the game. I was honest with them about my dismal year. Most of them looked sad and defeated. I told them about how, in order to survive, I turned to medical research studies to make money on the side.
They laughed.
I said, "No, seriously guys, don't laugh." I told them I had the number to the research center saved in my cell phone, and that if any of them wanted it, I was happy to share my contact. After class, one young, aspiring freelance journalist approached me for the number. If he decides to pursue this ridiculous career, he's definitely going to need it.
There are some lucky bastards who discover a way to make freelance writing work, but my first year was a financial nightmare. It was certainly the worst decision I've ever made in my life. Even worse than that one time I started a doctoral program in continental philosophy, and worse than that other time I busted a three-point-turn in my 1982 Toyota Corolla at a police roadblock in an attempt to outrun the cops (I was a troubled youth).
By the end of last year, I made closer to $15,000 than $20,000. I reviewed an album for one music website (that shall go unnamed), and many months later an envelope arrived containing a check for $3. After taxes, I brought home about $2.03 for that one. Score! Another music blog paid me $50 to write five posts each week. Major score! The majority of the things I wrote elsewhere paid somewhere between $15 and $50. I wrote a lot, and I didn't see much of a reward. I spent many nights lying awake in bed — a bed that took up about ½ of the space in my air condition-less studio/office — sweating, panicking and scheming about how I was going to earn my next $2.03.
It was awful, but I survived. Not by selling words, though. I had to pick up other jobs. I was paid $50 (plus drinks!) to be a bouncer at a neighborhood bar during their Thursday bluegrass nights, and I landed a $10-an-hour part-time gig as a computer lab monitor at a nearby school. But the best supplemental "job" I found — because it paid the most and required the least — was doing medical research studies.
I'd done one before, the summer before I went to grad school, when I was paid $400 by a tobacco research company in Richmond, Virginia (the home of Phillip Morris) to sit in a lab for 8 hours Monday through Friday and, deprived of nicotine, take tests every 30 minutes to determine how badly I craved smoke. Not so badly, really. Truth is, it's easy not to smoke, especially when you're getting paid for it. But I never quit, which turned out to be a good thing, because I made almost $2,000 last year doing tobacco-related studies at a university in Philadelphia.
Many of them required me to simply smoke a few cigarettes and watch some short anti-smoking PSAs. Then they'd administer questionnaires to determine which parts of the PSAs were most effective. I'd walk out with $100 in my pocket, which was more than any editors were willing to pay me for my words. But the weirdest test I did required me to take a low-dose of an Alzheimer's medication every day for one month so they could study how my memory and attention-level was impacted. Luckily, there were no strange side-effects, and I pulled in about $700 cash. Jackpot!
You can do the same in just about any town or city that has a research university. On Craigslist, under the "jobs" section, go to the "medical / health" or "ETC" categories, and there should be several opportunities. Some recent gigs I've seen: In New York, they're looking for women with decreased sexual desire. In Baltimore, you can earn up to $600 for participating in a study investigating trust. UCLA's looking for people who don't smoke, and they're offering $177 plus an Amazon gift card! And, as always, Philadelphia's on the hunt for cigarette smokers.
Here's a pro-tip for those pursuing tobacco research money: If, like me, you roll your own cigarettes, don't tell them this during the screening process. They want people who smoke name brand cigarettes, so I always said I smoked Marlboros. Also, they normally want people who smoke more than 10 cigarettes a day, so even if you only smoke five (or if you don't normally smoke any!), pick a number, any number, greater than 10, and go for it! (Yes, I realize fibbing a little could throw off the findings, but when the belly growls — hopefully the scientists are looking at their data and accounting for outliers.)
Elliott Sharp is a writer living in West Philadelphia. Follow him on Twitter @elliottsharp. Photo: Shutterstock/Bork
---
Support The Billfold
The Billfold continues to exist thanks to support from our readers. Help us continue to do our work by making a monthly pledge on Patreon or a one-time-only contribution through PayPal.