Places I've Lived: Monsters, Dog Seizures, and Stolen Car Batteries
by Rebecca Pederson
We have all lived in some places. Where have you lived, Rebecca Pederson?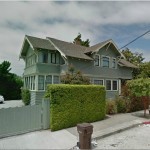 Downtown Santa Cruz, Calif., $730/mo.
My junior year of college, I moved off campus and into a former bed and breakfast with 12 other people. It was dubbed the "Green Monster" because it was green and monstrously big, and also because the landlord acted like a troll you'd find hiding under a bridge. She'd stop by every Wednesday to tell us we were terrible human beings, as well as to make sure we were all complying with her very lengthy rental contract. I didn't think the "absolutely no personal belongings in the communal areas" clause was to be taken that literally … until she threw away all my refrigerator magnets a week after I moved in.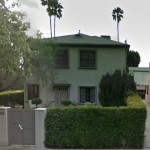 West Hollywood, Los Angeles, Calif., $0/mo.
I spent the summer between my junior and senior year of college living in LA on my best friend's dime. The plan was to write a Gossip Girl spec script that would jumpstart our soon-to-be prolific writing careers, but instead we wound up fighting viciously for three months. When we weren't on each other's last nerves, we were avoiding our super creepy downstairs neighbor, who would always try to lure us into his apartment with promises of "good wine" and episodes of that John Adams HBO miniseries. Against all odds, we actually completed the spec script. It wasn't very good. We don't speak much now.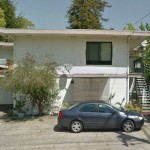 Ocean Street, Santa Cruz, Calif., $750/mo.
I lived in an apartment across the street from a seedy motel where the local prostitutes sometimes knocked on room doors to solicit their services. I shared a wall with an obese woman named Lori and her equally obese dog named Florie. Lori would sit outside my window at 6 a.m. and blow cigarette smoke into my bedroom while having yell-conversations with the neighbors under our balcony. On the other side lived an emancipated minor who threw nightly, Popov-fueled parties that often ended with me using a hose to spray down 16-year-old boys as they puked on the hood of my car. I had a headache for nine months straight.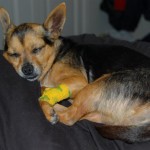 Seabright, Santa Cruz, Calif., $400/mo.
My dog and I moved in with my boyfriend, his three housemates, and their three cats after I graduated. My presence messed up the house feng shui; the cats peed all over everything, which my dog responded to by pooping in the kitchen every day. The cats also all had fleas, which gave my allergy-prone dog a horrible skin condition that triggered her epilepsy, so we spent a lot of time and money at the vet getting steroid treatments.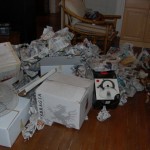 The Mission, San Francisco, Calif., $725/mo.
The first apartment my boyfriend and I moved into solo! It's really a two-room studio, and there are a few dime-sized holes in the floor so you can see directly into the garage below. Also, some of our neighbors are a little weird and possibly have unchecked mental illnesses — one of them stole the battery out of our car because he incorrectly thought we had vandalized his crappy beater — but we have a backyard that's big enough for chickens, so it's cool.
Rebecca Pederson is an editor at Yelp. Her Aunt Leslie loves her blog.