Places I've Lived: A Mugging, Parking Lot Brawls, and Fleas
by Stefanie Christensen
We have all lived in some places. Where have you lived, Stefanie Christensen?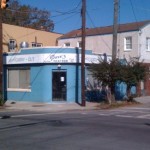 Downtown Charleston, S.C., $400/mo.
This was a two-story row house with six bedrooms where I lived with all of my friends during our senior year of college. It felt very idyllic, which is ironic because I got mugged a block from our home. Pictured here is the open-all-night seafood restaurant at the end of our street.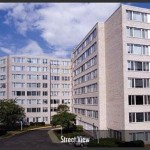 Arlington, Va., $1,000/mo.
This was my very first solo apartment and I managed to pay way too much for it out of leftovers from my college savings account (NB: don't do this). I lived here for six months while earning $8/hour at a fellowship which involved, basically, getting ancient public TV-types their lunches. From the outside, my building looked like a mental institution in Soviet Russia in that it was grey and foreboding. But: It did have garbage chutes.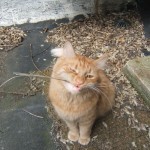 Upper East Side, New York, N.Y. $1,360/mo.
I moved into a shoebox of a second floor studio. The huge perk of this place was a bamboo-lined private patio area created by the roof of the smoothie place on the first floor. It overlooked the backyard of someone who either got evicted or decided to throw all of their belongings outside. One time my best friend visited from D.C. and we invited over a bartender who was married to a mobster and sat out there until the sun came up. Another time I had a dinner party on the patio and washed dishes in the bathtub because the sink was too small. The cat spent a lot of time eating sticks.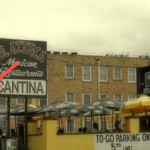 Virginia-Highland, Atlanta, Ga. $800/mo.
I had a dining room! The downsides to this otherwise very charming apartment were that it was A) on a major six-lane road and B) next to a Mexican restaurant that turned into a bar from midnight to 4 a.m.. Lots of fights happened in the parking lot that separated me from the restaurant, and I called the cops a few times when people would start yelling about knives. Once I got food poisoning from the tapas place in my neighborhood. Related: I don't really like Atlanta.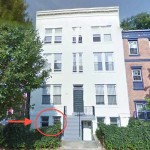 Eastern Market, Washington, D.C. $1,100/mo.
Back to DC. This apartment had one tiny bedroom and was in the basement of an ancient four-story building whose pipes exploded into my bathroom and kitchen no less than 3 times in the year I was there. The furnace was in the basement too, and once at 3am the carbon monoxide detector went off because the furnace was so dirty it could no longer filter anything. My fellow basement-dweller across the hall called 911 and the firemen came and we sat out on the street together until they told us we were safe. It was February. When I told the landlord, she laughed. Somehow, my cat and I got fleas in this apartment, which caused me to lose my deposit. This was a personal low.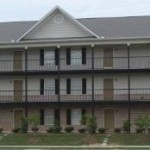 Auburn, Ala. $600/mo.
I have two bedrooms! I use one of them for books and the cat box! I have my own washer and dryer! I can walk to campus! The trade-off is that I live immediately adjacent to heavily-traveled train tracks, but it does not even matter. This is my small-town soulmate of an apartment and the day I re-signed the lease for a second year I was as happy as a clam. I wish the same for everyone who has ever been given fleas by their home.
Stefanie Christensen is a graduate student in Auburn University's College of Agriculture. She and her cat Hairy S. Truman have been vermin-free for over a year now, thankyouverymuch.