How to Lose All Your Money in Vegas Without Gambling A Dime
by Lindsay Katai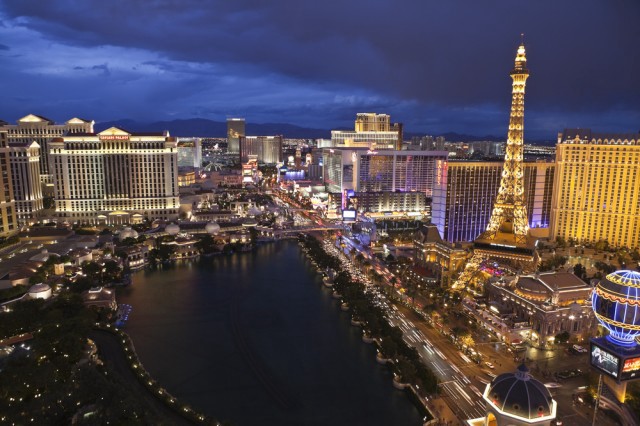 1. Decide to go to Las Vegas. Don't base this decision on careful planning and saving, but on the fact that your little sister has a bomb-ass job that results in her getting you a free hotel room at Mandalay Bay for three nights ($0!).
2. Buy a round trip bus ticket because it's Memorial Day weekend and plane tickets are like $300 each way (debit -$110).
3. Have Memorial Day weekend be the weekend before your 30th birthday, and have a boyfriend who is crazy generous and will pay for those bus tickets (credit +$110!).
4. Happen to see a $99 offer for the Planet Hollywood Spa on Travelzoo for $200 worth of services. Consider it, then decide not to do it because you shouldn't spend the money. Then, on a whim, tell your boyfriend about it, who loves that idea. Buy it (debit -$99). Thoughtfully decide on services just under $200 so that you will not have to pay too much more in the 20% gratuity charge that isn't covered by the voucher. Then, in the rush of making the appointment, decide to go for a more expensive service, making yourself responsible not only for the gratuity, but also the amount you've gone over the voucher (debit -$82).
5. Decide to see Beatles's "LOVE" because everyone tells you it's the best show ever in your whole life that you'll ever hope to see ever (debit -$160).
6. On the bus ride to Vegas, stop at a McDonald's in Barstow, Calif. (debit -$11.92).
7. When you get to Vegas, go to a sushi bar. Buy California Rolls and Miso Soup. (debit -$20.00)
8. The next day, leave yourself an hour to walk from Mandalay Bay to Planet Hollywood for your spa appointment, because you're trying to save on cab fare and it doesn't look that far away. Get trapped in the MGM Grand for 45 minutes because casinos are time sucking Twilight Zone vortexes of geography that were specifically engineered to prevent you from leaving. After having gotten back to the exact point at which you entered the damn place, find your way out and run a mile down the strip because Planet Hollywood is actually a lot farther than it looked and you're going to be 10 minutes late for your appointment. This doesn't technically cost you anything in itself, but it does manage to shave 20 minutes off the massage you've already paid for. It also gives you an asthma attack, which justifies having bought an Albuterol inhaler for the trip, but is no less aggravating for it (debit -$49.99, because Health Net blows and has a brand name yearly prescription deductible).
9. Realize you forgot to buy shaving cream, so buy a travel size at a CVS (debit -$1.83). Then — and this is important — don't bother shaving your legs the entire trip.
10. Take a cab to the Mirage to see Beatles's "LOVE," because as you know from your asthma attack earlier, your hotel is apparently a mile away from every other hotel on the strip (debit -$20.64). Look forward to having Beatles's "LOVE" change your whole life forever.
11. Before the show, buy yourself and your boyfriend a whiskey sour and a strawberry daiquiri (respectively) at REVOLUTION, the bar specifically built for Beatles's "LOVE" that has zero to do with the Beatles's other than taking a classic song title of theirs in order to pass off a pink and white monstrosity playing the worst in modern pop music (debit -$24.00). Stare at the two girls dancing at their bar stools and appreciate that they're dancing for the love of dancing. Then realize that their dancing was actually a calculated move to attract single men to buy them drinks. Get sad, but try to perk up, because you're about to see Beatles's "LOVE" and it's going to blow your damn mind.
11. Go see Beatles's "LOVE" and think it was good, but be kind of disappointed that you didn't cry, or throw up, or whatever it was everyone else did when they saw this show. In an attempt to crush this disappointment, buy a Beatles's "LOVE" branded coffee mug for yourself, your sister, and your mom, as well as a Beatles's LOVE branded tote bag for yourself, and a regular ol' refrigerator magnet with the Beatles's faces on it for your friend Wilder, who loves the Beatles (debit -$49.19).
12. The next day, go to the Mandalay Bay brunch buffet, even though you would rather have gone to the Paris breakfast buffet, but you're pretty sure that their breakfast buffet ends at 11 a.m. and it's already 2 p.m. Don't bother verifying this, just assume it to be true. Buy the $5 unlimited champagne add-on (debit -$43.77). Have the waitress inform you that the unlimited champagne was actually included in the holiday weekend price and your purchasing the unlimited champagne add-on was unnecessary (credit +$43.77, debit -$38.37).
13. After brunch, wander around with your boyfriend, unsure of what to do with yourselves. Consider paying $25 each for passes to the Mandalay Bay spa. Realize that men and women can't use the spa together and this would mean two and a half hours of being by yourselves, and that sounds lame. Decide to take a bath in the hotel room instead. Buy a 50-ounce strawberry daiquiri with an extra shot of rum in a big tube container half your size and awkwardly try to drink it in the bath while also avoiding ending up in a tub of warm, diluted strawberry daiquiri (-$21.00). Pass out for two hours because you were just drinking alcohol in what was essentially a Jacuzzi and now you remember people aren't really supposed to do that.
14. After drinking wine at the open bar at the awesome show your sister helped produce, go to an Irish pub with a great Irish singer who covers Adele, U2, and did she sing Rainbow Connection or are you imagining things? Get an Irish car bomb, Jameson on the rocks, french fries (chips!), as well as your boyfriend's chicken sandwich and Guinness, because he's been paying for a ton of your stuff the entire trip (debit -$60.20). Bond with a bunch of girls crying in the bathroom about their drug addict boyfriends and ex-boyfriends. Think about how humanity is just a big raw nerve and we're all in this together. Wonder if the singer has, in fact, said this was her last song for five songs straight or are you imagining things?
15. Force your boyfriend and sister to wake up hungover, on only four hours of sleep, to go to the breakfast buffet at the Paris hotel, the only fucking thing you wanted to do the whole fucking trip and although it turns out it's fucking open until 3:30 p.m., there's a fucking line that's probably two fucking hours long and everyone is fucking starving. Go instead to the cafe nearby where you actually have a pretty good turkey croissant sandwich and just okay crème brûlée. Pay for your boyfriend's omelette because he's been paying for a ton of your stuff the entire trip (-$42.54).
16. After sleeping for two hours because you're still hungover, pack in a sleepy haze and then take a cab back to the Greyhound bus station downtown (-$34.08).
17. On the bus ride back to Los Angeles, stop at a Panda Express in Barstow, Calif. (-$7.95).
18. Get home and realize you left, like, eight items of clothing in a drawer at the hotel. Continually calculate the price of replacing all those things in your head, until four days later, when they tell you they recovered everything from lost and found ($0, thank God).
And you're set! Enjoy the next six months of slow, incremental, angry deposits back into your depleted savings account.
TOTAL SPENT: $722.71
Lindsay Katai is a writer/performer in Los Angeles, CA who loves breakfast buffets and Twitter. Photo: trekandshoot / Shutterstock.com
---
Support The Billfold
The Billfold continues to exist thanks to support from our readers. Help us continue to do our work by making a monthly pledge on Patreon or a one-time-only contribution through PayPal.