Cheap Eats: Brussels Sprout Casserole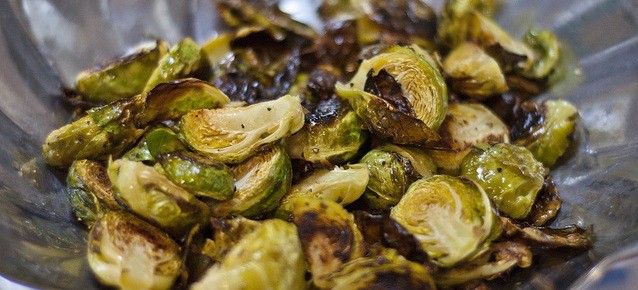 Here at The Billfold, we love cheap and easy recipes. Here's a cheap and easy recipe for brussels sprouts by reader Allison Bello.

I realized a couple of weeks back that I was eating far too much meat, so I decided to go meatless for a week and see what kinds of things I could cook that would be satisfying and meat-free. I came up with a little recipe that is easy, quick, cheap, and delicious.
This dish doesn't really have a name. It's kind of like a casserole, but not really: Roasted brussels sprout casserole? Or is it a casser-faux? Anyway, it's delicious!
What you need:
• Uncle Ben's boil-in-a-bag brown rice (whole grains are ideal for me, but if you want to use white rice, you can)
• 1 tbsp of olive oil spread (or whatever butter/butter substitute you like)
• 2–3 tbsp of olive oil (enough to coat the veggies)
• 1 package fresh brussels sprouts
• 1 red onion
• 2–3 tbsp grated Parmesan/Romano cheese
• Kosher salt
• Pepper
• Your favorite hot sauce (I love the jalapeno pepper sauce from Trader Joe's)
Since most people have salt, pepper, olive oil, and some kind of hot sauce on hand already, this meal probably costs $6 or $7 to make, and you have three more bags of the rice leftover to re-make the meal three more times for about $4 to $5 a pop.
Directions
1. Preheat your oven to 425 degrees fahrenheit.
2. Prep brussels sprouts. Usually I cut the very bottom off, then slice them in half lengthwise. This usually makes the outer few leaves fall off, which is exactly what you want.
3. Chop red onion into chunks. I like mine on the larger side, maybe about a half to three-quarter-inch squares. Keep in mind they will roast, so the smaller you cut them, the crispier they will become.
4. Throw brussels and onion chunks into baking pan and drizzle with olive oil. Salt and pepper to taste (you usually want more salt than you think you want, but you can always add and never subtract, so be judicious), and then toss everything until it's uniformly coated. Make sure all the brussels sprouts are flat-side-down in the pan, and the onions scattered evenly. Isn't it pretty, all purple and green and dotted with flavor?
5. Right before you put the veggies in the oven, put a pot of boiling water on the stove for your rice.
6. Put the veggies in the oven.
7. Once the water boils, put the boil-in-a-bag thing in. It's important to get this type because A) the 2-cup bags only take 10 minutes, and otherwise, brown rice takes about six days to cook and B) it helps you time your veggies. Set a timer for 10 minutes.
8. As the 10-minute timer goes off, turn off the heat on the boiling water. Pull your veggies out of the oven. They should be just starting to brown. They smell delicious, right? Carefully toss the Parmesan/Romano cheese evenly over the veggies, and put them back in the oven. YOU AIN'T SMELLED NOTHIN' YET.
9. Dump the hot water and rice bag into a strainer and let it cool for a moment. Then, open the bag and pour into heat-safe dish (I use my Pyrex Tupperware). Add olive oil spread to rice, and stir. This just keeps the rice from getting dried out/sticky/gloopy (in my opinion), but it's not totally necessary.
10. Pull veggies out of oven once they start to really brown on the top of the sprouts. Pour veggies on top of rice (and scrape out all that delicious cheese) and mix.
11. Add hot sauce and chow down!
This meal takes about 10–15 minutes to prep and another 15–20 to cook. I'd say it generates 2–3 servings, depending on your appetite. You can add/replace any veggies that are good for roasting, i.e. zucchini, summer squash, broccoli, peppers of any kind. It's mostly active cooking since you jump from veggies to rice and back again, so I like to put on music and boogie around the kitchen while I cook it. My roommate appreciates a good show.
Got a cheap and easy recipe to share? Let us know. Photo: Flickr/Jeremy Bronson