The Rewards of Being Kind (Or How to Get a Dinner Reservation)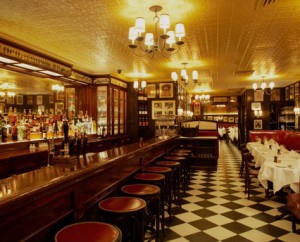 This weekend, a few very good friends took me out for an early birthday celebration at Pegu Club for a cocktail, followed by dinner reservations at Minetta Tavern. The cocktails were $14 each, and although I am the sort of person who would never pay more than $10 for a drink (not to mention have someone spend that much money to buy me a drink), it was a special occasion, and the cocktails were expertly made (recommended: The Poquito Picante, a delicious cocktail with cilantro, cucumber, gin, cointreau, lemon juice, and a jalapeno for an added kick).
But I was especially looking forward to dinner at Minetta Tavern because we were fortunate to be able to get a dinner reservation for six at the coveted 8 p.m. time slot. I have been trying to get a Minetta Tavern dinner reservation at a normal hour for years and had yet to succeed (seriously, try it yourself!). I have been dreaming about Minetta Tavern's Black Label burger ever since I read about it: a burger consisting of a blend of dry aged steak and brisket that was called "a riveting experience" in 2009 by then New York Times food critic Frank Bruni.
I finally got the burger. The dinner reservation was a birthday gift to me from Elizabeth, one of my closest friends. She was able to get the un-gettable reservation by simply being kind.
The story about how Elizabeth got the dinner reservation begins a year ago when she was trying to make dinner reservations for her boyfriend's (now fiance's) birthday. Elizabeth, like me, is a planner. Minetta Tavern allows you to make dinner reservations up to 30 days in advance, so 30 days before her boyfriend's birthday, Elizabeth called the restaurant asking for a dinner reservation for two between 7 p.m. and 9 p.m., and was told that the only times that were available were before 7 p.m. and after 9:30 p.m. These times wouldn't work for her because she had also made plans to take her boyfriend to a nice whiskey bar after dinner.
Not one to give up, Elizabeth did a thing that would have been completely ubiquitous 50 years ago, but considered old-fashioned today. She wrote a very sweet letter by hand and sent it to Keith McNally, the New York City restauranteur who owns Minetta Tavern (and Balthazar, Pastis, Schiller's, and Morandi, among many others). She wanted to make this a very special occasion, she explained to Mr. McNally, so would there be any possible way to squeeze them in for dinner at 8 p.m.? She didn't hear back, so she made alternative plans.
It turns out that Keith McNally was on vacation when Elizabeth sent the letter, and he didn't actually receive it until much later. When he finally got around to reading Elizabeth's letter, he called her up personally to apologize for not getting in touch sooner. He thanked her for her kind words, and then gave her a special phone number she could call to make a reservation for any time she wanted at any of his restaurants. This was the reward for simply writing something nice for someone and sending it in the mail.
So when my birthday rolled around this year, and I told Elizabeth I had been dreaming about this burger, she simply dialed the number and got the reservation we wanted. The night was terrific. I had bit of foie gras, bone marrow on toast, and yes, I had the burger. It was everything I dreamed it would be.
---
Support The Billfold
The Billfold continues to exist thanks to support from our readers. Help us continue to do our work by making a monthly pledge on Patreon or a one-time-only contribution through PayPal.