A Veritable Cornucopia of Articles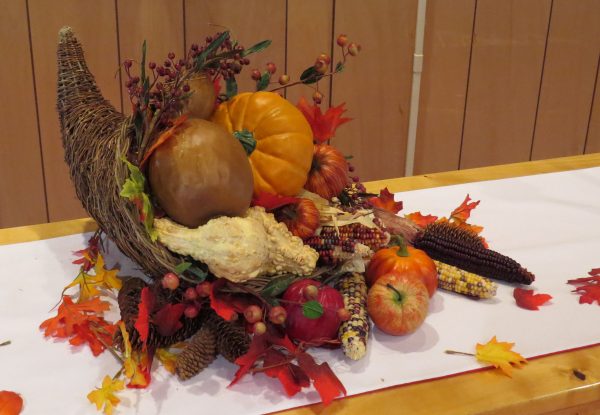 We've got a long weekend coming up (in the U.S., anyway, and if you work certain types of jobs), so here is a whole list of articles to tide you over!
We'll start with Slate: How Much Does a Dad of Two Spend on His Kids During One Week in Arlington, Virginia?
It's easy for these small expenses to pile up. This one was a case of: Oh whatever, I guess I'll just put some more money in their lunch accounts because they don't make their lunches as often as they are supposed to, because we don't want to get up in the morning with them and make them prepare in the morning by themselves.
Pair it with Billfolder-recommended Debt: a Love Story, at Wealthsimple:
Kate: We're always broke. We shop at Goodwill. We have a garden so that we can have fresh vegetables instead of going out and having a decent meal somewhere. We don't have fancy things in our house at all. But we do spend a lot of money on food. Like a huge amount. Organic and vegan this and that. Insane amounts on fresh produce. It would not kill our kids to eat a sleeve of ramen noodles every once in a while. Our kids are used to sushi. On a Friday night, we'll go to Whole Foods, and my son Luke will get a $15 thing of sushi and a smoothie. It's kind of crazy that we haven't reeled this in. And the only reason we have nice clothes is because we have…

Tom: Credit cards. Yeah.
Then read the Personal Finance subreddit thread on this article, helpfully titled "This is the single most terrifying thing I read in my life:"
I find it very fascinating the number of times they've had big chunks of the debt reduced (through the credit remediation program, 401k cash out, her parents helping them, etc) and still managed to get themselves into a worse position rapidly.
If you'd like more advice on how people should be doing money, read CNBC's Alexandria Ocasio-Cortez, the youngest woman ever elected to Congress, is down to less than $7,000 in savings:
Ocasio-Cortez's level of savings isn't bad but, based on her previous earnings, experts recommend she have between $8,750 and $30,000 put away for a crisis. "It gives a good buffer for unexpected costs, job loss, or any opportunities that may arise," says financial planner Alexander Koury.
Um… $8,750 and $30,000 is a huge range. (Also, there are plenty of people on Twitter making the cry-laugh emoji face over the idea that a 29-year-old should have $30K in savings.)
But maybe Ocasio-Cortez simply chose the wrong career. According to Buzzfeed's 25 Crazy Behind The Scenes Facts You Never Knew About "SNL," she would have done much better for herself if she'd been able to make it as a SNL cast member:
Parade magazine estimated that cast members earned up to $24,000 per show in 2017, although the amount varies based on seniority and writing credits.
She could also have given up the politics thing and moved to Tulsa. As TulsaWorld reports, the city is ready to pay you to live there, as long as you come with your own job:
The George Kaiser Family Foundation this week announced the launch of Tulsa Remote, which offers $10,000 grants and additional benefits to eligible applicants who move to and work remotely from Tulsa for a year.
Maybe Amazon should have set up HQ2 in Tulsa. Except, as Paul Constant explains in an essay titled I'm From Seattle. Here's What Amazon Will Do To New York City, the two HQ2 cities should be very afraid of what's coming:
First off, more jobs means more people. And all those bodies have to go somewhere: People need homes, and people need to commute from home to work. As you might expect from a city that added 100,000 residents in less than a decade, Seattle's commute has worsened dramatically; we now have some of the worst traffic on the planet, and our meager public transit system is groaning under increased demand.
In other corporate news, Walmart is using virtual reality to train retail employees to handle the challenges of Black Friday. Patrick Sisson describes the process at Vox:
As I circle around, the facilitator guiding me through the simulation can pause the action, allowing us to discuss, digest, and learn from what I'm seeing. I'm told the passing customers, who all seem to be casting glances at me, are doing so on purpose; the simulation is meant to put employees on the spot, letting them adjust to the pressure, noise, and expectations of Black Friday shoppers to gain situational awareness before the big day.
You should also read Vox's What if your house is too ugly to be smart?, just because I really loved Kaitlyn Tiffany's essay:
If I made an effort to save up $250 for a modestly smart smart mirror, I could do it. It would just feel ludicrous and possibly criminal to hang it in a bathroom that, on a good day, still has mold spots on the ceiling and a shower that hasn't been updated since the '90s.
Follow it with another essay I loved, Livia Gershon's A Stimulus Plan for the Mutual Aid Economy at Longreads:
The AARP has estimated that the total value of unpaid care that family members and friends provided to adults with disabilities and illnesses in 2013, the last year it was counted, came to $470 billion. That's more than two-and-a-half times Amazon's total annual revenue, and it still only captures a fraction of the work we do for each other outside of paid labor.
And if you still want more to read, here's Little Village Mag's review of our production of Sunday in the Park with George:
I am left with the fact that art has a nearly untouchable power for many of us, a power that is confusing and enveloping and profound. But also, it's most divine form lies in the imperfections and truths we allow ourselves to communicate to each other, no matter the medium. "Pretty isn't beautiful," and the generosity of personal truth is the support for every incredible artistic feat achieved.
Photo credit: Luke Jones (cropped), CC BY 2.0.
---
Support The Billfold
The Billfold continues to exist thanks to support from our readers. Help us continue to do our work by making a monthly pledge on Patreon or a one-time-only contribution through PayPal.