My Last $100: Between Here and There
Sometimes all you need is a burrito and a puppy.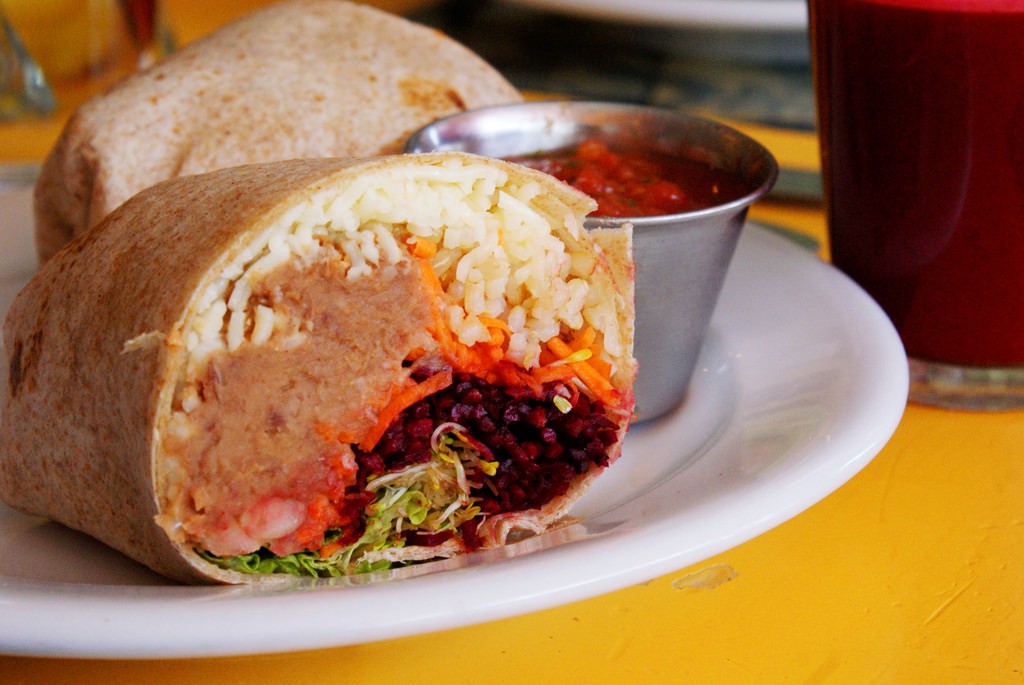 When my partner and I moved to California, we knew we were signing up for lots of cross-country travel. Both of our families live "back east," as do many of our favorite friends.
Over the years, we have developed a few travel strategies. We've become red-eye evangelists. Yes, there are lots of terrible things about red-eyes (especially because I can't sleep on airplanes), but they help with jet lag and allow us to cram as much activity into our paid time off as physically possible.
We've also decided that, for us, paying more for a direct flight is almost always worth it. No sprinting through the airport to catch a connection; as few airport meals as we can. But sometimes layovers are unavoidable.
For example: One of our most anticipated annual trips is also the most logistically complicated. My partner has vacationed on an island in Maine every summer of his life, and I've been lucky enough to tag along for the past several years. This island is the best — perfect lakes, great hiking, excellent ice cream sandwiches — but also a pain to get to.
There are only a few flights a day to the island, so our summer pilgrimage often requires a long layover in Boston's Logan International Airport. Last year we had six hours to kill. I also had to work, and took an important phone call while D. napped on a bench beside me.
This year, we purposefully chose flights that would give us an even longer layover. We figured that twelve hours would be enough to actually leave the airport and do something with our day. And we were right!
Our whirlwind day in Boston was expensive (prices below are for two people) and exhausting, but so worth it.
$5.89 — Pre-departure groceries

Unlike Nicole, I have not mastered the art of pre-vacation meal planning. The night before our trip, I had to pick up some produce for our final dinner at home.
$23.96 — Airport dinner for two
I hate spending money on mediocre food! But I also hate being hungry on a plane — especially in the middle of a red-eye when my body has no idea what time it's supposed to be — so I like to eat just before boarding. I suppose the solution is to pack a better dinner to eat at the airport, but that's another advanced maneuver I have yet to master.
$0 — Transportation from Logan to Charles/MGH
Boston could do a lot to improve its airport public transportation game (It's a bus! Never on time! Very crowded!) but the Silver Line is free coming from the airport, even when you transfer to the T. After a long and sleep-depriving flight I wasn't totally jazzed to get on a bus, but taking an expensive car during rush hour didn't make sense either. We survived.
$15.93 — Allergy meds
East Coast pollen does not mess around. I dipped into a conveniently-located CVS for some generic Claritin.
$2.94 — Iced coffee for my sister
The first stop on our whirlwind tour of Boston was seeing my baby sister! (She's my younger sister. Not actually a baby.) I will admit that our motives for arranging a breakfast rendezvous weren't entirely pure (we were there to pick up keys so we could nap in her apartment), but I would nonetheless describe my excitement level as: !!!!!!!
$23.81 — Breakfast burritos for three
Our flight in was delayed two hours, so the plan to have a long, leisurely breakfast with my sister turned into a scramble to find a place that was quick, tasty, and close to her summer internship. Anna's Taqueria to the rescue! I cannot overstate how much I love hanging out with my sister, even if it's only for half an hour.
$8.35 — Lyft Line to bed
At this point our bodies had started to rebel. We needed naps, and quickly. We could have jumped back on the T for $5.50, but the extra few dollars for an extra few minutes of sleep felt so worth it.
$6.78 — Lyft Line to puppy (!)
The second marquee event of the day was meeting a corgi puppy named Daisy, who belongs to one of my closest friends. Just eight weeks old, Daisy is super tiny and super adorable. Not content to just catch up with Daisy's antics via Instagram and Snapchat, I suspected that playing with her in person would be a delightful way to spend the post-nap afternoon. I was correct. Unfortunately my friend was at work, but her fiancée graciously hosted us. He didn't even seem to mind that the only conversation we were capable of was "Puuuuppppppppyyyy!"
$5.50 — Public transportation to the airport
This felt free, because we had some money on an old CharlieCard.
$3.27 — Ream of paper
Because my sister is the youngest kid in our family and universally adored, my brothers and I like to play a game called "What Baby Wants, Baby Gets." It's a simple game that goes like this: If my sister mentions needing or wanting something in passing, we buy it for her. For example, she recently mentioned that she was adapting a recipe because "burrata is too expensive." My brother had a Whole Foods gift card to her within the hour. I realize that this doesn't sound like that funny of a game, but I promise it cracks us up. (My sister claims to hate it.)
Anyway, my sister sent a text joking about how I'd used her last piece of printer paper while at her apartment (true). I immediately Venmoed her the price of the cheapest ream of paper on Amazon.
$2.34 — Fast food soft serve
Good name for a future band, and also the only thing that seemed palatable to me while we waited to board the plane to Maine. At this point I was very, very tired and also very, very excited and also very, very grateful for the adventure we'd managed to pack into this layover. It's not every day that I get to see my sister or meet a new puppy! I bought a McDonald's ice cream cone to celebrate.
TOTAL: $97.77
Sab has accidentally chosen the wandering life. She currently lives in San Francisco.
---
Support The Billfold
The Billfold continues to exist thanks to support from our readers. Help us continue to do our work by making a monthly pledge on Patreon or a one-time-only contribution through PayPal.