When Your Biggest Financial Gambles Are Your Best Life Decisions
"Don't bet what you can't afford to lose," my dad told me. But I did anyway.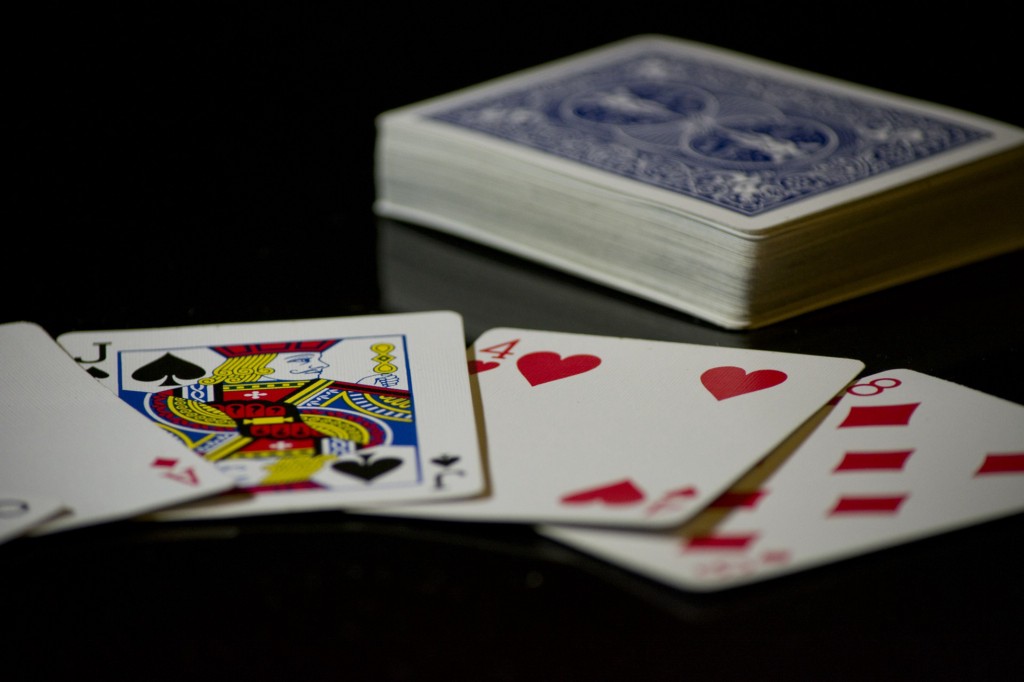 The first time I gambled with my own money was when my dad asked me if I wanted to play 21 blackjack. I eagerly agreed; back then my allowance was maybe 50 cents a week, so I wasn't exactly rolling in dough, but the prospect of increasing the small stockpile I had saved in one sitting was too tempting to pass up. My dad dealt the cards, his own pile of change stacked next to him.
The next thing I knew, I had lost almost $10, a small fortune for me at the time.
Taking pity on me, my dad showed me, with the last of my coins, how to make more strategic bets. He showed me how to bet in smaller increments, only upping the ante once I had gained enough to start doubling down. Several hands later, I had won back about $1.50, slow and steady. But my dad took the rest as a lesson: don't bet what you can't afford to lose.
The advice served me well with my finances for a long time, and I approached money cautiously. I spent less than I earned. I always tried to save, even if those savings didn't add up to much. But as I grew up and took on more expenses and responsibilities, I realized there were more complications to my dad's financial lesson than I originally thought.
The first time I took a gamble with money I didn't have was when I decided to transfer to NYU. I had spent the past two years attending the University of Georgia on the HOPE Scholarship, a program that offers free tuition to any of Georgia's public colleges to students who maintain a B+ average or higher in high school. I not only enjoyed a tuition-free freshman year, but the scholarship continued to cover me when I spent my sophomore year in an intercollegiate exchange program in California. Thanks to HOPE, the college fund my family and I had saved could be applied to my dorm fees and expenses, and I was on track to graduate without needing student loans.
Naturally, my inclination was to go to a very expensive private school in a very expensive city to finish out my degree.
What made this difficult decision even more complicated was that a stipulation of my acceptance to NYU required that I spend my first semester abroad. I decided to study in London, and with the British pound worth almost twice the dollar at the time, I knew I would be placing a lot of money—including money that I hadn't yet earned—on this bet.
Back in Georgia, I could get a room in a house with a high school friend and only pay $300/month in rent. In New York, I would share a room in a dormitory apartment and pay no less than $1,000/month. My mom, who never had to take out student loans, hated the idea of me taking out debt and presented every argument against accepting NYU's offer. She told me that I could graduate from UGA debt-free and move to New York later, an idea that I knew was entirely sensible. Lucky for me, my mom, despite her reservations and warnings, helped fill out the paperwork and make the arrangements for me to take off to London that fall and, later, New York.
While paying back my loans was, in fact, a stressful and overwhelming responsibility, going to London and New York was everything I wanted it to be and more. As a Hawaii native, I never thought I would ever leave the island, much less travel abroad and spend months learning about England and exploring Europe. At NYU, I lived and studied in the city, and I interned during school at the office that would eventually offer me my first job after graduation. My student loans meant I had to work two jobs for nearly eight years, but all that hard work gave me a greater appreciation for every Broadway show I got to see, every new restaurant I got to try, and every night spent making a new friend or exploring something new.
My second financial gamble was deciding to live alone. After the best roommate I had ever had left the city and our landlord wanted to raise the rent on our Upper West Side duplex apartment to something unlivable, I decided to venture out and live by myself. Between my two jobs, I was making decent money, and I wanted to find something in my neighborhood that I could really make my own. Everything during the apartment search seemed to fall magically into place: I was lucky enough to find a broker I liked and an apartment I loved within a few weeks. The only downfall was that everything was expensive.
Luckily for me, I had about $10,000 in savings, which I had stored away over the last few years. But that number began to dwindle, especially with the security deposit, first and last month's rent, second to last month's rent (in lieu of not having a guarantor), application fees, broker's fee of 12 percent the annual rent, and hiring movers to help get my furniture up to my fifth floor walkup studio.
The good news was that the rent was a pretty good deal for the area, and I was savvy enough to sign a two-year lease to lock it in. The bad news? I was laid off from my day job not too long into the second year, and while unemployment thankfully didn't last long, paying rent on a Manhattan studio apartment—especially with my savings nearly depleted—felt like losing the gamble and watching the house take all my money. It was hard not to feel like a kid again, looking at my barren bank reserve while my dad pocketed my change.
The truth is that my two years in that apartment were some of my happiest. Every night I came home, the minute I walked through the door, I couldn't help breathing in deeply and and relaxing, happy to be in a space that was mine. I felt empowered and independent, and I enjoyed the freedom of not sharing my everyday life with anyone if I didn't want to. I cooked meals and hosted guests and stayed up all night or slept all day, and I didn't have to look over my shoulder or ask permission. As a single woman, that was an invaluable experience.
I can also figure out the literal value of these experiences. When I crunch the numbers, these two decisions—to go to NYU and to move into the studio apartment—cost me over $40,000. If I had chosen a different path or lived in a different city, I might have less debt and more savings. Maybe I could've gone on more vacations or had more resources to pursue new hobbies. Maybe I wouldn't have had to work two jobs. Maybe I could've had the financial freedom to say "fuck off" instead of putting my head down and plowing through to pay the bills.
Not taking these chances might have made me more comfortable, but the thing I like most about these decisions is that they took me out of my comfort zone. They took me to new places, forced me to work harder, and gave me an appreciation for every small victory I could get out of difficult situations. This is not to say I'm not still living with the financial consequences of these decisions, because I very much still am. But I'm also living with the personal consequences, which have improved my life and bring their own value—and I've also learned a lot of new things that have had a tremendous impact on the way I perceive the world.
Maybe "don't bet more than you can afford to lose" wasn't the only lesson from that afternoon I spent with my dad, playing 21 blackjack. Maybe the other lesson was "sometimes you have to spend—or lose—a little money to grow."
Kimberly Lew never played blackjack with her dad for money again, though she did win $300 picking Keno numbers for him in Vegas at age 9. www.kimberlylew.com
This story is part of The Billfold's Financial Fails series.
---
Support The Billfold
The Billfold continues to exist thanks to support from our readers. Help us continue to do our work by making a monthly pledge on Patreon or a one-time-only contribution through PayPal.