Some Other People Read Ivanka's Book About Women in the Workplace
So you don't have to.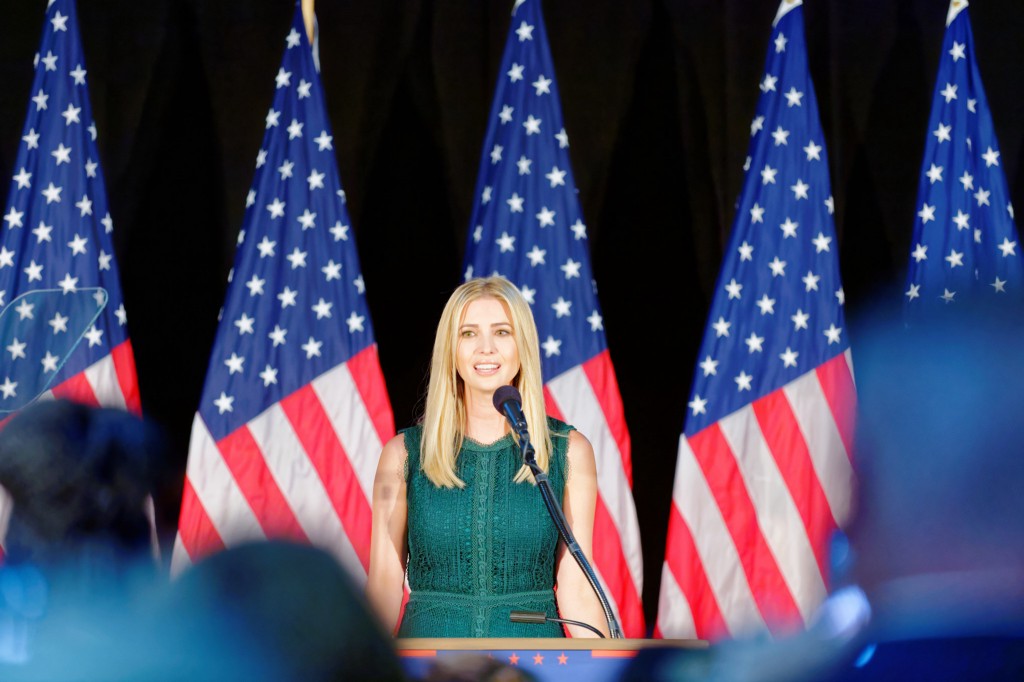 Ivanka Trump's latest book is called Women Who Work, aimed at women like her who work. I considered reading it in order to write this; I was going to get a copy on my Kindle and blow through it on a short plane ride, then return it to Amazon and get a refund. Because I value my leisure time, I decided against this. Instead, I consulted this very helpful summary of the book from NPR, which only reassured me that my decision to abstain from this very specific cultural moment was correct.
A Guide To Ivanka Trump's Manual For 'Women Who Work'
Essentially, nothing in Ivanka Trump's book is helpful for the vast majority of working women. Her audience is women like herself, operating from privilege, looking to have it all. It's a "manual for architecting the life you want to live." It is a book that, by all accounts, is tone-deaf and full of aphorisms and inspirational statements cobbled together and presented as something original, when really it is just the stuff of self-help books wrapped in a limp women's empowerment narrative.
Here is Jia Tolentino at The New Yorker with a clear-eyed view of who Ivanka's book speaks to: Ivanka, and Ivanka only.
Like "The Trump Card," "Women Who Work" is written for an audience whose greatest obstacles are internal, and Ivanka's advice is, once again, Ivanka-specific. Where, as a twentysomething, she advised women to go into the office on Sundays, she now counsels women to ask for flextime and commit to sending e-mails at night. By the end of the book, she's basically speaking to no one. Wealthy upper managers with families don't need to be reminded of the importance of setting goals, and Ivanka's directives are utterly irrelevant to anyone struggling to pay for childcare and housing at the same time. Women outside the corporate world and creative class do not figure into her vision of endless upward mobility at all.
Ivanka Trump Wrote a Painfully Oblivious Book for Basically No One
At Jezebel, Stassa Edwards highlights how Ivanka looks at choice in relation to work. For Ivanka, working is a choice and not a necessity, a fact that completely erases the experiences of so many other women who work in jobs because they need to have those jobs, regardless of what they are.
Because work is amorphous, Trump's advice on how to be a working woman — and particularly a working mother — is both specific to her understanding of labor and also wildly broad. Trump believes that choice is a neutral exercise, rather than action underpinned by resources and financial safety nets: "You chose the kind of work you do, the character of the people who surround you, the type of organization to which you will or won't devote yourself," she writes. She advises women to be authentic in the workplace while refraining from oversharing, to negotiate salaries, and to use periods of unemployment to reflect on their goals. (She also recommends that you hire three recruiters to secure a new position.)
In Ivanka Trump's Women Who Work, Women Have Disposable Incomes and 'Work' Is an Abstraction
The New York Times' Jennifer Senior points out how Ivanka's class bias shows itself. Her priorities are clearly different from the priorities of many; if she were truly a private citizen, that would be fine. As she has managed to wheedle her way into the White House, serving at the pleasure of her father in a stunning show of nepotism, she's using her position to help guide policy towards women in the workplace. With that in mind, Ivanka's blindspot becomes more and more worisome.
But a class bias at some point begins to reveal itself, and it's not just in the business leaders she profiles — who, like Trump, are often the daughters of New York City's elite. It's in her discussion of Covey's four-quadrant time-management grid, when she identifies grocery shopping as neither urgent nor important. (Do the groceries just magically appear in her fridge? Oh, wait. They probably do.) It's in her confession that "honestly, I wasn't treating myself to a massage or making much time for self-care" during the 2016 campaign. (Too busy.)
Having Trouble Having It All? Ivanka Alone Can Fix It
Slate's Michelle Goldberg is even more explicit in her critique. Ivanka's book is nothing more than a celebration of how a person could reasonably architect their own happiness: by hiring help.
This is not a book about policy or about navigating the minefield of male-dominated corporate culture. Much of it is a celebration of the unlimited possibilities open to working women when they have full-time household help. At one point, Ivanka describes how much she valued having a standing Wednesday lunch date with her daughter before she started kindergarten. "She came into the office — she prefers my 'pink' Ivanka Trump office to my real estate one, in part because it has a kids desk that folds out of the wall, complete with treats, toys, colored pencils, and markers," she writes. Of course, toddlers don't just swing by the office — someone has to bring them. If you're able to hire that person, you've got the major problem facing most working parents licked.
Ivanka Trump's Book Celebrates the Unlimited Possibilities Open to Women With Full-Time Help
Will you read this book? Are these reviews enough? Nicole suggested that I could get the same experience by reading some Maya Angelou and Jane Goodall and I feel like that would be a better use of my time anyway. Still, reading about the unique way the hyper-privileged see the world gives me a little thrill: it's so divorced from real-life that it's essentially fiction.
---
Support The Billfold
The Billfold continues to exist thanks to support from our readers. Help us continue to do our work by making a monthly pledge on Patreon or a one-time-only contribution through PayPal.