Sample Sales Are Hell
Why these things make us crazy.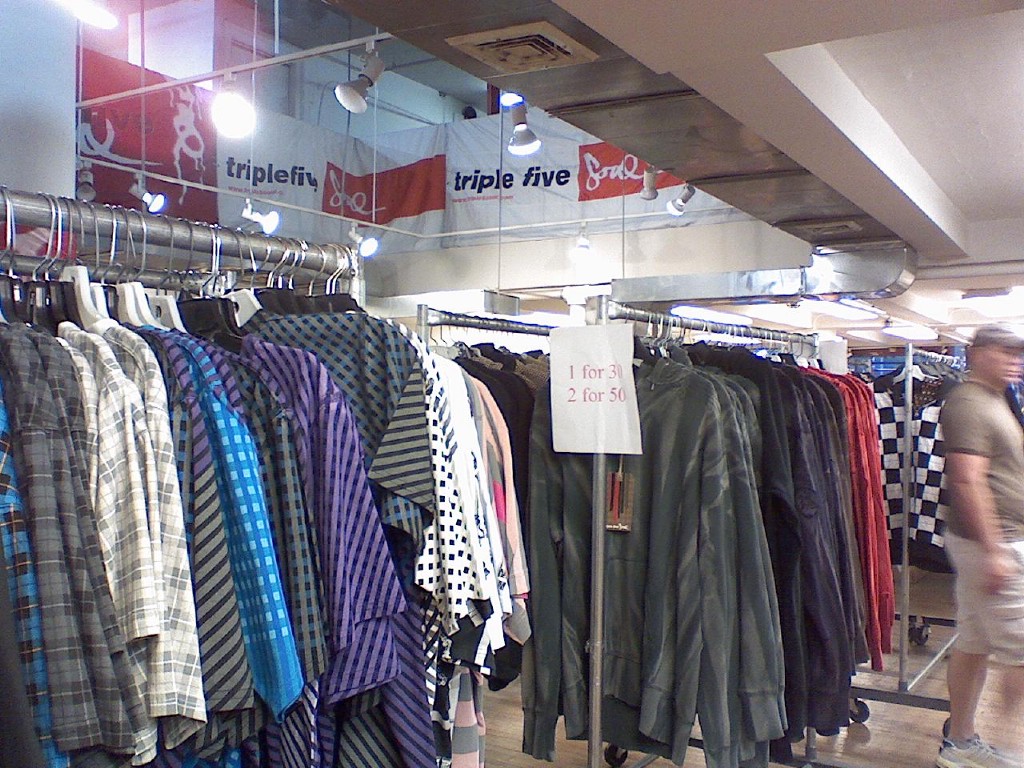 Down the street from an office I used to work at, there was a semi-annual J.Crew sample sale that threw a considerable amount of people in the office into a tizzy. People would slink out at lunch for an hour and a half, returning with a salad and an unmarked paper bag full of cut-rate bikini tops and sweaters. Sometimes one person would go as envoy in the morning to suss out the line, texting updates that would spread through the office like wildfire.
The deals were always very good; the lines were always very long. And, if you entered the sample sale, you had to be ready to fight.
In a piece for Racked, Alexandra Ossola delves into the psychology of sample sales; apparently the insane lengths some will go for a discounted cashmere sweater is because shopping at a sample sale isn't a casual errand — it's competition.
The Psychology of the Sample Sale
It's really not about the stuff at all; it's about winning. "It's like playing a game of tennis, or any other sport," says Kit Yarrow, professor emeritus of psychology and marketing at Golden Gate University. "Competition is enjoyable for people. It taps into our most primal instincts for survival."
The conditions inside a sample sale are perfect for those who enjoy competition. Competitive shoppers have strategies and objectives, viewing the shopping experience as a game more than anything else. Anyone who has been inside a sample sale has seen this behavior in others and occasionally in themselves. Shopping is escapism, a way of compartmentalizing the real world in exchange for another. Combine that with the freewheeling high of a good deal and people are digging restlessly through cardboard boxes of bikini tops and dragging piles of blouses and work pants to a corner by a mirror to try them on suddenly makes sense.
"The escape is part of the allure," Yarrow adds. "Though they might have that initial planning and prep, once [shoppers] get into the heat of battle, any normal household worries or relationship worries tend to disappear, replaced by the thrill of victory."
Racked also points out that for this is not for everyone; there are those who thrive on competition who do well in these scenarios and those who find a sample sale and its like to be their personal hell.
I used to think sample sales were silly endeavors, the very kind of shopping experience that would cause unneeded stress. One day, I stopped in the J. Crew one because there was no line and I wasn't quite ready to go back to work. Within minutes, I found myself elbow deep in a box of Lycra, digging for a one piece bathing suit in my size. Later, I bumped into a woman as I was clutching a gauzy sundress to my chest. We talked for fifteen minutes, falling into a comfortable rhythm flipping through slacks on the hangers, like we'd been friends for years.
I almost bought a bathing suit, a sweater, some new pants and a handbag but chickened out halfway through the line and set my things down on a pile of clothing near the register. A woman grabbed my discards and made off towards the mirror.
Will you line up for something outside a store? Do you wait in line for things? Does the thrill of a good deal take over your body when in a situation that feels like battle?
---
Support The Billfold
The Billfold continues to exist thanks to support from our readers. Help us continue to do our work by making a monthly pledge on Patreon or a one-time-only contribution through PayPal.