How to Donate Money to Charity Without Actually Spending Money
Use an app that donates for you!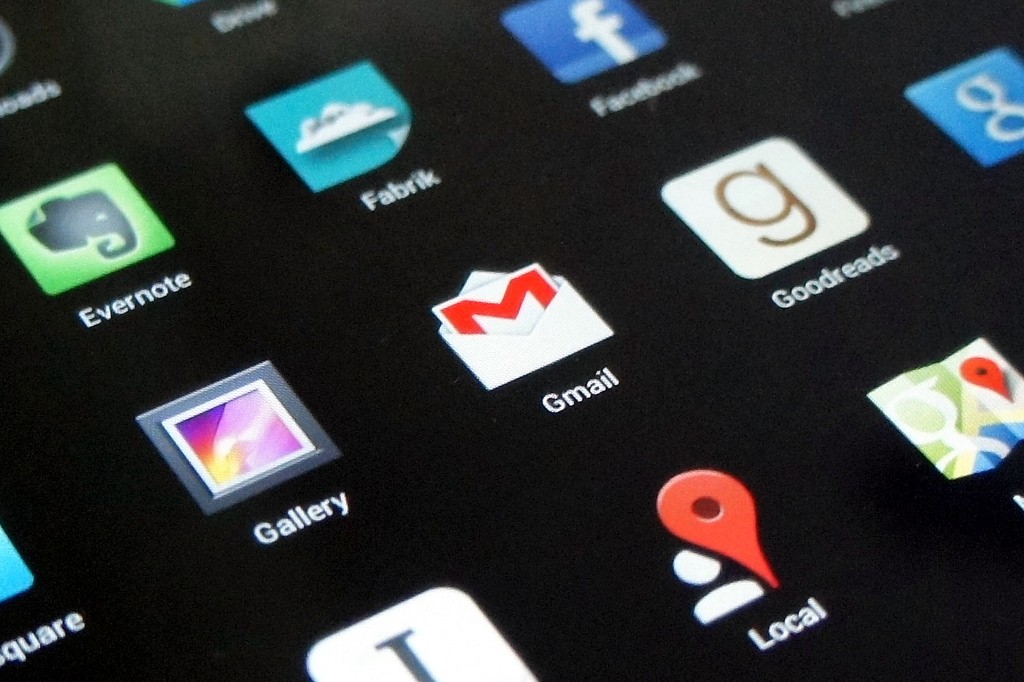 Although some people still write one large check to a single charity every year, for most of us giving is an online experience and a very social one. We take photos of our volunteer work; we tweet about campaigns our favorite charities are running; and we make a lot of small donations, many of them from our phones. Things have changed.
But for a lot of people, myself included, giving still isn't something we work into our budget. Can you blame us? When you're drowning in student loan debt, and you'll be paying off your Christmas purchases for six months, it can feel impossible to work in a donation no matter how strongly you feel about the cause.
Lately I've felt compelled to give more, but I haven't found a way to do so without throwing my budget into upheaval. So I decided to start exploring my options and figure out a way to give that wouldn't hinder my financial goals. I found a lot of apps that allow you to give to charity without actually giving any money, which seemed absolutely perfect to me. I tried all of them for a week, and while I didn't anticipate saving any lives with my microdonations, it wasn't going to cost me anything, so what did I have to lose?
Giving App 1: Charity Miles
Charity Miles is an incredibly popular app right now. For every mile you walk, bike or run, money is donated to a charity of your choice. You raise 25 cents per mile for walking/running, and 10 cents per mile for biking. The idea combines donating money with exercise, and since doing more of both were part of my New Year's Resolutions, I thought it was perfect.
I have a sedentary job, but I tried to do a 30 minute walk per day. I didn't think about it until the week was over, but you can technically start one walk on the app and leave it running all day—which would base the donation off your entire day's steps. Instead, I just started the timer when I was going on an actual walk.
A suggestion: Let the app "remind you" to save your miles after your workout. If you don't save and send, then you did all that running only for your own health, and what's the point in that?
Money collected:
In total, I donated $1.25, which was split between Girl Up, ASPCA, World Wildlife Fund, and RED. Not changing the world, but more than I would have given otherwise. If I keep up that pace and focus my donations on one charity instead of a different charity every day, I will give $65 in 2017.
Review:
Charity Miles has a pretty easy setup, and daily use is simple. You open the app, pick a charity from about 40 nonprofits, then tell the app what activity you're doing and whether it's inside or outside. After that, you just start moving.
Since the app only gives 25 cents per mile, the donations are ultimately very small. They'd be bigger if I was a more athletic person, but since 10 hours of my day is spent at a computer, my donations didn't amount to much. Also, running would earn more than walking, since the donations are based on miles and not time. But I have the endurance of… well, I don't actually have any endurance, so walking was the best I could do.
On the first day I tried walking inside, and after about 10 minutes I realized the app didn't seem very responsive on the treadmill. I lost about .5 miles and went outside to finish the walk.
Because the donation requires you to physically do something, your ability to give is determined by factors like your schedule, your health, the weather. This makes it less reliable than an app where you simply give money. Days 5–7 were a no-go for me, because it was 10 degrees outside, and I just couldn't do it.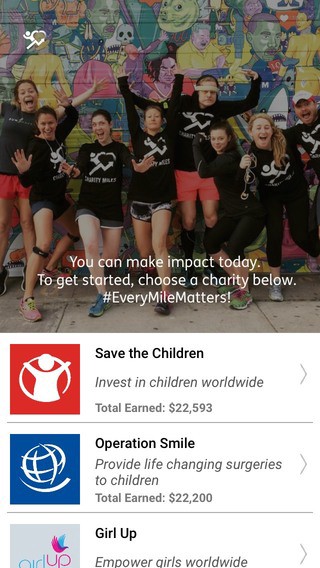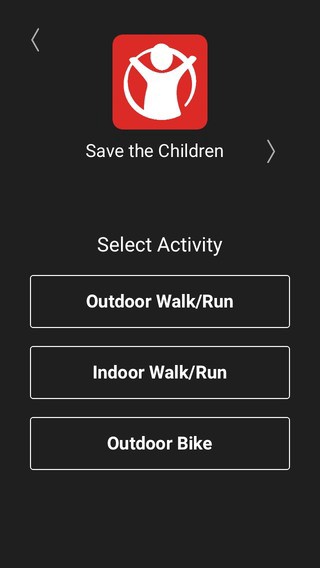 Giving App 2: Give2Charity
Give2Charity doesn't require any exercise, so I already liked it more than CharityMiles. Essentially, all you have to do is carry your phone around, which everyone is already doing, and earn points throughout the day. Once you collect enough points (1,500 minimum) you can exchange them for monetary donations like $10 to the ASPCA or $5 to the American Red Cross. (There are about 25 different charity options on the app.)
You get 100 points for signing up and will occasionally get surveys that you can answer for additional points. I used the app for five days, got two surveys, and earned about 20 points for each. You can also collect points for getting referrals and connecting social media accounts, although Facebook and Foursquare are the only options.
Money collected:
$0, but there's a light at the end of the tunnel! By the end of the week I had 294 points. At that rate, I would get to the 1,500 minimum in about 5 weeks, which would allow me to donate $2. I'd recommend saving the points to get more bang for your buck, since 2,500 points gets you $5, depending on the charity. If I keep going, I could collect a little over 15,000 points over the course of the year. Assuming I use those for the 2,500 point/$5 donations, I'd give a total of $30 annually.
Review:
Give2Charity feels like a "too good to be true" kind of thing, but it really is as simple as it sounds. If you're somewhat weary about apps tracking your location, this is definitely not the app for you. The surveys also seemed a little pervasive at times, asking to verify where you were on a certain day at a certain time.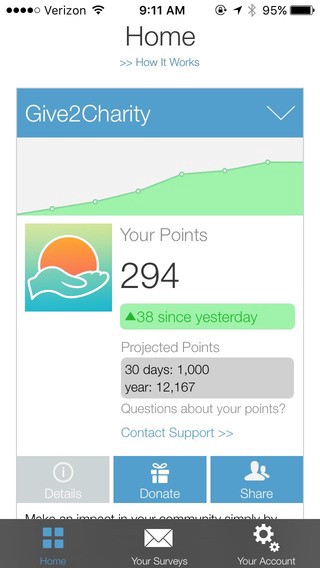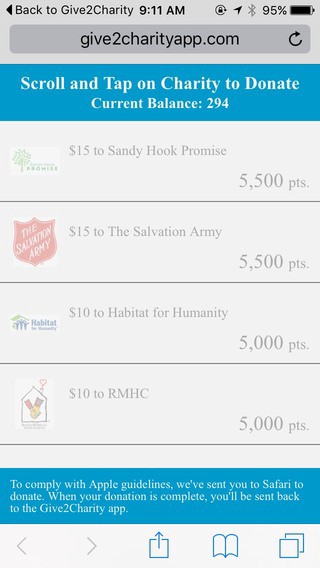 Giving App 3: Donate a Photo
Donate a Photo requires you to do just that: donate a photo. For every photo you donate, Johnson & Johnson donates $1 to a charity of your choice—but there are only 10 charities to choose from, some of which have end dates to their campaign. When one campaign ends, another takes its place. You can donate one photo a day and pick a new charity each time. The campaign tells you what your dollar will go to — a resuscitation device for newborns, a safe space kit for LGBT youth, etc. I loved that, because it helped you feel more connected to the causes.
Donat a Photo took about 10 seconds out of my day — enough time to snap a photo or pick one from your phone. When you donate your photo, you can choose to also share it to Facebook, Twitter, or Instagram, and the app adds some relevant hashtags. This doesn't earn you any more money, but it does help spread awareness and get more people using the app.
Money collected:
I donated one photo per day for seven days and earned $7. That adds up to $365 a year (I'm really good at math), making it easily the most productive app I tried. In the week I used it, I gave to Operation Smile, Save the Children, The Multiple Myeloma Research Foundation, Sight for Kids, GLSEN, Breast Reconstruction Awareness Campaign, and Americares Tennessee Wildfires Relief.
Review:
Honestly, there's nothing wrong with the app. If I wanted to be picky, I could say that I wish there were more nonprofits to choose from or that you could donate to more than one per day. But that's just me asking for a little too much, as usual.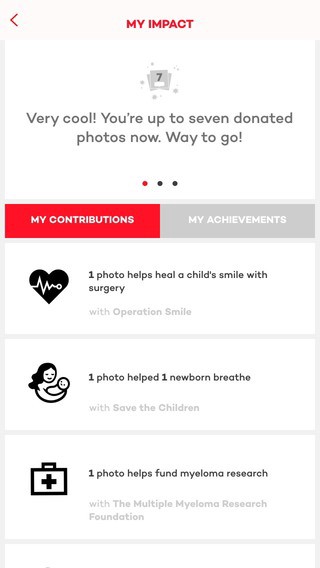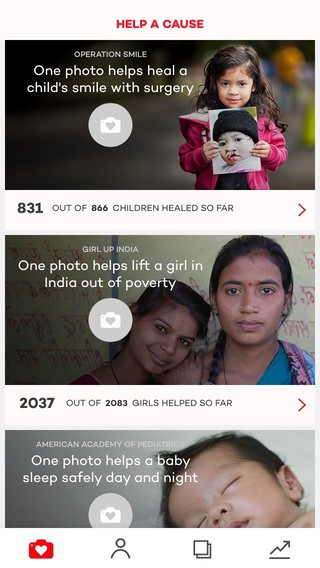 If I continue to use all of these apps daily, I will donate $460 this year without ever touching my bank account, which is pretty remarkable. Saving for a goal and paying off debt are everyone's biggest financial priority. For me, those priorities are followed very closely by donating to charity. It's something I wish I could do more, and ideally should make room in my budget for, but that's never as easy as it sounds.
But now that I've been using these apps, it seems like there's no excuse for me to not make it to that $460 mark this year. The only thing it costs me is time, and it barely costs any of that. One day I hope to be able to donate money without worry, but for now, I'll keep snapping photos, walking a few miles, and answering weird surveys if that means I can help those less fortunate.
Stephanie Ashe is a freelance writer, cat mom, and pop culture devotee. She's probably talking about a 90's movie on Twitter right now.
This story is part of The Billfold's "Resolve" series.
---
Support The Billfold
The Billfold continues to exist thanks to support from our readers. Help us continue to do our work by making a monthly pledge on Patreon or a one-time-only contribution through PayPal.