Moving in Stereo
Why is this so hard?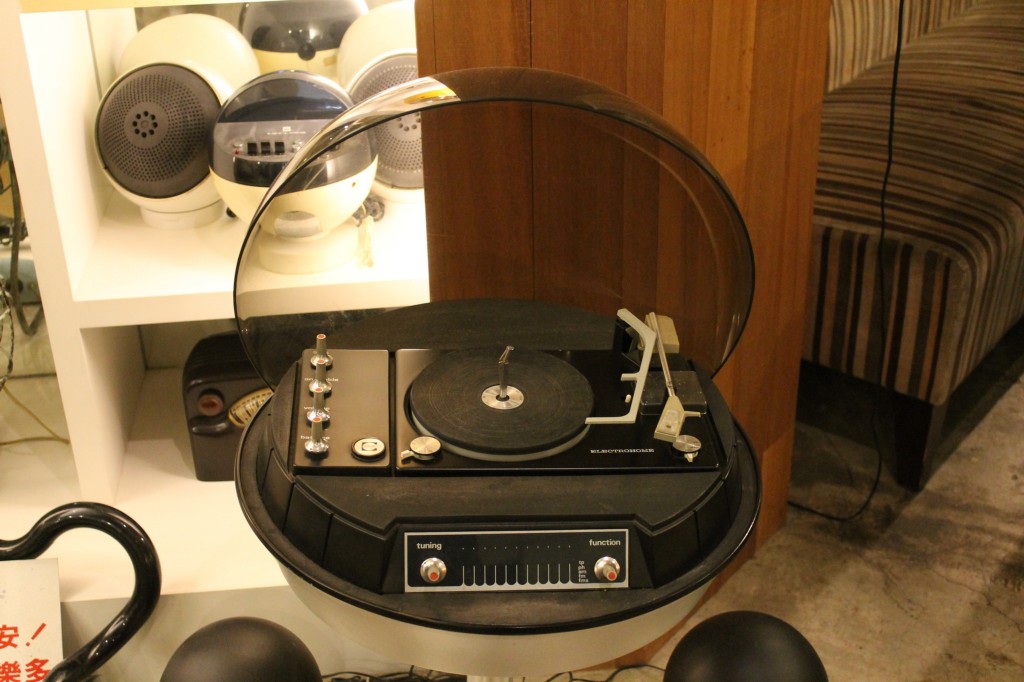 This week, I discovered that I had four boom boxes, but none with a working CD player. The Sony that I bought from Wal-Mart last year has decided that all of my discs are scratched. The Aiwa that I got at Goodwill has decided that it only needed to play one song, over and over again. The Aiwa that I got at Thrift Town only plays cassettes. And the big Sony boom box that had been my stereo since 1998 has decided to retire to radio-only status. So I have been forced to play my CDs on my fifteen-year-old Sony Discman, augmented by the free Jam Plus speakers I got when I was in the audience of "The Talk" a few years ago. For a music fanatic like me, this is a major disaster.
Does anyone play CDs anymore? Someone must. Whenever I go to Amoeba in Los Angeles, Rasputin in San Francisco, or Dimples in Sacramento, they are filled with people and product. But what can I get to play them on that will last longer than one year? I would also like to start collecting records again. Yes, "records," not "vinyl." Vinyl was the material of the green chair that my dad sat in back in the day. The stereo console that my father bought in the early seventies was still going strong in the eighties, so why do modern electronics expire quicker than the can of soup in my kitchen cabinet?
Is price the problem? How much do I have to shell out to be able to play my Yes CDs in a format that is comparable to their musicianship? What is the going rate for sonic satisfaction? I have figured out that $40 will only buy me a radio. So what kind of stereo can I buy that includes a CD player, record player, maybe a cassette player, and (sigh) another radio?
Off I went to the Best Buy website. Under "Home Audio," I looked under "Stereo Shelf Systems." Out of 74 products, only three included a record player (or turntable). I could get a Jensen system for $92, but that just sounds like another accident waiting to happen. For $140, I could get a "Victrola 8-in-1 Bluetooth Wooden Music Center." There are no reviews, so I'm a little nervous. I like those wooden replica things made by Victrola and Crosley, but does their sound measure up to their quaintness? Quaintness has its place, but I play Motorhead CDs. Next, I looked up "CD Players and Turntables." I could get a TEAC USB Turntable and CD Recorder for $300 and be able to convert all of my music to digital files. Am I the only person who doesn't want to convert anything to digital? I haven't converted anything since I taped records to cassettes in the eighties. (I really miss those mixtapes.)
Of course, I could put together my own stereo system, buying a receiver, tuner, turntable, CD player, and speakers separately. That will never happen. I'm not a snooty audiophile. I don't build things and I don't need a Home Theater Receiver in my tiny apartment with thin walls. My $200 television and free DVD player sit on plastic tubs from Target. That's not a home theater. I don't even enjoy going to Away-from-Home Theaters that much. For $500, I can get a Denon receiver with "Dolby Atmos, DTS:X and Dolby Pro Logic IIx surround sound decoders; MusicCast multiroom audio; AM/FM tuner; supports AirPlay; Bluetooth enabled; Wi-Fi compatible." What in the hell does any of that mean? I just want to be able to play the "Physical Graffiti" super deluxe box CD and LP set that I want to get for Christmas. Who are these people who spend $3,799 on a receiver and how do I get on their holiday gift list?
I decide to see what the experts have to say. When I typed in "best stereos," all I got were car stereos. "Best home theater systems" did not bring up any record players — excuse me, I mean turntables. When I searched "CD and turntables" I got scratch turntables and DJ equipment. Even Consumer Reports doesn't even have turntables listed on their website. This is too complicated. I'm not planning a mission to Mars. (But I would like to listen to Sammy Hagar's "Marching to Mars.") Maybe I'll get the $300 TEAC and hope for the best, because that Discman is not going to last forever. I really miss my Dad's Admiral stereo console. That eight-track worked really well.
---
Support The Billfold
The Billfold continues to exist thanks to support from our readers. Help us continue to do our work by making a monthly pledge on Patreon or a one-time-only contribution through PayPal.