Airbnb and the Promise of the Spare Bedroom
There hasn't been this much fantasy attached to a spare room since Lucy stepped through the wardrobe into Narnia.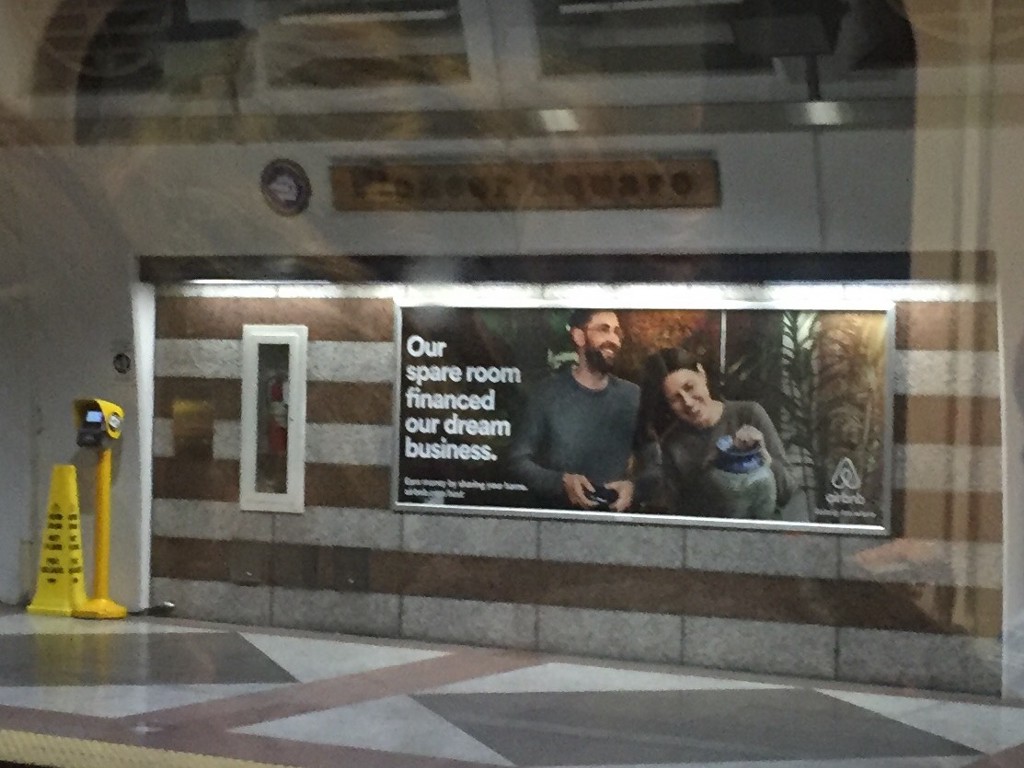 Last week, Ester shared an email she received from Airbnb, in which someone named Laura invited her to become an Airbnb host:
It claims to be from "Laura." That's a good generic name, a safe choice to trigger a positive reaction in the recipient ("Oh yeah, Laura …"), but in my case, it's a fail. I don't know a single Laura from whom this email could plausibly originate.
I can't top Ester's incredible recruitment email—or her choice of title, because "AirbnBS" is brilliant—but I can share an Airbnb ad I saw this weekend in Seattle's Pioneer Square metro station, and break down its copy and promises.
First: "Our spare room financed our dream business." Okay. It's a little hard to tell what the "dream business" is, but it looks like this couple is either into making their own pottery or selling antiques. I'm not sure. Either way, it does not look like it's a hugely lucrative business, which is probably why they needed to rent out their spare room instead of either A) getting a business loan or B) selling a few pieces on Etsy or at craft fairs while they figure out if there's a paying market.
Second: This couple was able to purchase a home with an extra bedroom. I'm assuming this is a two-bedroom home, because if they had children, the kids would no doubt be in the ad, reminding us that Airbnb can be a family thing too. Do families with young children rent out their spare rooms on Airbnb? I did a perfunctory search of Airbnb demographics and found no indication that families with children made up a significant percentage of hosts—in fact, I found no mention of host families with children at all, although there are plenty of articles about how families with children can be good Airbnb guests.
Can children travel on Airbnb? | Airbnb Help Center
Then I took my miniature investigation one step further and scrolled through the Seattle Airbnb listings, looking for host profiles that included pictures of children. I found two profiles within the first four pages of results, but these weren't families renting out their spare rooms; these were families renting "entire home/apt."
Anyway. I'm getting distracted. What I mean to say is that this couple—whom I assume is fictional, because Airbnb didn't include their first names and location—owns a two-bedroom home somewhere in the Seattle area, and the median price on a two-bedroom, according to Trulia, is $456,850. (Sure, they might have bought five years ago and only paid $300,000.)
It is important that they're homeowners, and that the ad copy reads "spare room" and not "second home/apartment rented for the purpose of turning it into a full-time Airbnb property," because Seattle is currently working on passing regulations to limit Airbnb rentals:
Seattle may slap new rules on Airbnb to ease the rental crunch
Under the regulations, only property owners using their primary residence would be allowed to operate short-term rentals year-round, according to [Seattle City Councilmember Tim Burgess]. Those not using their primary residence would be limited to 90 total nights over 12 months.
Another recent article about Seattle Airbnb regulations even includes a nearly identical photo of the same Airbnb ad, guess we were all looking out the metro window as the train pulled into the Pioneer Square station:
How Airbnb Factors Into Seattle Displacement Concerns
The regulations would limit the number of days hosts could list their property on rental platforms. Hosts listing their primary residence would be allowed to rent out all or part of their home for a total of 90 days each year without further regulation. They'd need to go through the process of obtaining a short-term rental operator's license for anything more. (Airbnb says the average listing must be rented 157 nights per year to be more profitable than a long-term rental.) Those renting a non-primary residence would be capped at 90 days of rentals annually. Platforms such as Airbnb would also need a regulatory license from the city.
Okay. So has this couple gotten their short-term rental operator's license? Have they also gotten a city and state business license for the whole antique pottery thing? Are they making their quarterly tax payments? Are they accounting for sales tax? Does Airbnb tell people that they need to do all of this—or at least the parts associated with renting out a spare bedroom?
Seattle, WA | Airbnb Help Center
Actually, yeah. That link has a pretty comprehensive overview of all of the regulations Seattle Airbnb hosts need to follow, including land use codes, rental regulation and inspection requirements, business licenses, and a reminder that "Hosts may be required to register guests staying in their listing and maintain a record of past guests." If a host actually goes through that list of rules, reads all of the linked Seattle municipal code documents, and applies for the required licenses and so on, they'll end up putting in a lot of extra work just to rent out their spare bedroom. Which, I mean, maybe people do. I'd love to hear from Billfolders who have been Airbnb hosts to see if this process is as arduous as it sounds.
But back to the ad. What people see, when they stare out the metro window at the Pioneer Square station, is the fantasy that giving up—sorry, sharing—a small portion of their home can help them achieve a dream. Sure, you have to have enough home to share in the first place, and you've got to own that home, and you need to follow a lot of rules. Once that's all done, you need to make sure that the money you're earning from the Airbnb rental is actually going towards your dream business and not to another bill, like your mortgage. (That Airbnb demographic survey I referenced earlier indicates that many Airbnb hosts use their earnings to help pay their mortgage or rent.)
You also need to set aside time to manage your Airbnb rental, including washing linens, keeping the house guest-level clean, and so on. You also need to take time to vet—and keep track of—potential guests. You need to do all of this while you're launching your dream business, which, incidentally, you can no longer do in your spare bedroom because you're renting that out to someone else. Guess you have to make/acquire/store those antique homemade vases in your own bedroom, or in the garage if you have one, because you can't have them clutter up the rest of your living space. You don't want to get bad reviews, after all.
There hasn't been this much fantasy attached to a spare room since Lucy stepped through the wardrobe into Narnia.
What do you think? Is any part of this Airbnb ad believable?
---
Support The Billfold
The Billfold continues to exist thanks to support from our readers. Help us continue to do our work by making a monthly pledge on Patreon or a one-time-only contribution through PayPal.