Talking to Ruth Barabe About 'Babysitters Fashion Club'
How much do her Baby-Sitters Club-themed outfits cost, and what advice does she have for those of us who want to join the club?
You might remember that, in 2014, The Billfold ran a series called "How the Baby-Sitters Club Does Money," in which I got to imagine each Sitter's adult life and how that might affect her finances.
So I was delighted to learn about Ruth Barabe's Babysitters Fashion Club project, in which she imagines each Sitter's adult life and how that might affect her fashion choices.
Here's an excerpt from Barabe's "Sacre Bleu, Mallory!" followed by the outfit:
Her film student boyfriend made a short movie for class of her waking up in her bed, brushing her teeth, and wandering around a playground on a windy day, looking despaired. The film was torn to shreds by his classmates in the critique, and he broke up with her. It took her a year to grow her bangs back out.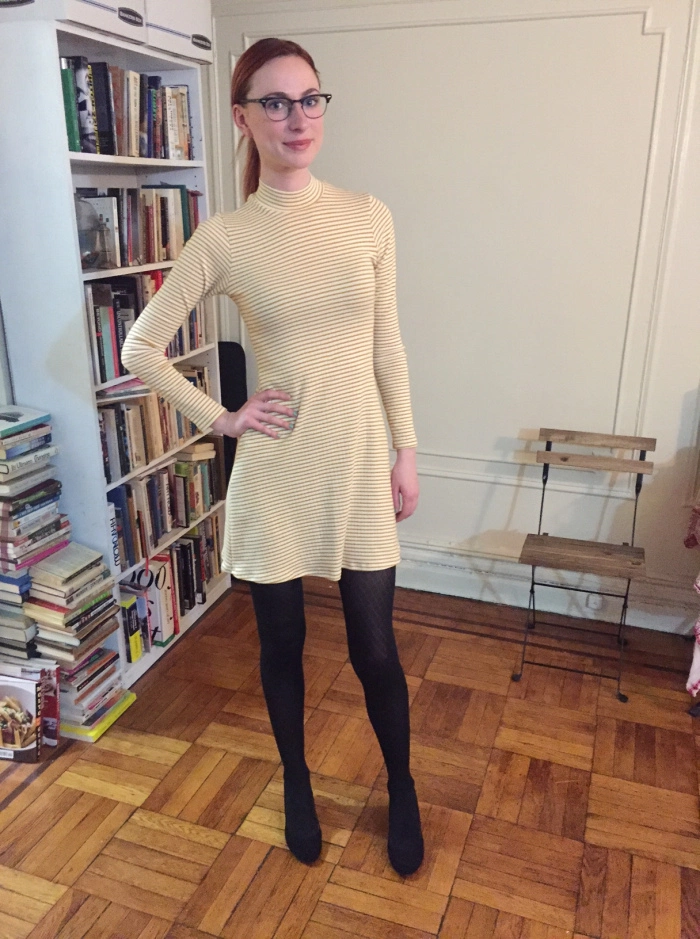 I mean, of course Mallory would get into French New Wave films, start wearing mock turtlenecks, and have unfortunate bangs. What's great about Babysitters Fashion Club is that Barabe takes the outfits to their character-based extremes—a recent Claudia outfit includes both horizontal and vertical stripes as well as bright pink tights—but still makes them all look good. The blog is very clear about its mission: We're not in this to mock the Sitters. We're in it to learn from them.
I got the chance to chat with Barabe about the project, as well as how she funds her fashion habit and how we can expand our own wardrobes.
ND: So tell us a bit about the origin of Babysitters Fashion Club. What prompted you to create the blog?
RB: I had the idea several years ago actually, when I was working at a museum and had to wear business casual attire every day. I was a little bored with my regular rotation of outfits, so a coworker and I decided to do a week of Baby-Sitters Club-inspired outfits, just to liven things up a bit.
Then I fell back into my old pattern.
But then, in the past two years or so, I noticed a sharp decline in inspiration and creativity in my fashion choices. No matter what I would consider wearing while getting ready, by the time I was out the door I would be wearing slim-cut black pants, some amorphous neutral-colored top, and ankle boots.
So a few months ago I remembered how much fun I had, experimenting with fashion within a set of very fun, familiar parameters, and I kind of just ran with it.
Did you expect to get the response you've received? (You've been featured in Slate!)
No, not at all. I hoped that people would like it more and more the longer I worked on it. But the Slate article was a huge surprise, and I hope I can keep the momentum going now that the pressure is on.
A Blogger Is Using The Baby-Sitters Club as Fashion Inspiration, and the Results Are Fantastic
Are the clothes primarily stuff you already own, or are you buying new pieces for the project?
They're all stuff I currently own, but there have been times in recent months, when the blog was still coming together in my mind, when I would be shopping and find a piece that I thought "could be a good Claudia piece," etc., and it would maybe encourage me to buy it if I was on the fence.
Where do you generally shop for clothes? I'm curious about what you might have paid for, say, Dawn's maxi dress. I could see that being $5 at a thrift store, or $200 at… not a thrift store.
This is the Dawning of the Age of Aquarius
Haha, yes. Dawn's maxi dress was purchased at the Unique Thrift Store in Fort Greene for $7.
I shop for clothes everywhere that I can afford, but I generally buy basics like jeans at Marshall's or Nordstrom Rack and scour thrift and secondhand stores for interesting statement pieces—and, occasionally, a nice vintage boutique if I find something great.
The Dawn dress with the seashell print is from a vintage boutique in the West Village, and it was $40, but its always more satisfying finding things at the thrift stores.
Do you set yourself a monthly clothes budget? Or do you buy stuff when you feel like it and it all works out in the end?
I don't have any specific budget, but I'm a dog walker, so its tight, haha.
A lot of my wardrobe is actually from Chicago, where I lived most of my life and where the thrifting culture is super huge and rewarding. Every time I visit Chicago I leave room in my suitcase for the outrageously cheap things I find there.
What advice do you have for people who want to dress well and maybe need a little help to come up with something besides black pants and a neutral top or (in my case) blue jeans and a patterned top? If we want to mix it up but don't know how to do it, where should we start? Should we pick a Sitter as inspiration?
Thats always a good start! Just putting together a story behind the outfit has been so much fun for me. It's something that I've always liked about vintage clothing. It's fun to imagine the stories behind them, it gives them a little grit.
I'd suggest having a safety zone for the basics, things like jeans and basic shirts, which you can get new anywhere that serves your budget. Then, be a little more adventurous while thrifting.
Another tip: if you find a great, unique secondhand piece but you're iffy on the fitting, use some of the money you're saving to have it tailored. Little flaws can be worth fixing or even overlooking completely if the piece really pops out at you.
I have definitely hemmed my own pants, taken in my own dresses, etc.
Yeah, its all part of the fun!
Before you started this project, had you thought much about where the Baby-Sitters might end up as adults? Or was it something that developed as you began figuring out what they might wear?
I definitely thought about it growing up, and then a few years back there was a wonderful piece on The Hairpin by Emily Weiss that imaged the current lives of the members, so it seemed like a natural next step to create running narratives for them while intentionally drawing inspiration for this project.
The Baby-Sitters Club : Where Are They Now?
I take as much pleasure in making up stories about who they are now in my mind as I do putting together the outfits.
If you want to see more Sitter fashion and read Barabe's stories, visit Babysitters Fashion Club or follow @Ruth_Barabe.
---
Support The Billfold
The Billfold continues to exist thanks to support from our readers. Help us continue to do our work by making a monthly pledge on Patreon or a one-time-only contribution through PayPal.