Grad School Is For Rich People, Suggests NYU Admissions Director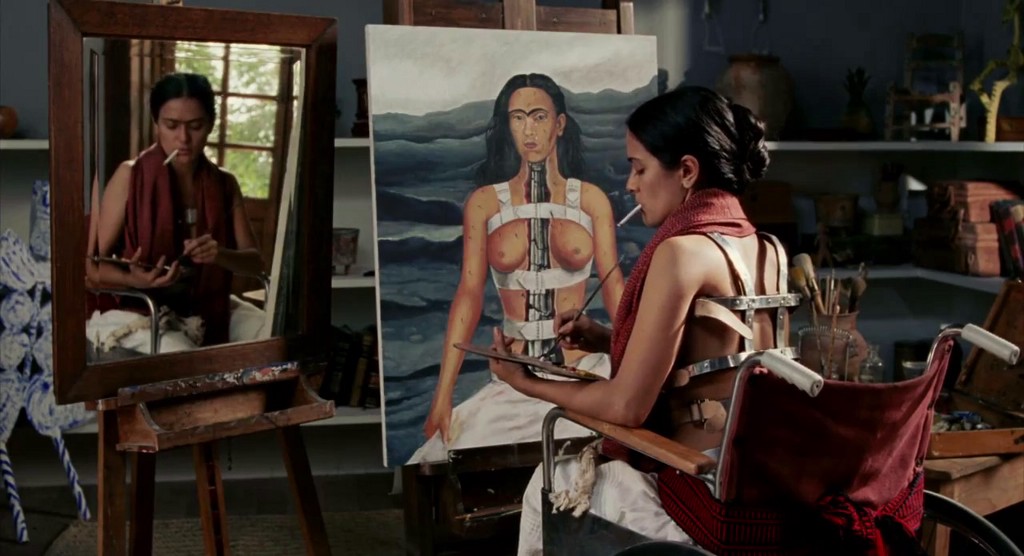 Director of Admissions and International Student Advisor Dan Sandford, of New York University's Tisch School of the Arts, has gotten himself in a lot of trouble by being too honest with a prospective student. Here's what happened.
Joshua Jackson, a senior at Brown, inquired about whether Tisch ever waives its graduate program application fee of $65. Sandford replied that no, they do not.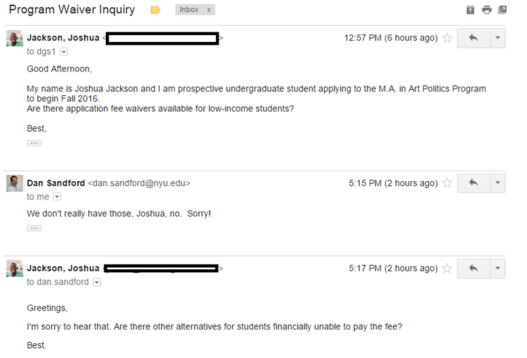 When Joshua inquired further, he received a more detailed response from the administrator. Sandford wrote, among other things, "Please do not take this the wrong way but if $65 is a hardship for you how will you be able to pay the tuition of $60,000?"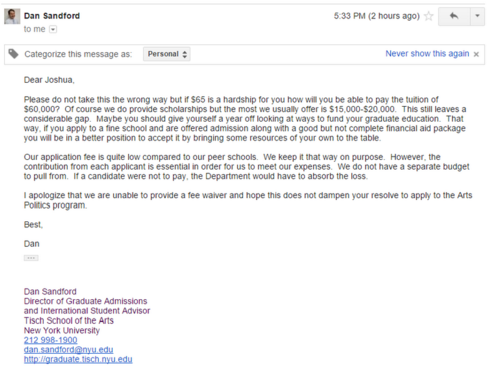 These images come via Jackson's Twitter, with which he drew attention — as it turned out, lots of it, enough to make NYU apologize — to the exchange.
Sandford's ends his email by saying, "hope this does not dampen your resolve to apply." Uh, the only thing that could have dampened him more would be an actual keg of ice water dumped over his head, but okay.
NYU insisted, in a letter that went out to all Tisch students, that it does indeed have a policy of waiving application fees for those in need. Why then a senior employee like Sandford said the opposite remains an open question.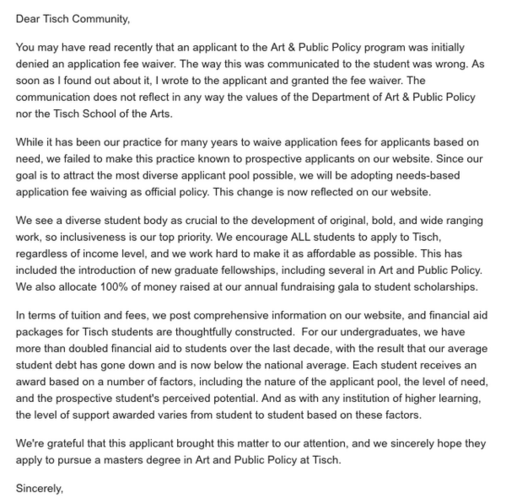 BuzzFeed, though, points out that NYU is as stingy as it is rich:
While the school is well-known for both its high fees and its limited financial aid, rarely do admissions officers admit it so candidly to applicants. …
An analysis by ProPublica earlier this year found that of the country's wealthiest colleges, NYU provided the least assistance to low-income students. Its graduate students take out more debt to finance their degrees than at almost any other school in the country — nearly half a billion dollars in loans last year, putting it just below the University of Phoenix, a for-profit giant, on a national ranking. For undergraduate students, the university's financial aid is often ranked among the worst in the country.
Jackson is probably set at this point. He's been treated badly and has handled it well; either NYU or some other savvy school will snatch him up. The larger point though is about graduate education in general and whether it's unaffordable, perhaps even unaffordable on purpose. Journalist Michael Kinsley once drily wrote in the New Republic that "a gaffe is when a politician tells the truth." Perhaps Sandford's mistake was in being too candid about something that's supposed to be an open secret.
Grad school is necessary to advancement in several fields. Like college, though, it has become increasingly, almost mystifyingly expensive.
Law students can pay $11,000 to $52,000 in tuition each year, and business students can pay anywhere from $2,000 to $70,000 per year. Yearly tuition for medical schools can range between $8,000 and $72,000, and first-year students in dental school may pay between $6,000 and $72,000.
Application costs alone can set you back in significant ways — or intimidate you to such that a degree that they deter you from trying at all.
In a piece about which grad degrees aren't a complete waste of money, Vice suggests B-school:
unlike humanities programs, business school is pretty much always a good idea (at least financially). According to Forbes, the median salary for an MBA holder is $100,000 — though that number varies from school to school; graduates of Jerry Falwell's religious business school tend to be less sought-after than Columbia alums.
Master's programs in general, though, seem to be the worst offenders because they charge a huge amount without being able to offer much in return. Here's one public complaint from a person who got a Master's from an Ivy League school in Biomedical Engineering and, eight months and lots of networking later, was still unemployed. "I think my Master's degree might be hurting, not helping," he concludes.
An NYT feature on the subject of what a Master's degree is worth includes this similarly blunt assessment, from a professor at Columbia:
colleges and universities are on the prowl for new sources of income. And one place they invariably turn is to new customers, i.e., students.
During times of financial stress, people become vulnerable and understandably seek to improve their situation in any way they can. For many, more education seems to be the solution. When the economy goes down, applications to graduate programs go up.
As a lifelong educator, I believe more education is always a good thing, but buyers must beware.
They sure must, as an administrator has inadvertently made perhaps a little too clear.
---
Support The Billfold
The Billfold continues to exist thanks to support from our readers. Help us continue to do our work by making a monthly pledge on Patreon or a one-time-only contribution through PayPal.