Taking a Year off from College and Moving to Silicon Valley, Part II
by Aja Frost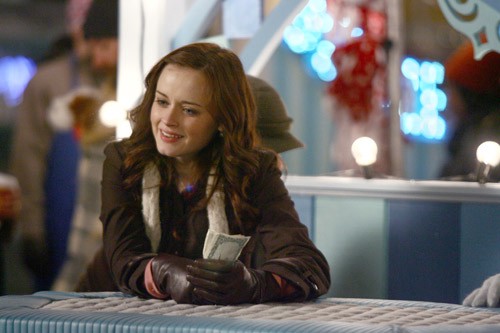 Last you'd heard from me, I was about to move to San Jose to work in a technical role at a very technical company — a big leap for an English major, even one who has TechCrunch as her homepage. And, like you'd expect before such a huge change, I was also full of questions. It's been about two weeks, and I'm now able to answer (most of) them.
Will I pass my driver's test?
I did NOT pass my driver's test. Even though the morning of the test I'd driven for two hours with my dad with no problem, when I got behind the wheel I immediately tensed up and started making all kinds of stupid mistakes.
Going 35 in a residential area and yielding to cars I shouldn't have might not have blown my chances, but cutting the right-hand turn too sharply and rolling over the curb sure did.
Weirdly, in the moment, I didn't know I had failed. The driving instructor grabbed the wheel, and I remember thinking, That was a little dramatic of her. When we pulled back into the DMV and she said, "I'm afraid we can't pass you," I promptly burst into tears.
"Buuut, I'm mooooving, tomorrooooow," I sobbed.
My dad rushed over and pulled me into a consoling hug — then whispered, "You know you can't cry at your new job, right?"
I made the soonest possible appointment for another test. In the interim, I've been bumming rides, getting Ubers, and riding my bike.
Will I make friends?
Kind of! Here's the thing: I'm the only person under the age of 30 in the office. So all my friend options are 30 and up — which is actually pretty cool with me, because I like hanging out with older people.
Thus far, my strategy has been to eat with a different person every day. I've gotten to know Steve, a 65-year-old Python developer; Lauren, a 40-something project manager; Karla, a 32-year-old HR associate; and John, a 36-year-old data scientist.
I've got dinner dates with Steve and his wife, Lauren and her husband, and Karla and her girlfriend. Woohoo!
And when I get my license (please please please), I can start going to local hiking spots and events in San Francisco and meet those born within eight or so years of my birthday.
Can I do this job?
YES! Guys, I had the best moment yesterday. My boss asked me to prepare a detailed report of an experimental technology we're working with (and that I'd never heard of before.) It made my head spin at first.
But less than two hours later, after a deep-dive into the documentation, I realized that I got it. And then I wrote a comprehensible, technically accurate paper. It felt amazing.
Will I save money?
I think I will. But there have definitely been some unforeseen costs. For example: Oh wait, my apartment doesn't have overhead lighting. I guess I should buy some lamps.
Oh, and one day when I had meetings all over town, I spent $80 on Uber. Okay, and I might've also splurged on a couple of items for my work wardrobe. (They're worth it — I feel very professional in my new pencil skirts and sheath dresses.)
But yes, the saving is starting … now.
Is going back to school going to be awful?
Maybe not. Even though I'm definitely getting adjusted to the "real world," it might actually be nice to have one more year in college.
One thing I'm not taking for granted anymore: Being able to move around all the time. In college, I rarely spent more than an hour in one place, since I was always going from class to the library to my apartment to a coffee shop to class again.
And even at my other internships, I was always bopping from place to place — I'd start my morning at my desk, run downtown for a photo shoot, meet someone at a restaurant, head back to the office, do some work in a pod, collaborate with the other interns in the "living room."
But at this office, which is more traditional than the my previous ones, people think it's strange if you don't work at your assigned desk. When I started, I'd move to the kitchen area every afternoon for a couple hours, and people started teasing me for "setting up shop there."
It might seem weird that what I miss most about college is the physical freedom — not the partying, late nights, late mornings, and nonexistent dress code. But there you go. I've never claimed to be your typical 20-year-old.
And while I might start to crave the intellectual freedom of college, I've been learning about so many downright fascinating things at work that I haven't yet.
Anything else?
If you go back to the original post, you might notice there's one question I haven't answered — the one regarding the dating scene.
There may or may not be dating updates. Okay, there are. But I'm unfortunately kind of Google-able, so I'm going to hold off on this one for a little bit.
In the meantime, wish me luck on my driving test!
This column is part of a multi-part series.
Aja Frost is a student at Cal Poly San Luis Obispo who loves writing… and dessert. Follow her on Twitter @ajavuu.
---
Support The Billfold
The Billfold continues to exist thanks to support from our readers. Help us continue to do our work by making a monthly pledge on Patreon or a one-time-only contribution through PayPal.