Rent The Maternity Runway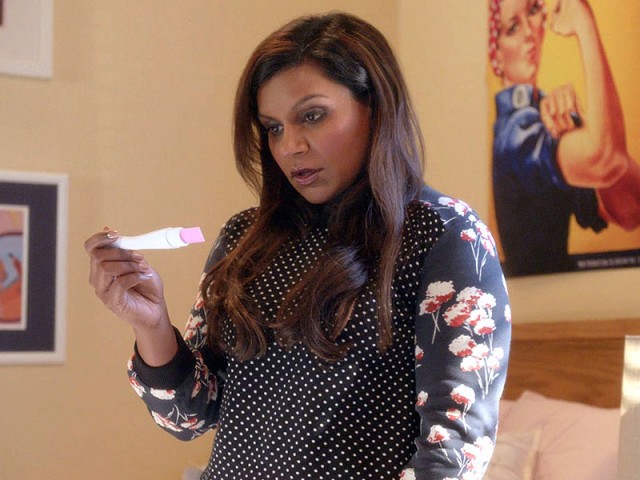 Last night, I had several tabs open on my browser and kept shifting unhappily from one to the next: a bright blue sweater from H&M Mama ($30); a lovely but twice as expensive black cardigan from Figure 8 Maternity (on sale for $69, regular price $94) that, despite its price tag, was probably made in the same factory in China as everything at H&M; and my Park Slope Parents listserv, on which I vainly hoped that more people would put up posts advertising their old long-sleeve shirts and sweaters.
Buying maternity clothes, beyond the Wardrobe In A Bag I got early on from a neighbor, seems like such a colossal waste I put it off for as long as possible last time around. Yet a couple of days ago, the nice weather was like, "Why am I hanging around if I'm not getting paid for overtime?" and skedaddled, to be replaced by Autumn With A Vengeance. And I began to despair of not having more warm clothes that can cover my bourgeoning belly.
Pro tip: be pregnant during the summer. It's so much cheaper.
After much searching, I did finally get a maternity coat secondhand off of the PSP listserv for $40. It's wool, and only half-length, and so roomy that it won't fit properly until I'm in my third trimester, by which point winter will be so advanced that I'll need something much warmer. Altogether, not my wisest purchase. But something seemed better than nothing, and I really, really wanted to be done shopping.
Then I read this Fast Company piece about a start-up that lets you rent maternity wear.
When Le Tote launched in 2012, it offered "mystery boxes" of clothing that women could keep and return at their leisure, like Netflix discs, for a monthly subscription fee. Eventually, Tondon added the ability to purchase items, which now makes up a significant amount of the startup's revenue, and also to choose the clothes in each box. …
For $59 per month ($10 more than a general subscription), pregnant women can subscribe to receive three garments and two complementary accessories at a time. Le Tote's maternity brands, which generally fit into the more expensive range of options, include 9Fashion, Japanese Weekend, and Summer & Sage, but the shipment will also include items from Le Tote's general collection that would still fit a pregnant belly. The company hired a pregnancy expert to help them decide what types of clothing will fit a woman at different stages in her pregnancy, and it automatically adjusts the clothes it sends accordingly.
$59 a month for three garments is probably too high a bar for me, and I don't really need the kinds of labels being listed here, but I applaud the idea. More innovation in the ready-to-wear market, please! Especially maybe at the lower end.
---
Support The Billfold
The Billfold continues to exist thanks to support from our readers. Help us continue to do our work by making a monthly pledge on Patreon or a one-time-only contribution through PayPal.