My Big, Fat, Ultra-Budget, Courthouse-And-Backyard Wedding
by Kat Kuehl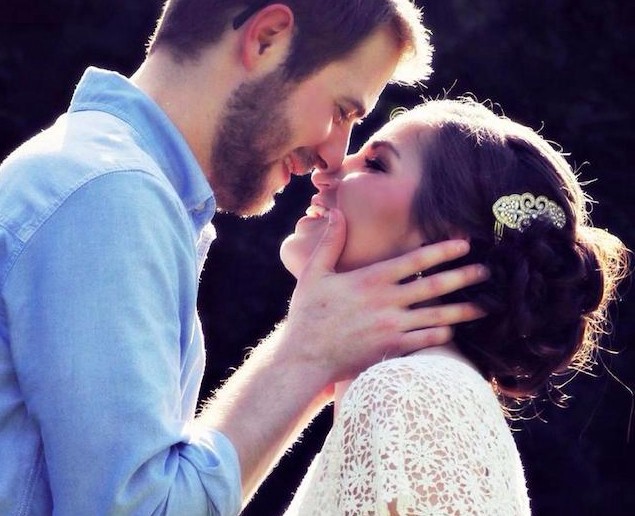 I was never that little girl that fantasized about her wedding. Sure, I thought that there would come a time when I would get married, but I never really gave much thought to how I would actually go about sealing the deal. The actual marriage seemed more significant than the wedding itself. I think I can thank my parents for that practical outlook.
My husband and I tied the knot earlier this summer. Before that day arrived, we had numerous conversations about our visions for our "special day." Did we want a big wedding? A destination wedding? Did we want to elope? We bounced so many different ideas around, I began to think we would never actually settle on one specific approach.
However, there was one thing we knew for certain: we absolutely were not going to be that couple that went into extreme debt or had their parents dip into their retirement savings in order to foot the bill for one extravagant day. More power to you if you think it's worth it — that's your prerogative. It just wasn't in the cards for us.
So, eventually we settled on a simple, incredibly intimate courthouse ceremony with a backyard reception at our home. When I began to tell people about our courthouse wedding, I was admittedly taken aback by their reactions.
Some people exclaimed, "But, why?! This is your one chance to have that big, special day!" I usually responded by telling them that I was banking on the marriage being a heck of a lot more special than the wedding. The other reaction? People immediately asked if I was pregnant — because apparently courthouses are only meant for shotgun weddings. I'm definitely not pregnant, by the way.
Despite the lackluster reactions from most people, we pushed ahead with our courthouse plan. Determining the guest list was, by far, our most difficult challenge. My dad has nine brothers and sisters. So, either our guest list would be incredibly exclusive, or it would be incredibly huge. There really was no middle ground.
We made the decision to include only our immediate family — just our siblings, their significant others, and parents. But, even with the barebones guest list, I was still surprised at how much our courthouse wedding ended up costing. Let me tell you, things add up quickly! Curious about how much we spent? I'll stop my blabbering. Let's get to the numbers, shall we?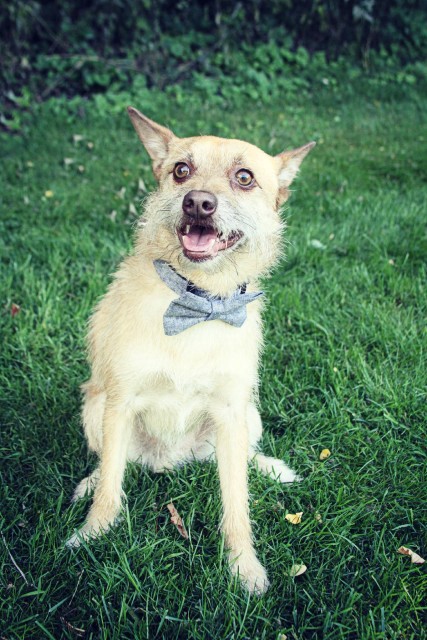 WEDDING STATS
Guests (including bride and groom): 12 (11 adults and 1 baby)
Location: Appleton, WI
Reception Menu: Shredded turkey sandwiches, pasta salad, chips and dip, fruit, red velvet cake, wine, and beer.
*
WEDDING ESSENTIALS
Wedding Rings: $1,134
Marriage License: $102.50
Photographer: $500
Certified Copies of Marriage License: $23
TOTAL: $1,759.50
*
APPAREL AND BEAUTY
Wedding Dress: $169.28
Return Postage: $16.89 (this was to return a dress I had ordered online and absolutely hated)
Bride's Shoes: $105.45
Hair Accessories: $26.75
Hair Appointment: $70 (to be fair, the appointment only cost $40 — I gave an extremely generous tip to thank him for putting up with my overwhelming amount of hair)
Blush Compact: $22
False Lashes and Adhesive: $8.90
Groom's Shirt: $20.89
Groom's Shoes: $37.87
Groom's Socks: $4.42
Dog Bow Tie/Collar: $46
Dog Leather Leash: $36.91
TOTAL: $565.36
*
RECEPTION
Patio Table: $445.32 (we decided to purchase a patio table for our backyard reception, so that we could actually provide some outdoor seating)
Food: $175.10
Beverages: $78.61
Flowers: $14 (purchased at the local farmer's market)
Candles: $5.05
Paper Goods: $33.69 (yes, we used paper plates)
TOTAL: $751.77
*
WEDDING GRAND TOTAL: $3,076.63
Of course, there are quite a few places where we could have cut costs. Did we need such pricey rings? No. Did our dog require a bow tie? Nope. Did we absolutely have to have that Edible Arrangement? Probably not — although the chocolate-covered strawberries are killer.
All in all, I'll admit that our courthouse wedding cost a little more than I would've liked. But, as far as weddings go, I feel like we did pretty well. Perhaps I don't have personalized matchbook covers to keep with our wedding mementos or a bouquet that I can dry out and display. But our day was still positively memorable and beautiful — and we're going to pay off a car instead! That, to me, is romance.
Kat is a Midwest-based freelance writer, who sometimes feels like she lives her entire life behind her computer screen. When she manages to escape, you can find her binge-watching The Office or talking in a high-pitched voice to her rescued terrier mutt.
---
Support The Billfold
The Billfold continues to exist thanks to support from our readers. Help us continue to do our work by making a monthly pledge on Patreon or a one-time-only contribution through PayPal.