In Office Cheerleaders, Game Rooms, & Everything Else Your Employer Is Willing To Give You Besides…
In Office Cheerleaders, Game Rooms, & Everything Else Your Employer Is Willing To Give You Besides Childcare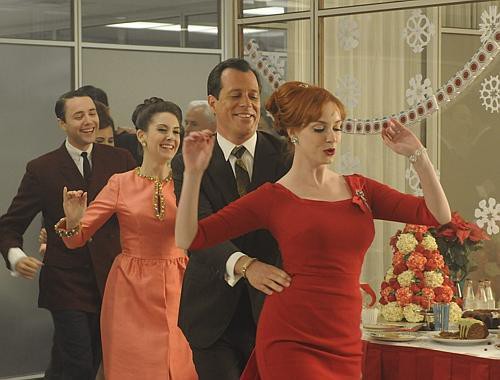 Employers these days! Firing you at 2:00 AM one day, doing your laundry for you the next. What else do they have up their sleeves? Cheerleaders, apparently.
Yes, actual human women in skirts and heels are being used to "create a fun work environment," according to Trending in China, the verified Facebook page of the government-run news service China.org.
Trending in China goes on to describe the scene: "According to the HR manager of an Internet company that hired three such cheerleaders, its programmers are mostly male and terrible at socializing, and the presence of these girls have greatly improved their job efficiency and motivation." …
The women are hired to buy programmers breakfast, play ping-pong, and "chitchat" with them.
Come on now. Having ladies around in skirts and heels to chitchat and play ping-pong improved efficiency? I find that a mite hard to believe. I mean, we've most of us seen "Mad Men," right?
The Daily Dot article, which argues that "literally anything" would be a better choice to improve morale than hiring cheerleaders, also points out that employers are brainstorming all sorts of exciting perks to engage their employees — short of childcare.
Childcare provides work-life balance and the peace of mind that children are cared for while parents work right next door. Daycare isn't a common work perk. For instance, Facebook took some flack when it offered doggie daycare but not the child kind. Child care can actually improve productivity within the workforce, which shouldn't come as a huge surprise.
Indeed, Facebook was roundly criticized for the let's-charitably-call-it-an oversight back in 2013, when that news broke, and other tech companies took their share of flak, too:
Facebook's recently announced plans for a sprawling $120 million housing community near its Menlo Park campus will include affordable employee homes and a laundry list of amenities like a pub, convenience store, bicycle repair shop, hair stylist — even a doggy day care. One perk missing from that list: daycare for kids.
The tech giant is not in the minority. Bay Area companies often plan expansive offices with gyms, kitchens, game rooms, and other lavish perks to attract and retain the brightest workers. But onsite child care centers rarely make the list of amenities. Only 7% of companies nationwide offer on-site daycare to employees, according to a 2012 National Study of Employers, a percentage that has stayed held since 2005. …
Like Facebook, Yahoo has no plans for an on-site child care facility.
This despite a 2001 New York Times op-ed applauding Ford Motor Company for adding on-site childcare to its list of employee benefits and predicting that childcare would be "the perk of tomorrow." The op-ed was foolishly optimistic, it turns out. According to Glassdoor, FoMoCo no longer offers that particular benefit; looks like it was phased out back in 2007. So, actually childcare was the briefly enjoyed perk of yesterday. But Ford still gives discounts on cars! If you like Fords.
Not every company that is lauded for offering childcare backpedals: US News praised Cisco's commitment back in 2011, and that commitment has stayed strong. But it is depressing how little progress has been made on this issue. Again, I guess, until men care, nothing changes.
Here's the most recent WorkingMother.com list of the Best Companies To Work For. Cisco makes the list; Yahoo, Facebook, and Google do not. Neither does Ford. As for Amazon, do you even have to ask?
---
Support The Billfold
The Billfold continues to exist thanks to support from our readers. Help us continue to do our work by making a monthly pledge on Patreon or a one-time-only contribution through PayPal.