Saving Money By Getting Married In Iceland: A Public Radio Producer's Story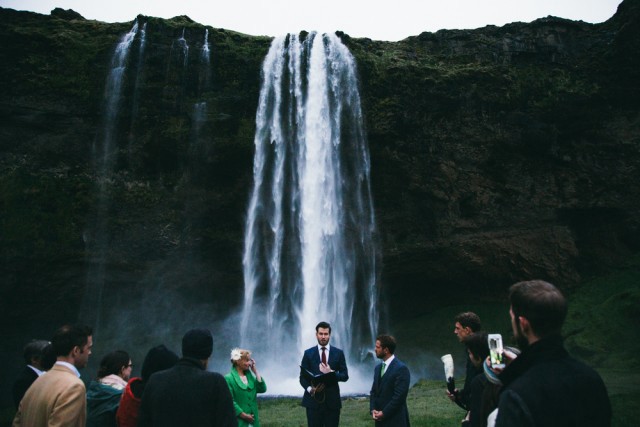 Ester: Hi there! Can you introduce yourself in a general way — who you are and what you do?
Catie: Sure. I am the Executive Producer at Connecticut Public Radio. I oversee our two local talk shows here, and I also run an after school program for students in Hartford's Journalism and Media Academy. And a million other things around the station. I live in West Hartford, Connecticut. Been at WNPR for almost nine years but previously lived in Boston, California and Maine.
That's great! And on a scale of 1–10, how normal would you say your wedding was?
1 is super normal?
Sure, 1 is super normal, young man, younger woman, and a church; and 10 is ten people dancing naked on a beach performing a wordless ceremony at the end of which the two newly married spouses are sent off into the wet wilderness on a raft made of palm fronds and unpaid bills.
OK. I'd say 8.5.
Please tell us all about why.
Well, there was no naked dancing … but there were puffins, and an amazing black sand beach with black basalt rock formations. There was a midnight solstice celebration under an enormous glacial waterfall, a Nordic Chieftain with his drinking horn, and a beautiful intimate ceremony followed by Icelandic donuts and lamb sandwiches.
How did all these amazing disparate elements come together?
My husband Michael and I were originally looking at traditional wedding venues around Connecticut, maybe a barn or farm or something outdoors. We looked at a few venues, looked into some catering options … and couldn't believe how quickly all the costs started adding up. So as a fun thought experiment, I began Googling different options for destination weddings.
The two places I was looking at were Prague and Iceland. I studied abroad in Prague and it's incredibly beautiful and not that expensive. But the plane tix to get there are pricey, so we knew that might be hard for some of our family and friends. Iceland was a place we had been wanting to visit, and in doing some research I realized they have a bit of a wedding industry. Gay marriage was legalized there five years ago, so I found a few companies catering to gay couples.
I found one company in particular, Pink Iceland, that had amazing reviews online. I got in touch, told them my general budget, which at that time was something like six thousand dollars (lol) and they said they'd work with me on an awesome wedding. Michael was on board, and that was the start of it.
He must have a good sense of humor and not a lot of preconceived notions of what a wedding should be like. So how did the other pieces fall into place?
Well, Michael is 39 and I am 34 so I think we both quickly realized that there was much less pressure to do the "traditional" wedding ceremony than, say, if we were in our early 20s. The moment we decided not to do it that way, it was like a huge relief. We could just have an amazing adventure. Also, we recently bought a house, so we thought if we were going to spend thousands of dollars we really wanted it to be something special.
Once we made the decision, I took over the wedding planning. Pink Iceland matches you up with one of their people and they walk you through the process. Birna was my girl. We had a long correspondence online. She sent me a list of options for our wedding: venues, officiants, photographers, and other things, all of which had price points. The further away from Reykjavik, the more expensive things were.
Really, there's no wrong decision on where to get married in that country. It's stunning. We ended up choosing Seljalandsfoss waterfall in South Iceland, with photos also at Reynisfjara black sand beach. And obviously when one of your choices is "Nordic Chieftain" you immediately disregard all other options. We ended up getting married late at night because the officiant couldn't get there any earlier — but that turned out to be perfect because it cut down on lingering tourists.
This sounds amazing. How many people made the trip?
14, including 2 babies and a toddler.
Babies! I don't know why the babies just made me burst out laughing but they did. What was the most cost-effective thing about having the wedding in Iceland? Not having to do flowers? Getting to have a much smaller wedding altogether?
Everyone paid their own way, so we could have had a bigger group and it wouldn't have cost us much more. We did have one "rehearsal dinner" the night before the wedding that we covered the cost of. We used Air BNB in Reykjavik and that was much more affordable than hotels. Iceland also has something called "Icelandic Farm Holidays" where you can stay on people's farms. We did that during our honeymoon.
The thing about Iceland is that it's cheap to get there (Icelandic Air and WOW Air have great deals), but once you're there everything really adds up. Food and drink are pricey. Rental cars, gas, etc. It's not cheap.
Out of the menu of items Pink Iceland offered — which includes a lot of touristy stuff also — we ended up doing a pretty basic wedding. (They did offer flowers! But they were expensive.) We paid for hair/makeup, officiant, photographer, wedding planner, and a small picnic at the waterfall. There were also some administrative costs, but it was reasonable.
You could have gotten Air BNB to sponsor it! But yes, that makes sense. How much do you think you saved, overall, on getting married in Iceland vs. Connecticut?
Oh god, we probably save at least 20 thousand dollars. I think we spend a little under 10 thousand on everything — and that includes the week leading up to the wedding, the wedding day, and our honeymoon. One thing we did was use Honeyfund to pay for some of the trip also, so that gave us a little extra cash.
Were there any surprising unforeseen costs? And/or benefits? Besides having an incredible story to tell.
Nothing huge. I think the rental car was more that we expected. And there was some sort of strike happening in Reykjavik so our paperwork had to be driven to another town; we had to pay extra for that. But generally we couldn't be happier with everything. I mean when I was looking at photographers for a wedding in CT, they were averaging around $4000. That was like half of our entire trip. We didn't have to deal with creepy DJs or drunk relatives.
What about your dress? did you bring it with or have to ship it? Or did you not wear a fancy gown? And what did you end up doing for pictures?
My dress was from David's Bridal (sale rack!) and it was a "carry on" item. There was a little awkwardness getting it through the security conveyor belt, but overall no big deal.
For photos, Pink Iceland send us a bunch of options for photographers, who all cost around $1300–1500. We ended up going with Kristin Maria and she was phenomenal.
And the cake? Are there fancy-pants pastry chefs who do white tiered fondant monstrosities in Iceland too or do you go with something totally different for dessert?
We didn't have a cake!! The night before, as I mentioned, we had a dinner with delicious desserts, but nothing formal. The morning of the wedding we had a small brunch, and then split up. We gathered again that evening at the black sand beach which was about 2 hours outside of the city. The ceremony was supposed to start at 11:00 PM but I was running late. We took photos at the beach beforehand, but didn't get to the waterfall until after 11:30 and so the ceremony actually started around midnight.
Leading up to the wedding I was going back and forth about paying for a day-of wedding planner, and the "traditional Icelandic picnic" and I'm so glad I did. It was nice to not have to deal with herding people around, and by 12:30 AM people were hangry. So instead of a cake we had champagne, chocolates, Icelandic donuts, and cheese/lamb sandwiches. It was better than cake.
"Better than cake" is a great tagline. So, did everyone else enjoy it as much as you did? Was anyone befuddled? Or were they all along for the ride?
Everyone was along for the ride. Thankfully, we had a really laid back group.
We were there in June, and the sun was pretty much always out. At one point, after several days, one of the moms said she felt like she had no sense of how many days had actually passed. The kids had no routine, bedtimes were out the window etc. But they were such troopers.
And I don't think anyone knew what to expect, including us. No one had been to Iceland. Around the wedding events, everyone sort of trusted me to tell them where to be and what to do. Other than that, everyone was able to do their own thing. Some of our friends camped after the wedding, a few of us went to the spa, out to bars, hikes. It seemed really easy.
I should say, at one point right after the ceremony, my uncle said to me, "You really pulled it off, Catie." My immediate thought was HOLY CRAP I'M MARRIED. But then I did feel like it was better than we could have even imagined, that by the grace of Thor everything actually came together. Of course, the stunning backdrop didn't hurt, nor did Pink Iceland's event planning, and the flexibility of our incredible friends and family.
Any last thoughts / anything you want to add?
Weddings are so loaded with stress and expectations and pressure from family, it's hard to give advice. But I would encourage couples who are considering a destination wedding to think about some non-traditional places. If you are going to spend a small fortune, think really hard about what will make you (the couple) happy, and do that. Skál!
The story is part of our Wedding Season series.
Thanks to friend-of-the-site Anna Sale for the tip!
---
Support The Billfold
The Billfold continues to exist thanks to support from our readers. Help us continue to do our work by making a monthly pledge on Patreon or a one-time-only contribution through PayPal.