How the Federal Government Held Its First Bridal Sale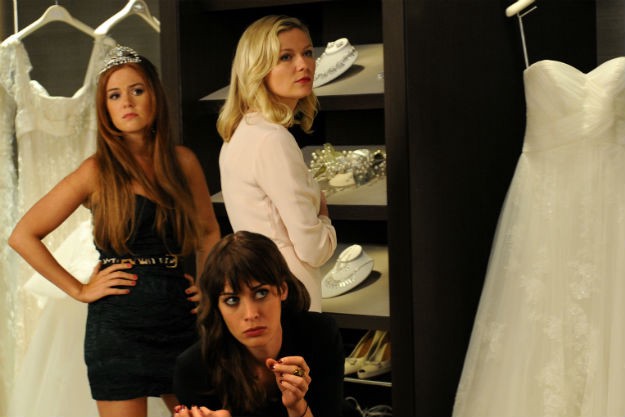 We're all pretty familiar with the idea that anything with the word "wedding" attached, from dresses to cake toppers, can sell at a pretty high markup. But what if your bridal shop still isn't bringing in enough money? As the NYT reports, a woman in Juneau, Alaska, decided to add a side hustle — and the feds eventually caught up:
The F.B.I. seized the dresses, cake toppers and even children's cummerbunds from a woman in Juneau who was convicted of smuggling heroin and methamphetamines into the state. Shipments would arrive at a beading supply store that she owned with her husband, and the proceeds would go toward the costs of her bridal shop, which was one street over.
If I understood that correctly, this woman got into the drug racket to support her bridal shop. She wanted to sell wedding paraphernalia so badly that she was willing to become a drug smuggler.
What did the FBI do after they cleaned out this woman's bridal shop? Well, first they tried to sell the stuff in Alaska, but "the market was too small." (I'm beginning to understand why the original owner decided to fund her shop with drug money.) Finally, two years after the initial drug bust, they sent everything to Atlanta and had a huge bridal sale:
The offerings at the Down the Aisle bridal show in Atlanta appeared no different from what you would find in any other shop in America, except for the federal security guards who checked the customers for firearms, knives and explosives when they entered the building.
The money from the bridal sale goes to the Assets Forfeiture Program, which you might remember from this classic Last Week Tonight segment:
According to the NYT, the seized wedding merchandise had an estimated value of $500,000 — which, again, makes me worry about this Alaskan woman who really, really wanted to sell that much wedding gear to an uninterested market. Did she sell drugs to buy more bridal gowns, hoping she'd finally invest in the one thing that would turn her business around? Was it a hoarder thing?
The Alaskan newspaper Newsminer states that this woman "admitted using drug proceeds to buy inventory for Bridal Gowns, Formal Wear, and Tuxedo Rentals, a business she owned with her husband," so I don't think we're misunderstanding the situation here. It's just sad all around.
The NYT did not report how much money the Assets Forfeiture Program made from the bridal sale.
This story is part of our Wedding Season series.
---
Support The Billfold
The Billfold continues to exist thanks to support from our readers. Help us continue to do our work by making a monthly pledge on Patreon or a one-time-only contribution through PayPal.