Crowdfunding For Countries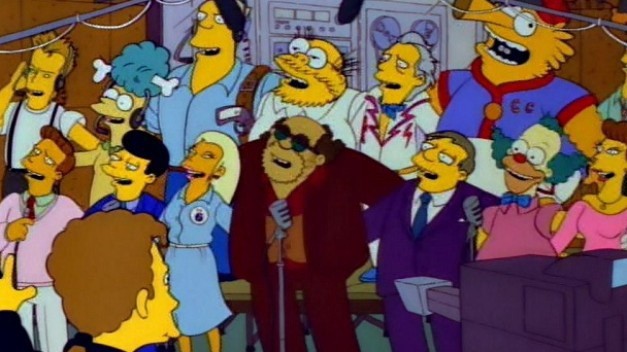 Over the weekend, my family got to discussing the lady whose plans to live in her dream house conflicted with her craving for a third child, and my cousin suggested that we should start an Indiegogo campaign for her. He was joking; but the fellow in England who decided to start an Indiegogo campaign for Greece was entirely serious.
The campaign, set up on the fund-raising website Indiegogo, had raised more than €487,000 by early Wednesday — not an insignificant amount of money, but also not even 1 percent of the campaign's goal, with six days to go.
The campaign was started by an Indiegogo user named Thom Feeney, who identifies himself as a 29-year-old working in a shoe shop in Britain.
"Let's just get Greece sorted," Mr. Feeney wrote on the campaign page. "All this dithering over Greece is getting boring." …
a crowdfunding campaign to bail out a country seems to be a first.
The perks are hilarious: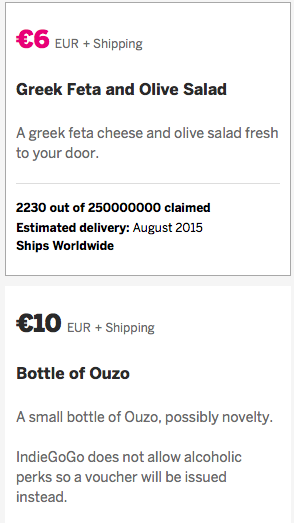 So are the FAQ:
Why are you no longer offering a Greek island?
There was a small Greek Island on offer for anyone who came in with €1.6bn, I thought that Mr Tsipras would happily accept that but IndieGoGo emailed me to say that as the Greek Government had not officially agreed to this, I wasn't allowed to offer it. A Greek lady emailed to say that she found that perk offensive, which I apologised profusely for, I certainly didn't mean offence. I was only thinking something about the size of Inchmarnock off the coast of Scotland, which I'd definitely sell if it saved the British economy.
As of this writing, almost 31,000 people have raised almost 500,000 euros for the nation of Greece. Not bad, except that's a rounding error compared to the amount of money Greece needs not to be the first developed nation to default. Got to kick it up a notch, guys. Maybe get Bono in on it somehow? Star power helps.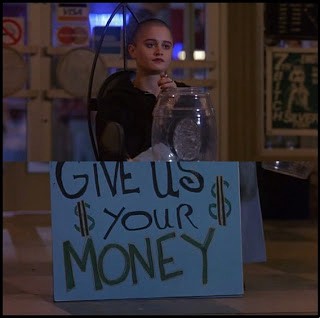 Investors aren't expecting the Internet equivalent of a bake sale to save the day. Greece is officially "in arrears." The euro has been falling, though it has also rallied since its nadir and, fortunately for it, the dollar remains weak. That's also good news for our friend Adam, who, right before this whole crisis started, bought $200 worth of euros as a wedding present for someone he knows who wants to honeymoon across the pond, and has been horrified ever since by how much his gift has depreciated. Just another reminder, I guess, to show your love by buying folks a nice vase or a toaster off the registry instead.
---
Support The Billfold
The Billfold continues to exist thanks to support from our readers. Help us continue to do our work by making a monthly pledge on Patreon or a one-time-only contribution through PayPal.