The Long Distance Approach to Getting Over It
by Keith Flanagan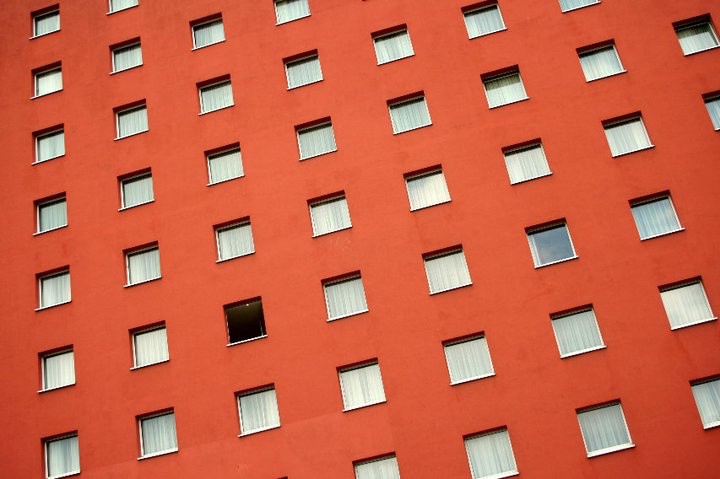 Space can get expensive. In a city of New Yorkers nearing nine million strong, I live amongst a clan that's reasonably selfish with real estate, constantly evaluating life by the square foot in an attempt to fortify our limited parameters. Forgetting square footage, there's even a market to rent personal space by the hour; a moment's escape from our overpopulated bedlam has a value.
It's no wonder that we're also less likely to settle down. Adjacent to physical space is our sexual freedom to roam, and we restrict the latter with hesitancy. Yet in an embattled crowd of independents, we do share our limited selves from time to time, and love does happen. While ambivalent in our approach, I'd even go as far to say we're publicly devoted to its process, seen with entire columns of love's pursuit in our most estimable paper all the way to another column, wrought in fiction by way of the inescapably referenced Miss Bradshaw, complete with sexual natter that will go down in history as a touchstone guide to dating.
We make room for love despite having enough room for ourselves, perhaps the most poetic sacrifice one can make in cramped, good old New York, and in turn what I love most about it.
Just like a sublet, romance can be temporary; breakups are a necessary part of the equation, and they make people do silly, costly things. A friend of a friend bought a French bulldog after her breakup (I, myself considered a pug), a $2,000 deposit on a pending lifetime of charges (she should have adopted). Another friend of a friend, I'm told, donated a fancy wristwatch gifted by a former girlfriend, to Goodwill (the politically correct form of flushing money).
I found the purge, or purchase, to be insufficient in my own version of this story. I'd made room for love, but after its sensible ending, it lingered with an unyielding stronghold. My East Village bedroom, narrowly constructed about the width of a mattress, suddenly felt more compressed than ever, forced to accommodate old memories that chafed with new ones. The city, with all of its roads and opportunities less traveled, felt gridlocked with paths I wanted to forget. While my New York-style romance brimmed with old, happy memories, they felt like a repetitive uncorking of aged wine: they needed time to breath.
Space was what I needed, and it wasn't waiting on my overpopulated doorstep.
I decided that anywhere else would be the homestead to recovering. A plane ticket to see the friend I'd promised to visit suddenly seemed a worthwhile void to leave in my bank account so long as it widened the gap from home. A colleague who toyed with a bucket list trip to Mardis Gras found me cheering her along as a travel companion, securing accommodations well in advance to ensure there was no room to bail. I began to both expand, and expense new horizons.
It started at $219.50, a last-minute, post-breakup flight on Delta to Nashville. The $3.75 pimento cheese hotdog at the local "I Dream of Weenie" urged me one bite further. A $175.79 Hertz car rental followed, leading to the $199 nightly hotel in Provincetown and a $17.99 life changing lobster roll. $549 with Virgin took me to San Francisco, $39 to my Oakland Athletics seats, and $10 towards a slight Anchor Steam buzz. $432 to San Juan, and another $242 to Vieques Island, were both thankfully comped through work. $104.40 with Amtrak to Philadelphia afforded a visit to my brother, and another $104.40 afforded a second visit to a former classmate. A frivolous $115 took me to Randall's Island for Governors Ball, which at the time felt far enough to count. Then, a $250 monthly increase in rent at a new Brooklyn apartment offered a body of water in between me and the claustrophobic memories of breaking up which filled my former home. $76.46 in gas followed for a borrowed Honda Civic bound to the $70 campground in the Delaware Water Gap and $15 for s'mores supplies, obviously. A pricier, $240 Enterprise car rental to Charlottesville came next with $3.86 for freshly picked apples and $8 for a dozen hot apple cider donuts. $500.20 with United took me to New Orleans, after all, and a $13 Popeyes meal that I just can't remember eating.
$500.20 to Denver. $453.48 to Toronto. $54 in non-affiliated bank atm fees. $76 in cash-back savings.
The dots punctuated my map in a year-long staccato before, somewhere lost in the digits of travel and withered savings, the scattered horizons began to coalesce. I no longer rubbed elbows so abrasively with fellow neighbors and memory. Arriving home to New York's city streets (albeit at a new address), once congested with expired romance, began to share the breadth I'd sought on the open road, benefiting from distance wedged between old memories that were now spread out over space and time.
I've skipped a few numbers that tailed a year's worth of escapes. Those numbers came in the form of writing: If you have the time to write it, an article here and there about traveling to Canada (and beyond) can supplement the journey. Sure, space is expensive, but it's surely rewarding.
I suppose I could have bought a pug and saved some time. But on second thought, that pug couldn't fly with me anyway.
This story is part of our Travel Month series.
Keith's main priorities include eating, writing, and eating. It's no surprise that he loves sandwiches. He lives in Brooklyn, New York.
---
Support The Billfold
The Billfold continues to exist thanks to support from our readers. Help us continue to do our work by making a monthly pledge on Patreon or a one-time-only contribution through PayPal.