Finding A Hotel While Down And Out
by Rachel Ahrnsen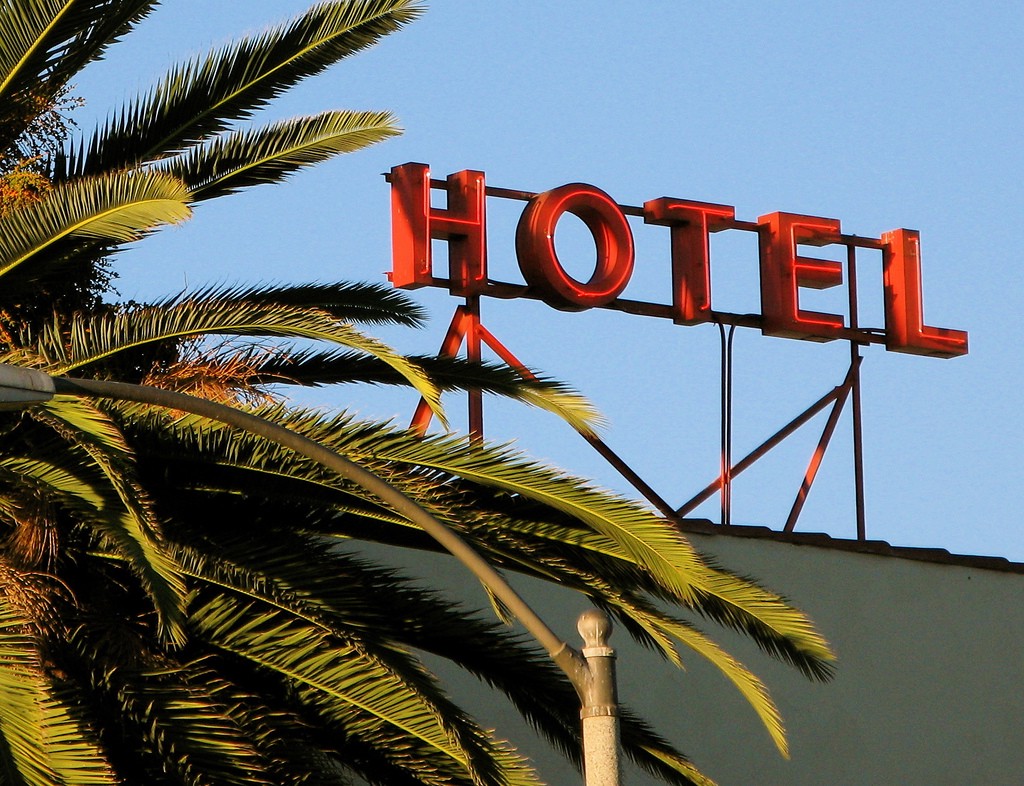 Traveling as a broke young thing means I'm usually staying on a friend's couch. Or, when the going gets rough, my car may find itself in the loving embrace of a Walmart's warm asphalt. But for times when couchsurfing and parking lots won't work (such as weddings or business trips), the answer is usually a hotel. Though questionable indoor pools and continental breakfasts with even more questionable waffle batter no longer hold the same childhood thrill, hotels can provide a safe haven for a decent price.
I'll start with some advice for the unprepared, bleary-eyed traveler stuttering down the road. Your fingers are greased with the oil of a thousand McDonald's fries and the stench of flattened possum sticks to your hair. You're desperately scouring the highway looking for a decent hotel you don't need to donate plasma to afford. I'll show you how to get one. Disclaimer: Most of the knowledge included is provided by my boyfriend, who works in the hospitality industry (His best story: a lady of the evening enters, eats too much Chipotle, and frantically narrates her bowel movements, and consequent toilet breakage, over the phone.)
Let's say you roll up to a hotel at 1 a.m., done with the world. Guess what? It's bargaining time! While it may not be socially acceptable to haggle over lightbulbs in a Kmart (as my Opa still attempts to do) it's fine to ask for a lower hotel rate.
Ask the front desk agent, "What's the best available rate you can give me?" Go from there. It's not unusual to get $20 slashed from the price. My boyfriend once bargained his way to a $40 discount off of a $150 room. Pro tip: negotiate after 8 p.m., when they're trying to fill vacant rooms.
Ah, sweet relief. The room is yours. Next, inspect for the chief hazard of affordable hotels: a bedbug infestation. Look for tiny brown spots on the seams of the mattress, beneath the sheets, headboard, and the wall behind the bed. Leave your luggage at the door until the Spanish Inquisition is complete. Think this is overkill? You've never had your blood drained during the night by these squat bastards.
In order to evade bedbugs and other unpleasantness, always avoid The Inn With No Name. Have you ever been cruising down the highway and noticed a hotel sign with the name blacked out? Hotel's still open, lights are on, but there's no identifying information anywhere (or it's obviously been hastily renamed as the "Super Plus Comfort Very Nice Inn").
DO NOT ENTER INTO THIS HOUSE OF HORRORS. If the brand name has been removed, that means the hotel has fallen so far below brand standards that they sent out the Brand Police. Do you know how low a hotel has to go for that? Dante's Ninth Circle of Hell, that's how low. Checking in there will come with a complimentary case of flesh-eating bacteria. As a bonus, your chances of being axe-murdered will also jump considerably.
Waking up on the bright side, here are some tips that focus on planning your stay in advance, like the flossing adult you always knew you could be.
Always check TripAdvisor, the holy grail of travelers. However, be wary of booking through sites like TripAdvisor, Expedia or Hotels.com. Though these sites will give you the best deal, not booking directly through the hotel also means your reservation doesn't get treated with respect. Hello, dumpster view. Also, your reservation might be worthless if you book through these sites. Hotels, like airplanes, are often overbooked. You may, "get walked," to another hotel. If you don't want to be turned away after a 15-hour drive, book directly through the hotel.
Before booking, call the front desk and ask what's happening in the city during your stay. A large event like a football game will dramatically raise rates (and likely ensure that your neighbors will be belligerently drunk). Many an apple-cheeked family has inadvertently planned their trip to Disney World during Biker Week in Orlando.
Finally, always become a member. It takes five minutes and zero dollars, and you will earn enough points over your lifetime to get a few free nights. And, there's so many ways to earn points. Room isn't spotless? Free points! Neighbors too loud? Free points! Wi-Fi too slow? More points for you, Glen CoCo.
Hopefully this sage advice will prevent some of you from being axe-murdered, repeating any of the scenes from, The Shining or bringing bedbugs to your Aunt Marge's. Happy travels!
This story is part of our Travel Month series.
Rachel is a freelance writer living in the unexpected paradise of Birmingham, Alabama. She is frantically attempting to keep her basil plant alive.
Photo: Kevin Dooley
---
Support The Billfold
The Billfold continues to exist thanks to support from our readers. Help us continue to do our work by making a monthly pledge on Patreon or a one-time-only contribution through PayPal.