When I Worked For $1 An Hour
by Julie Morse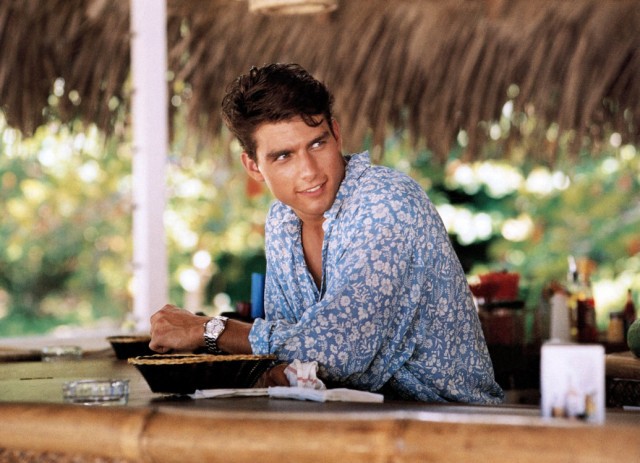 My first night as a bartender at Friends, a bar named after the TV show in Baños, Ecuador, was the closest thing to being a backpacker version of the movie Cocktail. That night the place was packed with locals and tourists alike. People were playing pool and dancing on stools to the Bob Marley remixes that were on an endless loop. Conversations in broken Spanish and English swirled through the billowing clouds of cigarette smoke. I was in the thick of it, pouring weak caipirinhas (Friends' only cocktail), and regaling everyone with my story of how I got to be working at Friends in the first place.
I had only arrived to Baños a week before I started at the bar. Baños is a tourist town in the middle of the mountains, made up of several cobblestone streets, a hostel or hotel on every corner, and a line of Amazonian mist hovering far off in the horizon. I was 23 and had just graduated college; I came to Baños to study Spanish at one of its handful of Spanish schools. I had already been traveling for a couple months, mostly in Argentina, where I failed to tough it out WOOFing at a farm in the Patagonia. I learned quickly I wasn't good at traveling, but I persisted, because I wanted to get good at it.
I couldn't bring myself to do the organized hikes, the off-roading, the eco-tours — mainly because of money, but also because I was seeking a more "native" experience, except I didn't know how to go about that either. The essential purpose of my journey was to get better at Spanish. Then, after about a month and a half, I found myself in Ecuador, spending more money than I had anticipated and looking for something to occupy my time and to keep me from going broke.
Baños is home to a creepy-old-man expat community, similar to the ones found in many beach towns in Thailand. Apart from sticking out because they're white, these men are easily spotted because they're usually accompanied by extremely young Ecuadorian males and females. It was one such an elderly ex-US military officer who gifted the bar to Roberto, a guy in his late 20s who lived in my hostel.
A tiny man — no taller than 4'8" — and with a massive mop of curly, long hair, Roberto was a Baños personality. Teachers at my Spanish school joked he was a "gringa magician" who was always dating some female backpacker. He was as charming as he was arrogant, and I got quickly bored of his stories about seducing hostel guests. Roberto came from a big family that lived near the jungle, and he was engaged to a British woman who came to visit him every four months. He started off nearly every night at the bar with a shot of caldo de gallina, Baños's traditional drink: a mix of aguardiente, chicken broth, and sugar. Then he put on "Shot In The Night" by Saphir, a synth-y 80s hit, hop on the bar, and started dancing like Magic Mike.
When Roberto heard I was looking for work, he asked me if I would like to be his bartender. "I can pay you a dollar an hour," he said, and I said sure. At that point I didn't know — and didn't really care to know — that I was being paid approximately a whole dollar less than Ecuador's hourly minimum wage. It was something to do.
Who knows why my first night at Friends was so successful in comparison to every night that followed. On a good night at Friends we had maybe a total of 12 customers and on a bad night, three. Most of the people who came in were teenagers who wanted to use the pool table or bored students from the Spanish schools. The most regular customer was an older Polish man who was frequently came by with teenage girls and never had to pay because he was Roberto's best friend. The military officer usually stopped by earlier in the evening with the same quiet teenage boy in tow. Roberto poured the officer a drink, and the two engaged in awkward small talk while I did my best to translate.
In backpacker territories, it's assumed the early 20s-something-year-old, female, single traveler is honing a collection of exotic flings and one-night-stands. At Friends, I wore the same pair of slightly baggy jeans, a series of loose-fitting v-neck shirts, and a sloppy ponytail in hopes that my nonchalant look would repel this notion. Sometimes it did, but a lot of the time I averted my eyes to avoid flirty stares. During my travels, I tried to fight the misconception that I, like fellow travelers, was on a hook-up spree. It's not that romances didn't happen, but the burner from Hawaii who gave me a shell and told me it would guide me to Kauai, and the architecture student in Mendoza who was obsessed with Black Sabbath and with whom I stayed for two weeks are the only two on my rap sheet.
My shifts were from 7:00 p.m. to midnight. I worked every night except Sunday, making $30 a week. People pretty much only ever bought beers, which were 75 cents. Once in a while people tipped 10 or maybe 20 cents.
On my seventh night there, I was alone and bored. 10:00 p.m. rolled around and the place was dead. Roberto had left the bar a couple hours ago to go hang out at another bar. I locked up and went to find him. I found him down the street at a far livelier spot.
"Roberto, there's been no customers for hours! Can I go home?"
Never had I seen him so annoyed. "No, I swear, more people will come. Just go back. It's your job!"
For the next five nights, that was our routine. A few customers came, had a drink, then left, and then Roberto left, and I was alone at the bar. Hours passed, and then I locked up to go find him. He told me to go back and I did.
I was in a country to which I had no emotional or social connection — and I was attempting in any way possible to forge one. That's the only way I could justify my decision to work as a bartender for a dollar an hour. Once I graduated college, I thought I could try to figure out a way to grow up through traveling. Yet, it took me a good two weeks to realize that working at a lonely bar and making next-to-nothing wasn't really helping me learn about myself.
Roberto wasn't surprised when I told him I was leaving. Despite our constant back-and-forth argument about when to close up, I think both of us felt the tiniest bit sad when my stay was over. After all, I was his first employee, and he was my first boss in a different country. I headed off to a beach town called Montañita, a massively popular tourist destination. There I got head-to-toe bed bugs and nearly drowned at a surfing lesson. Afterwards, I continued to drift through South America for another month. My last stop was Bogotá, where I spent most of my time reading at a Juan Valdez café.
In the end, my stint at Friends was really the only story I had to tell. The farm, the buses, Spanish classes, and encounters all paled in comparison. It was the one instance where I felt extracted from the aimless nature of the backpacking world. The one part of my trip that made it unique, and not just another hunt for passport stamps — which is what traveling sometimes feels like when you don't know what you're doing.
Julie Morse is a writer and translator living in Mexico City.
---
Support The Billfold
The Billfold continues to exist thanks to support from our readers. Help us continue to do our work by making a monthly pledge on Patreon or a one-time-only contribution through PayPal.