Had We But World Enough & Time, Here's What We'd Splurge On, Food-Wise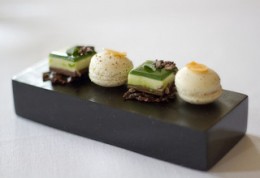 World = $$. Trust me, I studied poetry.
Had we but world enough, and time, the splurging on these would be no crime:
A box of Kellogg's 19s every week. It's my favorite cereal because it tastes like childhood and the red is so cheerful but at $6 a pop I can't afford to indulge the nostalgia.

Lunch at the Four Seasons before it's gone.

Massive chocolate bosoms from Brussels.

Babbo again. Ben and I haven't been to too many of New York's finest restaurants and some have even been disappointing, specifically Craft, where, though the food was superb, we were treated like Fanny Price at Mansfield Park and had to watch other tables get treats that were denied us. But Babbo was special. We had to show up at 5:00 PM to get seated and be careful about what we ordered, because we had only managed to save so much money; and yet, everyone treated us, and fed us, like royalty. Bless you, Mario Batali.

Guacamole at Chipotle every time.

[phone ringing]
BEN: Hello?
ME: Hi honey. Where would you eat if cost were no object?
BEN: Per se, probably.
ME: Great, thanks! [hangs up]
[phone ringing]
ME: Hi!
BEN: If you're asking me that because of my birthday, thank you, but I don't think we should go.
ME: I was asking for the Billfold.
BEN: Good. Okay. Because you know how much I love Applewood: the comfort, the quality …
ME: I know.
BEN: Good.

NICOLE: I would buy a billion things of sparkling water. Maybe a Sodastream, but just for putting bubbles in water. I'd try to do it the healthy way, like I'd order spring rolls instead of deep-fried egg rolls, but I would no longer eat things called "Frozen Meal."
MIKE: I think I splurge enough. Though I would like to go to Blue Hill at Stone Barns.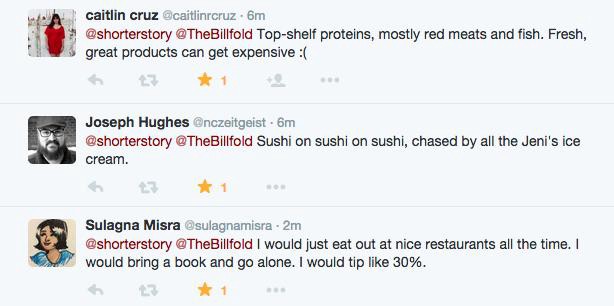 Vox populi, vox dei: quality seafood, especially scallops. Um, okay? I've never had scallops worth speaking in Latin for, but other shellfish, yes, I'm with you. Lobster rolls. And sushi. Of course sushi.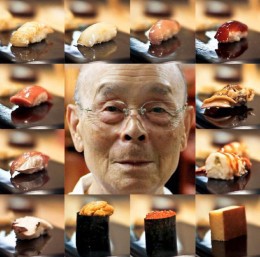 Really good bourbon whisky, for when the situation calls for it. Really good dark chocolate, preferably with sea salt, for the same reason.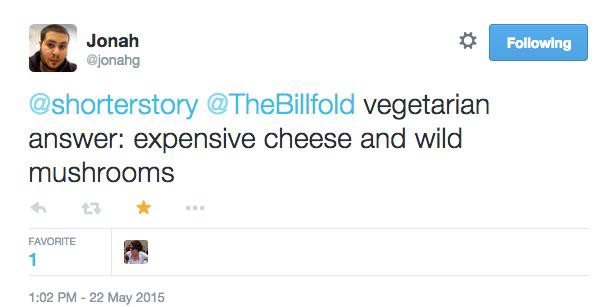 This story is part of our food month series.
Picture of desserts at Eleven Madison Avenue, which I also recommend
---
Support The Billfold
The Billfold continues to exist thanks to support from our readers. Help us continue to do our work by making a monthly pledge on Patreon or a one-time-only contribution through PayPal.