The Cost Of Things: Going From NY To DC And Back Again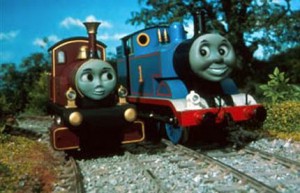 One of the hardest things about having a toddler is moving her around. "I can walk!" she insists, before tottering into a small fence, or a puddle, or some stranger's yard. That is charming / frustrating enough when you're merely trying to get to the playground; for any trip longer than that, such as a long haul like from Brooklyn to Washington, DC, you want to clamp her down in some secure and, ideally, not super expensive fashion, and transport her. The question is, how?
When it was only Ben and me, we routinely took Tripper Bus, which dropped us off in Bethesda, MD, near where my mother lives, and which offered a free ticket for every three round-trip purchases. That wasn't bad: $30 per ticket was way cheaper than the train and — considering it came with outlets, WiFi, and a bottle of water — relatively pleasant.
You cannot take a toddler on a bus, though, unless you drug her. So that's out. We've flown a few times t0o, but now that Babygirl is over two, she requires her own seat, and financially I can't stomach it.
Last time we went down to DC, which was for my grandma's 102nd birthday, we took Amtrak: $260, plus the cost of a car to my mom's apartment from the station. The departing train was delayed for nearly an hour, meaning we had to entertain a small person with a big voice for that extra time; and then, when the track was finally announced, we had to race downstairs along with everyone else so that we could try to get seats altogether, and then Ben accidentally led us to the Quiet Car, which is not small-person-big-voice compatible, so then we had to wind our way back, with stroller and luggage, through every single other car til we at last found space for the three of us in the caboose, by which point Babygirl was distraught and Ben and I were nearly divorced.
Why oh why has no one invented teleportation?
Whatever Bill and Melinda Gates are doing, I respect their desire to help the world, but couldn't they spare a few of their many resources to solve the problem of getting from Point A to Point B? Because it's terrible. The mediocre, overpriced food; the crotchety crowds; the lack of temperature control. Travel is toxic to my peace of mind and the environment. Can't we fix it?
No, we can't. So, for this most recent trip, to save on future lawyer fees, we rented a Toyota for Friday through this morning and drove down (using a rando car seat that we got from our neighbors, btw, because I am less Laura June and more Jane Marie). Here's what it cost:
TOLLS: It costs $16 to cross the Verrazano, the very first bridge you come to when you drive away from Brooklyn. "Are you sure you want to go to Jersey?" it asks, eyeing you skeptically. "Really sure? Nearly-$20-worth of sure?" It's enough to make a person go full-on Dorothy Gale and turn around shouting, "There's no place like home!" But instead we pressed on, paying about $75 in total for the privilege of puttering along the highways of Jersey, Delaware, and Maryland.
On our way back yesterday, the toll booth operators wished us well at every stop as they took our cash, culminating at the Verrazano with a very cheerful "Happy Resurrection!"
GAS: About $50 total, I think? Not so bad these days. It does suck that the nations that produce oil are some of the most corrupt and autocratic in the world. On the plus side though it's not as bad as it might be:
you may be surprised to learn that the biggest supplier of U.S. oil imports is — Canada. Second on the list is Mexico. Less than half the oil imported by the U.S. comes from OPEC.
RENTAL: About $280. We got to give a friend a lift back to town, and play whatever music we wanted at whatever volume, and stop when necessary, and go to Trader Joe's afterwards. More expensive than the train, and marginally more bearable. I'll still pay a zillion dollars to whoever allows us to apparate across state lines.
UPDATE, via Ben:
It came to $384.81, as explained below. Please let me know if I'm missing something! Note: someone has already analyzed, but using a different route than we did: http://financialnerd.com/cost-analysis-of-traveling-from-dc-to-nyc/
Also: apparently there's a big penalty for not having a NY State EZ-Pass. I may get one just to eliminate this in the future.
Rental Car: $282.45 (with discount)
Gas: $32.16
Tolls: $70.20, broken down as follows:
Verrazano: $16.00 (cash, leaving NYC one-way)
Goethals Bridge: $14.00 (cash, going into NYC, one way)
NJ Turnpike (I-95): $9.10 each way
Delaware Memorial Bridge (I-295): $4.00 one way
Delaware Turnpike (I-95) — Wilmington, DE to DE/MD State Line: $4.00 each way
Baltimore Harbor Tunnel (I-895): $4.00 each way
---
Support The Billfold
The Billfold continues to exist thanks to support from our readers. Help us continue to do our work by making a monthly pledge on Patreon or a one-time-only contribution through PayPal.