Fast Food Workers Fast to Raise Awareness, Minimum Wage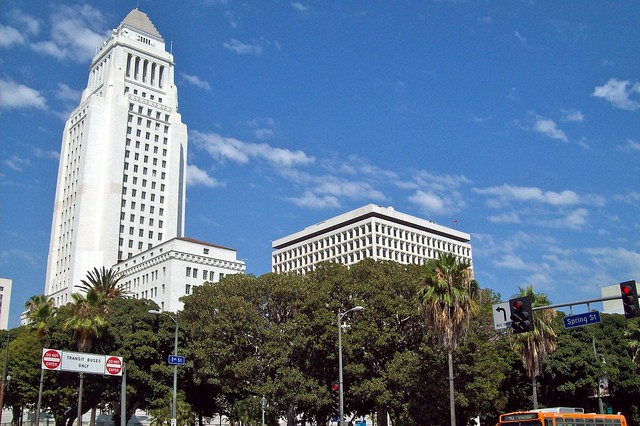 On April 15, a series of international #FightFor15 demonstrations continued to push for the idea of a $15 minimum wage.
When the demonstrations ended, a group of Los Angeles fast food workers kept going. These workers, who call themselves Women Fast for 15 or #Women15, are on Day 11 of a 15-day hunger strike held outside the LA City Hall. To quote People's World:
Gilda Valdez, president of the campaign for a $15 minimum wage, said, "Women have to take matters into their own hands. Even $15 is not enough to survive, we have to work two or three jobs, and then we have to decide what we can afford to pay each month.
"We are bringing this fight to the doors of the mayor and city council members, telling them what they are proposing is not enough. They have to deal with us," Valdez said.
Los Angeles is currently in the process of raising its minimum wage, as the LA Times reports:
Last year, Mayor Eric Garcetti proposed a gradual increase in the current $9 an hour minimum wage to reach $13.25 by 2017, with future increases automatically tied to an inflation index. Some city lawmakers want to boost it even higher, to $15.25 by 2019.
The proposals have sparked fierce debate. Though proponents say the raise would boost the economy and lift families out of poverty, business groups argue that a pay spike would reduce profits, forcing them to move out of the city or cut jobs.
The LA Times has a follow-up story explaining exactly what experts both hope and fear would happen if the minimum wage were raised: on the one hand, it could lead to fewer jobs and greater unemployment combined with reduced profits for businesses; on the other hand, it could create jobs and give workers more money to put back into the economy. We don't know for sure what might happen, but the women fasting outside of City Hall know that the current situation is not working for them.
The LA Times describes one woman, Mary Carmen Farfan, who is supporting a daughter in college and three children at home while paying $1,236/month in rent on her and her husband's minimum wage salaries. ThinkProgress also profiles Farfan and notes that Farfan can only get 28 hours of work a week and is in fact earning less than she was a decade ago, adding:
Farfan said that more than a week in she was sometimes feeling dizzy and "so, so tired." But she also said it's worth it. "I'm definitely ready to fight and do whatever we have to do for my kids," she said. "I want a better life for them. That's why I'm doing this."
I hope they win. Even if we don't know the long-term economic impacts of a $15 minimum wage, we do know the current impacts of our current minimum wage, and those impacts are unacceptable.
Or, as Alliance of Californians for Community Empowerment representative Martha Sanchez told ThinkProgress:
Sanchez says her fast has been all too familiar because her mother struggled to provide food when she was growing up. "It's not difficult, because I grew up hungry," she said. "I'm not doing anything radical, I'm doing exactly the same thing that thousands of moms are doing in silence in their homes."
Photo credit: Jeremiah Tran
---
Support The Billfold
The Billfold continues to exist thanks to support from our readers. Help us continue to do our work by making a monthly pledge on Patreon or a one-time-only contribution through PayPal.