McDonald's Tells Workers to Put Mustard, Mayo, and Ketchup on Workplace Injuries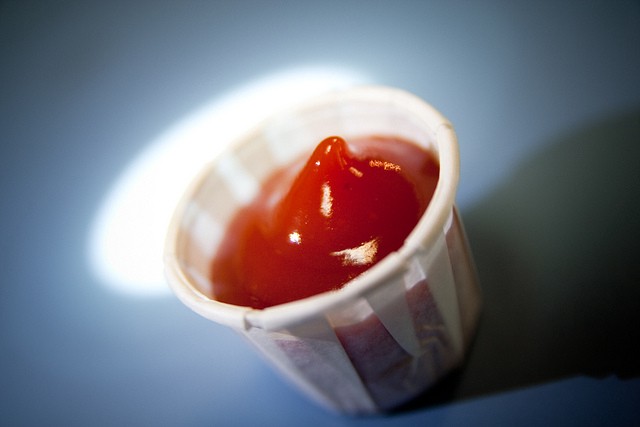 In the "almost too ludicrous to be true and yet completely believable" category: McDonald's, who is still in the process of suing the City of Seattle so it will be able to put off paying workers $15 an hour for a few more years, is now in the public attention for a new rash of health and safety complaints, as ThinkProgress explains:
On Monday, McDonald's employees and the Fight for $15 campaign filed 28 health and safety complaints with the Occupational Safety and Health Administration (OSHA) and state agencies against both franchise owners and corporate headquarters in 19 cities.
What are these health and safety complaints about? Here are some stories workers shared with ThinkProgress:
One worker, Brittney Berry, has worked at a Chicago location since 2011 making $8.30 an hour but says she suffered a severe burn and nerve damage on her forearm from an accident. "The managers at the store consantly push us to work fast," she said on a call with the press. "I've been repeatedly burned on the job." The worst came one day when she slipped on a greasy floor and caught her arm on a hot grill. "The burn almost burned my entire forearm, and as I fell I twisted my wrist, causing nerve damage I still have today," she said. "I worked through tears from the pain." In response, however, her manager told her to put mustard on the injury, yet once she finally was rushed to the hospital she was immediately put on morphine. She ended up missing work for three weeks without pay and then going on medical leave for six months. "My injury was devastating," she said.
Emphasis mine. Also:
Another worker from Philadelphia, Martisse Campbell, says he is constantly getting burned on his hands and arms. "I don't have any protective equipment when using the grills, and as a result boiling hot grease pops up from the grill and burns my hand," he said. The only equipment they use is plastic gloves, and he says he and his coworkers also haven't been given safety training. So they dump hot grease into plastic bags in boxes of ice. He also recounted how one coworker who was badly burned was told by a manager to "put mayo on it, and he'd be good." He said the first aid kit at his location is "just an empty box."
Stories of putting condiments on burns aren't limited to these two examples, and they aren't even just limited to McDonalds. As the Hart Research 2015 Fast Food Workplace Safety Poll Memo states:
Incredibly, one-third (33%) of all burn victims say that their manager suggested wholly inappropriate treatments for burns, including condiments such as mustard, mayonnaise, butter, or ketchup, instead of burn cream.
Well, at least some of those managers know we're supposed to put butter on a burn, not ketchup. That's sensible — no, wait, it isn't, what's sensible is applying burn cream from a fully-stocked and easily-accessible first aid kit, and making sure the employee gets hospital treatment for serious injuries.
Want to know more? Here's a short video from Fight for $15 urging all of us to "tell the Department of Labor now" about these workplace injuries and lapses in care:
Photo credit: Steven Depolo
---
Support The Billfold
The Billfold continues to exist thanks to support from our readers. Help us continue to do our work by making a monthly pledge on Patreon or a one-time-only contribution through PayPal.