Know Your Value, Get $10,000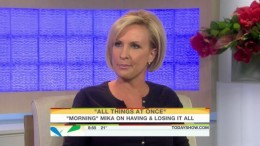 Perhaps you too have been getting emails from your mother about Mika Brzezinski? She's having a contest. It's about knowing your value, and it's tied to her book tour. You could do it. You could win!
From what I can tell, Mika Brzezinski is an MSNBC news personality with the hair, BMI, and poise of Claire Underwood. Yet she relates to those of us who have struggled a bit with our confidence levels in the professional arena. From the website for her book:
the seemingly master communicator had trouble articulating her value to management and passed up multiple opportunities for salary increases and promotions. A powerful, inspiring, must-read for women at every career stage, KNOWING YOUR VALUE: Women, Money, and Getting What You're Worth (Weinstein Books, May 3, 2011; hardcover, $22.95) is inspired from the unconventional route that Brzezinski took to get her worth and the lessons she learned about the value of women in the workplace.
Prompted by her own experiences, Brzezinski interviewed some of America's most successful and influential women and men and found that she was not alone with the career and money mistakes she had made along the way. …
Written in Brzezinski's candid voice with personal anecdotes, cautionary tales, and advice from Joy Behar, Tina Brown, Arianna Huffington, Valerie Jarrett, Suze Orman, Sheryl Sandberg, Donald Trump, Jack Welsh and many more, KNOWING YOUR VALUE is a must-read for women at any level who want to effectively articulate their value in a way that amounts to dollars and not friendships.
So many things here. Who knew the Weinsteins published books? What on earth could Donald Trump have to say about the subject that would be of value? Does "written in her candid voice" mean it was written by her? Being that I have some ghostwriting experience under my belt at this point, I am intrigued.
But on to the contest.
The submission period begins in six days for a contest called "Grow Your Value."
Upload a 60-second video of yourself telling Mika why you deserve a bonus. Mika will personally choose the three finalists who will then have the opportunity to make their pitch LIVE on stage at a Know Your Value event for the chance to win $10,000.
Presumably your boss will be so impressed s/he will reward you too? As long as you don't speak ill of him/her/the organization as part of your video.
More info on the contest rules page, including a prohibition against snuff films and porn of any kind. (Duh.)
So what do you think? Are you going to make your mother happy and give it a try?
---
Support The Billfold
The Billfold continues to exist thanks to support from our readers. Help us continue to do our work by making a monthly pledge on Patreon or a one-time-only contribution through PayPal.