Talking to a Millennial Homeowner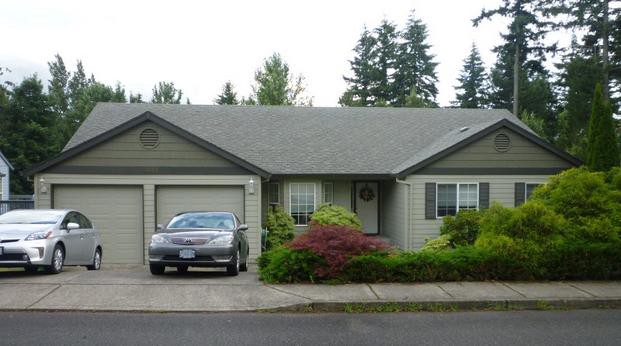 The Hayes' home.
According to the U.S. Census Bureau, only 33.3 percent of people between the ages of 25 and 29 own homes. Many Millennials still live in their parents' homes; others live in apartments or share residencies with roommates, making the "will Millennials ever buy homes?" question the subject of numerous hand-wringing think pieces (and Tumblr memes).
However, while that 33.3 percent figure is lower than previous homeowner rates for people in their 20s, it still means that one out of every three people aged 25–29 is a homeowner. Many Millennials are buying homes, and for many different reasons.
My friend Mo Hayes and her husband Jeff fall into this dual category of Millennials and homeowners. In fact, the two of them bought their home while Mo was still in college. What prompted them to join the 33.3 percent? I asked Mo about her decision.
ND: When did you and Jeff decide to buy a home?
MH: Pretty early on. Jeff and I started living together six months after we started dating. We started looking at houses a couple of months after that. We were looking for houses in Southeast Portland, and we almost purchased one, and that deal went horribly, horribly wrong. Thank goodness they had forgotten to sign one piece of paperwork, which meant that we were able to walk away from the deal unscathed, with no penalty costs.
So we started the house hunting process again, and we purchased a different Southeast Portland home in February 2010, and we've been living there ever since. It's been just over four years. I was 22 when we bought it, and Jeff was 25.
So you and Jeff bought your home before you got married?
Yes! We did that step backwards, according to some people, but it worked out really well for us. We got married in 2011.
How did you and Jeff share the financial burden of homebuying?
Jeff actually purchased the house. I was a junior in college, which meant I didn't have a steady job, so it was easier in terms of "how our mortgage looked" to just have him do it. We both contributed to the mortgage payments, of course.
We refinanced our mortgage two years later, which was when we added my name to the loan.
Why did you decide to buy a home instead of rent?
There were three primary reasons: aesthetics, logistics, and equity.
The aesthetics part was huge for us. We were both so sick of living in apartments with white walls, not being able to change our light fixtures, really simple things that we could take care of ourselves, except landlords often say "No, you cannot make your home look the way you want."
We're both homebodies, so the way that our home looks contributes to the way that we feel when we're there. It was important to us that we could make our home look the way we wanted it to look.
The logistics component mostly had to do with noise and avoiding shared walls. When I was living by myself, I was in a two-bedroom condo unit that had neighbors below, neighbors to one side, and neighbors above. Neighbors are loud, and neighbors are inconsiderate, and there is nothing you can do about that.
When we moved into Jeff's apartment, the neighbors were a little bit better, but we really wanted a space of our own that had no shared walls. Our neighbors in the other homes on our block are great, and the best part is that we don't have to hear them!
The last reason we chose to buy a home has to do with building equity. We both knew we wanted to become homeowners because it is one of the easiest ways to build equity, and it's one of the best ways to have what's considered "good debt" on your credit history.
When we have an extra $500 or $1,000 or $2,000, we can put it into our house and make it look and feel the way we want it to. That also increases the value of our home.
We like being homeowners. We like being able to take care of problems when they arise, without having to wait on someone else. We like being able to decide what happens to our space without going through a landlord.
You are making me want to buy a home!
It was definitely the right choice for us.
So about that "good debt:" did you have existing debt before you bought your home? How did you balance things like student loans with your new mortgage?
I am very, very fortunate in that I only had a modicum of student loan debt, and I started paying it off while I was still in school. My loans came from a private institution that I attended for two years and I was able to begin to pay off the debt while finishing my degree at a state school.
When we purchased the house, we had less than $10,000 in debt. We paid off the outstanding debt quickly, and then the mortgage was the only debt we had for a long time.
Then I had some problems with my health, and I got us into the world of medical debt and credit card debt. We have finally dug me out of both of those problems, and now the only debt we have is the house payment and a car payment on a car we bought for Jeff in 2012.
That's fantastic.
We're both very fortunate that way.
It sounds like you and Jeff made the decision to buy a home very quickly. Did you have a period of planning ahead or saving up for the home before beginning the homebuying process?
I did not do much planning ahead. I wish we had been able to plan ahead a little bit more. Jeff and I talked about waiting to buy our home until after I finished college, but at the time President Obama had started this reimbursement program for first-time homebuyers that would cover our closing costs, which are those out-of-pocket costs no one tells you about when you start looking at houses. So it felt like the right time to buy to keep our up front costs manageable.
We also have an FHA loan, which allowed us to buy a home with a smaller down payment.
It helps that Jeff is brilliantly money-minded and always has been, so in many ways he's been planning to buy a home for his entire life.
Do you have any advice for other young people considering homebuying?
The best advice we were given about buying a new home was to buy the worst house in the best neighborhood. It's worked well for us. We live in an area with great schools and low crime, and we bought our house for $100,000 less than the average price of homes in our area because it is a two-bedroom, single-level home. Other people saw that house and said "two bedrooms will never work for us, we need three bedrooms."
Also: keep in mind that the house you buy is not the house you're stuck with. You can always make changes. Buy the house with the hideous pink carpet or the weird gray toilet. That's just cosmetic stuff, and those are huge opportunities for you to pay way less on a home and then tear out the ugly carpet and make the home your own.
On the flip side, remodeling kitchens and bathrooms are two of the most expensive things you can possibly do. So look for a home that has a kitchen and bathroom that need some surface changes but don't actually need remodeling. Look for a home with good bones.
Like most people our age, we don't have a lot of money in the bank and we can't afford to gut a house or do huge renovations. But the cosmetic updates that we've done to our home have added immense value to our house. Like, we swapped out the ugly cabinets for quarter-sawn oak. We updated the old linoleum and laminate counters. We painted it not-pink. Taking the time to see a home for more than just what's on the surface, and to know how to update your home and add value to it, is really helpful to building equity.
Thank you! I hope that other people, especially Millennials, take your advice and buy awesome homes!
This story is part of our Real Estate Month series.
---
Support The Billfold
The Billfold continues to exist thanks to support from our readers. Help us continue to do our work by making a monthly pledge on Patreon or a one-time-only contribution through PayPal.