Billfold Housing Survey Results: Where Do You Live?
This week, we're looking at the results of our Billfold 10-Question Housing Survey. Today, I'm pairing together questions about where our readers live, and which recent Billfold real estate feature is most like their current living situation.
Thirty-five percent of survey respondents stated they lived in "one of those big East Coast cities," which was not at all surprising. It's hard to say exactly why I wasn't surprised, except maybe that The Billfold LIVE, which took place in one of those big East Coast cities, was absolutely packed.
Of course, that 35 percent does not specifically mean NYC — y'all could be responding from Washington DC, Philadelphia, Boston, or Baltimore, among other cities — and it's worth noting that 35 percent is nowhere near a majority of Billfold readers.
Still, not surprising. A closer look at the survey results after the jump: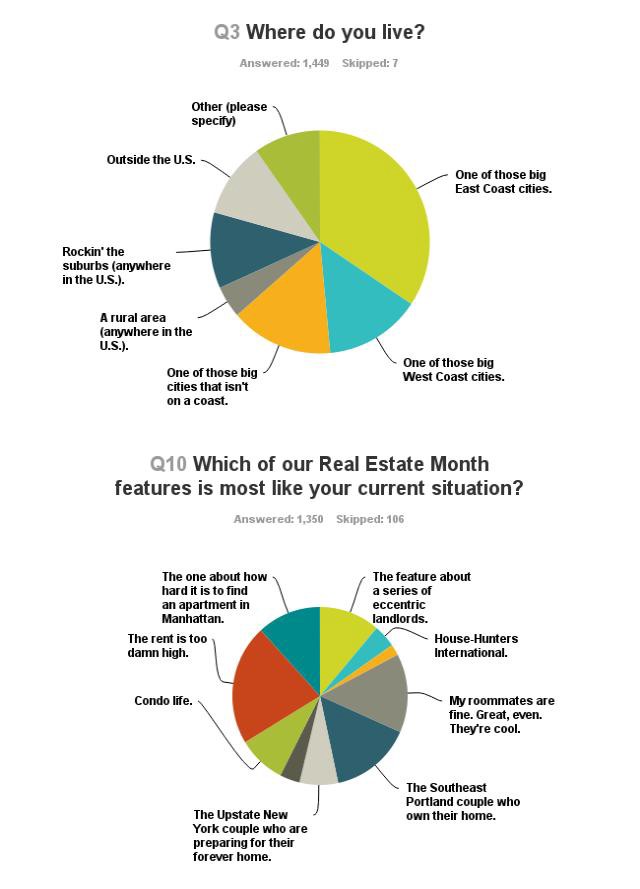 As many of you immediately noticed, my initial version of this survey did not include an option for any other cities beyond coastal cities. Y'all called that to my attention pretty quickly, and I added it to the list of responses.
Here's why it got skipped: I constructed this survey by looking back over Billfold Real Estate Month stories and pulling out themes. The discussion about the age cutoff for Millennials, for example, prompted the two "are you a Millennial?" questions, which we'll look at tomorrow. The story of the man who bought a home with roommates prompted "I own a home with roommates" as one of the "what is your current living situation?" responses. We used the words "forever home" in more than one conversation with homeowners, so that's why there was a question about whether you were living in your forever home.
And then there was this piece that I quoted from The Atlantic last week, that I used as my guideline for the "where do you live?" question:
Back to The Atlantic again for a minute:
"The theory would be that the agglomeration of talent on the coasts will continue to attract the smartest cookies from college, further sorting the country into a handful of elite cities on the oceans, separated by a smattering of thriving metros and a vast hinterland."
As I stand at my thrifted desk in my microapartment, I'll take comfort in the knowledge that I am living in an elite city on the ocean. (Or on a sound, or whatever.)
You can practically see my brain making the error — and it was an big error. A Chicago or Minneapolis or Dallas/Ft. Worth-sized error.
So that's how that happened.
After we got the "big city that isn't on a coast" response added, the majority of you who responded "Other" to that question wrote about smaller-sized cities, college towns (I'd categorize college towns like Oxford and Kirksville and Grinnell as rural; Iowa City is probably mid-sized, which means that should have been a response option), and asked me whether I thought places like Pittsburgh counted as "big cities." I come from a college town with a population of 2,500, so yes. Pittsburgh is huge!
I don't have much to say about the "which of our Real Estate Month features is most like your current situation," except that I'm very curious if 22 percent of you picked "the rent is too damn high" because your rent is, in fact, too high — or, if you, like our feature subject Jimmy McMillan, are getting evicted. I'm hoping the former. Also, a shout out to the 4 percent of you who identified with HOUSE OF SQUIRRELS.
This survey is part of our Real Estate Month series.
---
Support The Billfold
The Billfold continues to exist thanks to support from our readers. Help us continue to do our work by making a monthly pledge on Patreon or a one-time-only contribution through PayPal.