Was It Worth It? The Craigslist Coffee Table
by Heather Sundell
Item: Coffee Table
Year Purchased: 2007
Purchase Price: $50
Where: Craigslist
Current Value: PRICELESS. I'm going to keep it forever.
I want to tell you about my things, specifically how they've held their value and what they're worth to me. From big-ticket items and impulse buys, down to a pen or cat toy, I'm fascinated by how everything holds some degree of value over time.
If you think about — and I mean really think about — any of your possessions, there's a good chance you can recall when, where, why you bought or obtained it, and maybe even a story or two.
To kick off the series I want to talk about one of my favorite things, my coffee table.
Look at this beauty: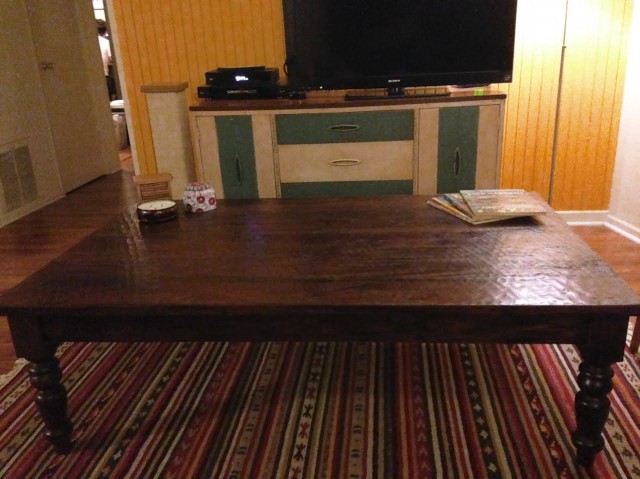 It looks like an expensive aspiration piece from a place like West Elm, right? Or, maybe an overpriced vintage table from one of those stores on one of those blocks, you know? I honestly don't know what it is because I purchased it from a flighty bohemian girl off Craigslist almost eight years ago.
After graduating from USC in May of 2007, I moved home for a couple months waiting for a room to open up in an apartment, where one of best friends, Arielle, already lived. She was a year ahead of me in school and had already been in an apartment for a year with another friend, who was soon to move out. I was going to take her place.
Aside from furnishing my own bedroom, Arielle had asked that I buy a coffee table, something that her old roommate had taken with her. The rest of the furniture in the common areas was Arielle's. Obviously, it was the least I could do. So, I set to work on Craigslist, in attempts to really bring something to the table (pun intended) of this new living situation, which was — I should mention — my first apartment.
After a few day of thorough searching, I found what I was looking for: a huge wood slab with four legs. I had intentionally been looking for an oversized coffee table because I grew up with an oversized coffee table. I LIVED on that table as a child. It's where I ate dinner, did homework, crafted art projects, and threw my snotty tissues when I stayed home sick from school. Now that I had my own place (half), I wanted my own giant coffee table on which to live my new grownup life.
The coffee table listed on Craigslist was $50, within my entry-level budget, which was based on my $15 an hour full-time job doing (what I later learned to be) scammy SEO writing. I emailed the girl selling the table and arranged to have us come by her apartment to take a look that evening after work.
That night, we took Arielle's Jeep, anticipating that we would need a big car to take the table. We showed up at the address, an ornate whitewashed Los Angeles art deco apartment building. The messy bed of a girl from the ad met us at the gate before leading us back to her unit.
Her place was sparsely filled with Eastern inspired pillows, clothes and other belongings strewn about the apartment. I would chalk the disarray up to her impending move, but something about the mess felt settled.
"Here it is," she said, motioning toward the gorgeous solid wood coffee table. "It's yours if you can move it." Cleary this girl was just trying to offload this very heavy and cumbersome piece of furniture, and she did not understand what she had in her possession: a really nice fucking table. Her loss was my gain.
I was instantly in love. Arielle seemed indifferent; she mostly wanted a replacement coffee table, while I was looking for something very specific to contribute our apartment.
"It looks great," I said. "We'll take it." So began the awkward, physical task of two girls in their early twenties maneuvering a giant, and very heavy coffee table out of an unfamiliar apartment building and into a car, parked on a very steep hill in the rain.
After several breaks, we managed to get the coffee table into the back of the car with the seats down. We drove our new baby back home, which presented an even more challenging task of getting the table into the elevator and up to the fifth floor of our tower apartment. Again, just picture two flibbertigibbet girls manually moving a five-foot, 50-pound solid wood table up to their living room.
By the time we reached our front door, I was sweating through my favorite vintage polyester western shirt, but feeling accomplished. We were dying from laughing at ourselves, and we did what any 22 year-olds do when they want to celebrate: We had ourselves a photo shoot.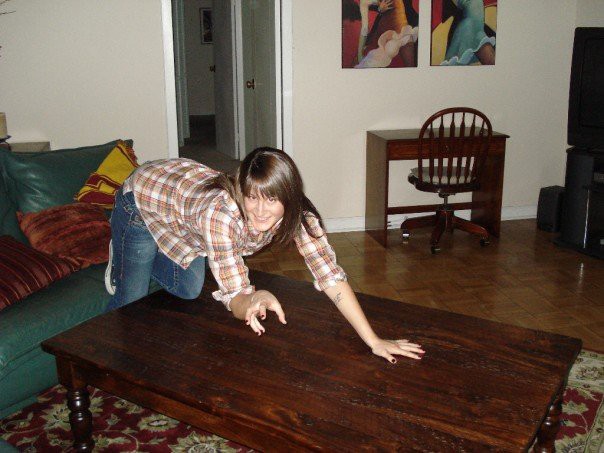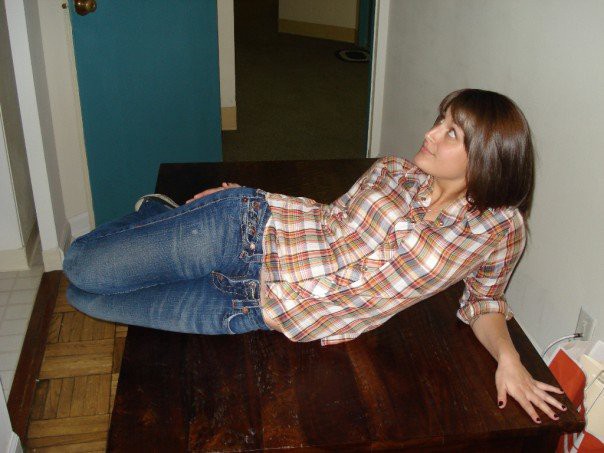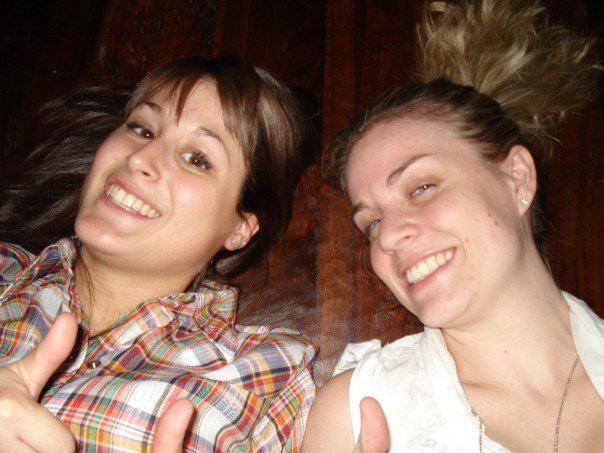 Since then, this table has been with me at four other apartments, even making the trek 1,000 miles to Denver and back. It's been with me through two live-in boyfriends, two and half years of living alone, and seen several dates in between. For almost eight years I have truly lived on this coffee table, just as I did with the one I had growing up, using it now as my adult dinner table, desk, ottoman, dinner party buffet, and present wrapping station.
For years, guest have commented on how nice my coffee table is, and are shocked when I tell them the story of how it came to be mine. It is still the very best $50 I have ever spent.
Heather Sundell lives in Los Angeles. This is her blog.
---
Support The Billfold
The Billfold continues to exist thanks to support from our readers. Help us continue to do our work by making a monthly pledge on Patreon or a one-time-only contribution through PayPal.