The Best Restaurants In America Are Not That Expensive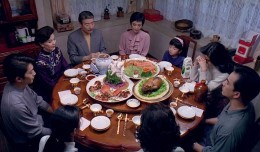 At least according to Yelp, the best food in America is, generally, Food You Can Afford. And a lot of it can be found on or near the west coast.
Yelp's Top 100 Places to Eat in the U.S. for 2015
1. Copper Top BBQ — Big Pine, CA
2. Art of Flavors — Las Vegas, NV
3. Soho Japanese Restaurant — Las Vegas, NV
4. TKB Bakery and Deli — Indio, CA
5. Ono Seafood — Honolulu, HI
6. Shark Pit Maui — Lahaina, HI
7. Gaucho Parilla Argentina — Pittsburgh, PA
8. Bobboi Natural Gelato — La Jolla, CA
9. Golden Bear Trading Company — San Francisco, CA
10. Little Miss BBQ — Phoenix, AZ
11. Dat Cajun Guy — Haleiwa, HI
12. Sweet Dogs — Miami, FL
13. Aviva by Kameel — Atlanta, GA
14. Sweet Spice — Savannah, GA
15. Royal Taj — Columbia, MD
16. Arun's Indian Kichen — Coral Spring, FL
17. Hall's Chophouse — Charleston, SC
18. Bronze Cafe — Las Vegas, NV
19. Saffron and Rose Ice Cream — Los Angeles, CA
20. Buddha Thai Bistro — Vacaville, CA
Wait, there are BBQ joints in the top twenty, and they're not in Texas? Or St. Louis?
I've never done a barbecue tour of the US, mostly because I've been (semi)vegetarian for so long. It's a dream of mine, though. I always assumed said tour would take me through the deep south and then up into the midwest before dipping down again into Longhorn country, as per the instructions of this Thrillist list and, of course, Calvin Trillin.
In discussions of Texas barbecue, the equivalent of Matt Damon and George Clooney and Brad Pitt would be establishments like Kreuz Market and Smitty's Market, in Lockhart; City Market, in Luling; and Louie Mueller Barbecue, in Taylor — places that reflect the barbecue tradition that developed during the nineteenth century out of German and Czech meat markets in the Hill Country of central Texas. (In fact, the title of Texas Monthly's first article on barbecue — it was published in 1973, shortly after the magazine's founding — was "The World's Best Barbecue Is in Taylor, Texas. Or Is It Lockhart?") Those restaurants, all of which had been in the top tier in 2003, were indeed there again in this summer's survey. For the first time, though, a No. 1 had been named, and it was not one of the old familiars. "The best barbecue in Texas," the article said, "is currently being served at Snow's BBQ, in Lexington."
I had never heard of Snow's. That surprised me. Although I grew up in Kansas City, which has a completely different style of barbecue, I have always kept more or less au courant of Texas barbecue, like a sports fan who is almost monomaniacally obsessed with basketball but glances over at the N.H.L. standings now and then just to see how things are going. Reading that the best barbecue in Texas was at Snow's, in Lexington, I felt like a People subscriber who had picked up the "Sexiest Man Alive" issue and discovered that the sexiest man alive was Sheldon Ludnick, an insurance adjuster from Terre Haute, Indiana, with Clooney as the runner-up.
But the people have spoken, and apparently the best restaurant in the country — not merely the best BBQ, but the best food experience for the money period — is now Copper Top in California. One Yelper reacts with slight bewilderment to the news:
I live in Bishop, and so pass by this place often, and I'll definitely stop in if I've got the ducats. I'm always willing to pay a fair price for good food, so you won't be disappointed stopping by. I wonder if they'll become a Yelp-victim and get long lines now. Still worth stopping by. If you're hankering for good Mexican, next door at the Chevron station (no, not kidding!) you'll find excellent burritos for not much money. Why not try both?
Related: Eat free at Chipotle! If you start the process today.
Chipotle has declared that ordering a Sofritas item on Monday, Jan. 26, will earn you a free burrito, bowl, tacos order, or salad of your choice if you come back in the next month. Just show up to any location in the U.S. or Canada, present your receipt showing the Sofritas purchase, and you'll get hooked up with a free meal between Jan. 27 and Feb. 28. Even better, Chipotle will throw in the guac with your redeemable item, too.
---
Support The Billfold
The Billfold continues to exist thanks to support from our readers. Help us continue to do our work by making a monthly pledge on Patreon or a one-time-only contribution through PayPal.